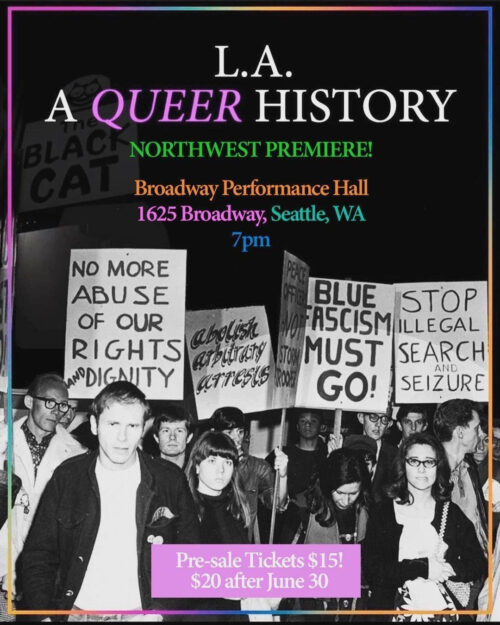 There's a must see film making its Pacific Northwest debut on Saturday, July 30th…it's L.A. A QUEER HISTORY a new documentary film about Los Angeles and its importance as a center for the LGBTQ community and for the major role the city played as part of the long battle for LGBTQ+ rights over the last 70+ years.
The Stonewall Riot in New York City in June of 1969 has become the "star player" in the history of that battle but other cities also played a huge role, especially Los Angeles where the Gay and Lesbian Equality movement really first took flight with the founding of the Mattachine Society in 1950, the first publication of The Advocate in 1967 and the creation of the Metropolitan Community Church in 1968 being just three examples of the major role Los Angeles played in the equal rights movement.
Director Gregorio Davila, a former Seattle resident, thought that the rich history of Los Angeles and its LGBTQ+ residents was a story that needed to be told and exposed to a larger audience. Eight years in the making, the film debuted this year to accolades and a roll out nationally at film festivals and special screenings including the Seattle debut on July 30th at Broadway Performance Hall on Capitol Hill.
Via press release:
Through dozens of interviews, rare archival footage, and photos, L.A. A QUEER HISTORY reveals the critical role Los Angeles played in the battle for LGBTQ rights and the many LGBTQ firsts that happened in L.A., including the founding of the first PRIDE organization, the first gay magazine, and the largest demonstration in the U.S. protesting police brutality against the LGBTQ community.


Another pivotal Los Angeles first is the earliest documented use of the term Pride within the context of the gay community. A 1967 protest at the Black Cat against the Los Angeles police department's brutality, routine harassment, and repeated raids of gay bars was organized by a gay activist group called Personal Rights in Defense and Education, also known as P.R.I.D.E.

A star-studded list of talent provides narration for the film, including Steve Buscemi (Boardwalk Empire, 30 Rock,) Rosario Dawson (Rent, Luke Cage,) Traci Thoms (Rent, 911,) and Daniel Franzese (Mean Girls, Looking.)
Tickets are $20 and available online at https://tinyurl.com/yc3zanb7. The screening is at 7 pm with an after party at Saint John's on Pike Street.
(Visited 4 times, 1 visits today)