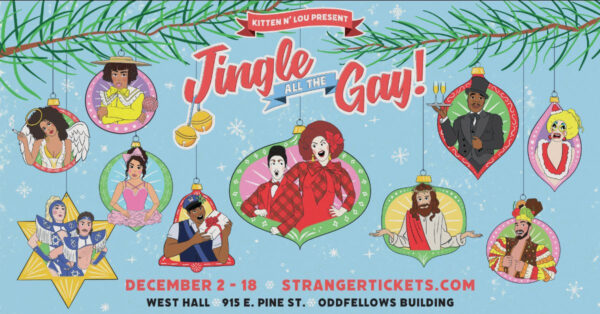 Yet another Seattle area campy holiday show returns for the Winter Holidays 2022….beloved multi-coastal talents, creative partners and actual spouses KITTEN N' LOU return to the West Hall at Capitol Hill's Oddfellows Building for their popular and long running (in various forms) annual holiday show JINGLE ALL THE GAY!
It's the burlesque-y, drag-y, dance-y, cabaret-y holiday show with a slew of great local talents and lots and lots of sexy outfits!
All the skittle:
Seattle, it's time to REJOICE! Your beloved holigay tradition RETURNS to the stage with more comfort and joy than ever before…and the past few years have us all feeling the importance of gathering strength and power as a community more than ever. Don't miss the  surprises and magic of this year's LIVE (but limited) run. There's exciting new things in store for next year, so jump on your last chance to revel in this iconic cast and production….tickets WILL go quick!
 
December 2nd – 18th
(Showtimes vary)
Location: West Hall, OddFellows Building 2nd Floor
915 E Pine Street, Capitol Hill
Tickets: $40-$50
Tickets available at Stranger Tickets:
www.JINGLEALLTHEGAY.strangertickets.com


Featuring an all-star cast of
burlesque, cabaret, dance, drag, and musical luminaries:
Kitten N' Lou
Cherdonna Shinatra * ilvs strauss * Markeith Wiley
Woody Shticks * Lola Van Ella
RedBone * Jeez Loueez * Tito Bonito
Montez Jenkins Copeland * Kylie Mooncakes

Jingle All the Gay invites you to join our chosen family of fabulous fruitcakes in a joyful and triumphant celebration of song, dance, burlesque, and holiday hilarity. Light your menorah, stuff your stockings, and revel in the power of live theater again!
(Visited 33 times, 1 visits today)