We have slaved over the Seattle Gay Scene New Year's Eve Calendar for almost an hour and boy, are we EXHAUSTED! (I keed…it's been more like 5 days of non-stop calendar posting!)
So many parties, galas, shows, and events. So much glitter…so much glitz….
We think we have all of the local LGBTQ+ New Year's Eve events listed on our handy and very dandy Calendar over at https://seattlegayscene.com/calendar-2/
OR, you can check them all out down below!
It will be a wild and crazy night so if you're going to have fun, please pace yourself…don't be a drunken mess by 10:30…that would be so…unseemly. Have some nice boring WATER in between drinks! EAT something! Have a NOSH! Please don't wander around drunk/high by yourself! Do NOT drink/indulge and DRIVE!!!! Walk, take transit, have a designated sober driver!!!
And, have FUN!
Tonight's scheduled events down below. Some events may have already sold out all tickets; check venue/producer's social media for up to date info. All events appear to be 21+ with ID required though Neighbours does allow 18+ after 2am (with cover).
5:00 PM
December 31 @ 5:00 pm – 10:00 pm
Neighbours Nightclub & Lounge, 1509 Broadway
Seattle, WA 98122 United States + Google Map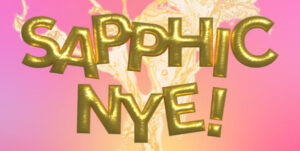 HAPPY NEW QUEER'S EVE We're so psyched for our first ever New Year's Eve party! This event is Saturday, December 31st at Neighbours Nightclub in cap hill  5pm-10pm is sapphics only, and 10pm-4am is sapphics and everyone! We highly recommend arriving around the 5pm start time to enjoy the sapphic party, but latest initial […]Find out more »
6:00 PM
December 31 @ 6:00 pm – 9:00 pm
Kremwerk, 1809 Minor Ave
Seattle, WA 98101 United States + Google Map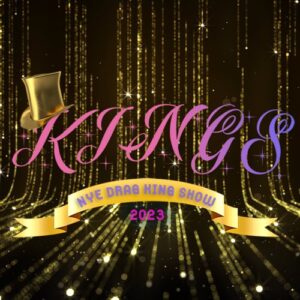 It's New Years Eve 2023 at the Kremwerk Kings Show. We aren't even going to pretend that this isn't going to be RIDICULOUS. The Boys and Toys are back to the Kremwerk stage and we just hope you are ready too for a New Years Eve Drag Kings, Things and Supremes Show. LMAO. 21+ w/ID […]Find out more »
7:00 PM
December 31 @ 7:00 pm – 8:30 pm
|Recurring Event (See all)
Julia's on Broadway, 300 Broadway E
Seattle, WA 98102 United States + Google Map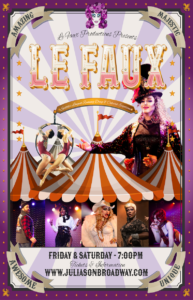 LE FAUX SHOW A celebrity impersonation/burlesque show featuring a full cast of professional impersonators, choreographed dancers and completely outrageous acts. You and your friends will have the time of your lives seeing our Las Vegas style productions. We are concert-like performances that are truly unbelievable. Le Faux is the largest cabaret-style celebrity impersonation show in […]Find out more »
December 31, 2022 @ 7:00 pm – 1:00 am
The Gemini Room, 1101 E Pike St.
Seattle, WA 98122 United States + Google Map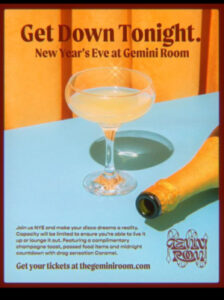 We've been getting a lot of questions about our NYE plans, so here you go! Get Down at Gemini Room NYE for a limited capacity event to ensure you can live it up or lounge it out. Ticket price includes entry, champagne toast at Midnight, passed food and countdown with drag sensation @caramel.flava ! Get tickets at […]Find out more »
8:00 PM
December 31, 2022 @ 8:00 pm – 1:00 am
Southgate Roller Rink, 9646 17th Ave SW
Seattle, 98106 United States + Google Map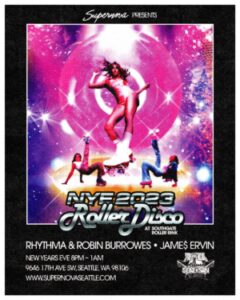 Celebrate New Years Eve at The Roller Disco with Supernova! Groove and glide as resident Supernova DJs spin Disco classics and NuDisco favorites live from the center of the rink! Tickets include skate rental and there is a combo ticket option to join us after back at at Supernova until 4am!Find out more »
December 31, 2022 @ 8:00 pm – 3:00 am
The Cuff Complex, 1533 13th Ave
Seattle, WA 98122 United States + Google Map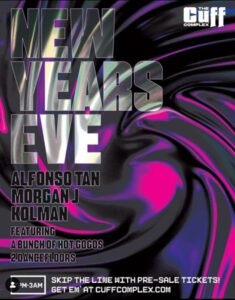 NEW YEAR'S EVE NEW YEARS EVE  CUM RAUNCH IT UP WITH RESIDENT DJS ALFONSO TAN, MORGAN J, AND KOLMAN WHO WILL BE SPINNING THE NIGHT AWAY INTO 2023! WE'RE HOSTING A FULLY LOADED GOGO CREW FOR THE ULTIMATE BALL(S) DROP AT MIDNIGHT  TICKETS GO ON-SALE BLACK FRIDAY | SNAG YOURS ONLINE SO YOU […]Find out more »
December 31, 2022 @ 8:00 pm – 2:00 am
Queer Bar, 1518 11th Ave
Seattle, 98122 United States + Google Map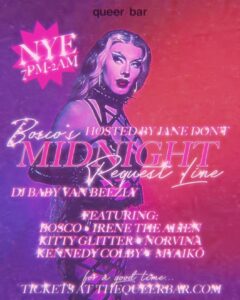 Bosco's Midnight Request Line NYE Party Join us NYE in celebrating our first full year re-open & the new queer ahead  We're bringing you the biggest, baddest NYE yet starring our hometown heroine Bosco, hosted by Jane Don't, with your MX cast Irene the Alien, Norvina, MyAiko, Kennedy Colby, Kitty Glitter! Baby Van Beezly […]Find out more »
December 31, 2022 @ 8:00 pm – 2:00 am
Cc Attle's, 1701 E Olive Way
Seattle, 98102 United States + Google Map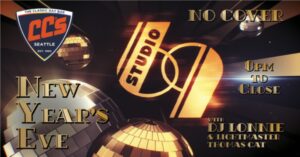 New Year's Eve: STUDIO 69 While other venues charge a Cover and offer Premium-Priced drinks; CC's Seattle Never has a Cover and offers Happy Hour prices all the time! This New Year's Eve come celebrate at the disco, STUDIO 69, and ring in a New Year! DJ Lonnie will be providing the beats with full […]Find out more »
December 31, 2022 @ 8:00 pm – 2:00 am
The Seattle Eagle, 314 E Pike St.
Seattle, 98122 United States + Google Map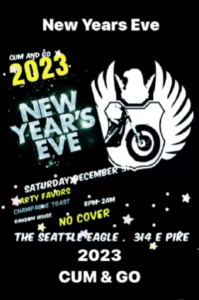 2023 "CUM & GO" NEW YEARS EVE PARTY Saturday December 31st 8pm-2am ………………………………………………….. OUT WITH THE OLD & IN WITH THE NEW HOT GUYS . STIFF DRINKS . LOADS OF FUN PARTY FAVORS MIDNIGHT CHAMPAGNE TOAST RANDOM HOUSE MUSIC NO COVER THE SEATTLE EAGLE . 314 E PIKEFind out more »
December 31, 2022 @ 8:00 pm – 2:00 am
The Comeback, 1950 1st Ave S
Seattle,, WA 98134 United States + Google Map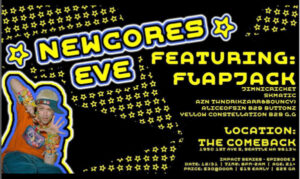 NewCores Eve New Year, Old Venue New Names, Old Talent Same old Happy Hardcore! Come on by and celebrate New Years with us at The Comeback! We'll be making off the new year with some of the best happy hardcore/Hands up/Hard Dance/Hard whatever DJs on the West Coast! Featuring: The star of our show, all […]Find out more »
9:00 PM
December 31, 2022 @ 9:00 pm – January 1, 2023 @ 4:00 am
Kremwerk / Timbre Room Complex, 1809 Minor Avenue
Seattle, WA 98101 United States + Google Map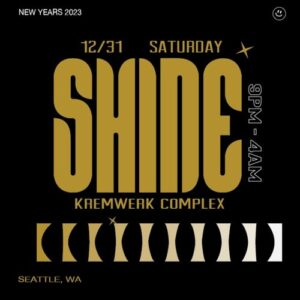 SHINE NEW YEAR'S EVE 2023 SATURDAY, DECEMBER 31, 20229:00 PM SUNDAY, JANUARY 1, 20234:00 AM KREMWERK + TIMBRE ROOM + CHERRY COMPLEX1809 MINOR AVENUE SEATTLE, WA, 98101 UNITED STATES (MAP) GOOGLE CALENDAR ICS Join us for our 7th annual SHINE New Years Celebration at the Kremwerk + Timbre Room + Cherry Complex! To celebrate all that's been […]Find out more »
December 31, 2022 @ 9:00 pm – January 1, 2023 @ 4:00 am
Supernova Seattle, 110 South Horton Street
Seattle, WA 98134 United States + Google Map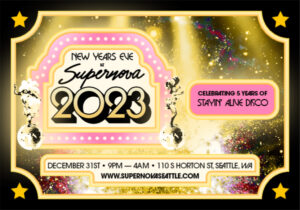 Supernova is where you want to be when the disco ball drops! Prepare to be dazzled by our aerialists, drag queens, costumed performers, DJs, and live musicians as we celebrate New Years Eve in the most spectacular way possible! Expect to be covered in glitter and confetti! Dress to impress and to express! In addition […]Find out more »
December 31, 2022 @ 9:00 pm – January 1, 2023 @ 4:00 am
Monkey Loft, 2915 1st Ave S
Seattle, 98134 United States + Google Map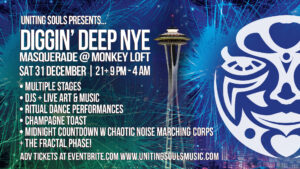 Uniting Souls presents. .. (( DIGGIN' DEEP NYE MASQUERADE )) SAT DEC 31st @ MONKEY LOFT 21+ 9pm-4am – Multiple stages – DJs + Live visuals & music – Ritual dance performances – Champagne toast + a special midnight countdown celebration with Chaotic Noise Marching Band & The Fractal Phase dancers! Come ring in the […]Find out more »
December 31, 2022 @ 9:00 pm – 2:00 am
The Teal Building, 619 East Pine Street
Seattle, WA United States + Google Map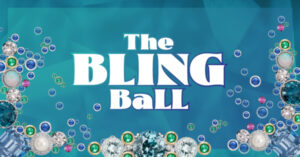 Please join us at The Bling Ball The New Years Eve Gala of 2022! Come dressed as your best bling self, and dance the night away at a benefit to support the local arts and LGBTQ+ communities in Capitol Hill, Seattle. In The Teal Building at 619 E Pine St, Seattle WA 98122 $50 presale […]Find out more »
December 31, 2022 @ 9:00 pm – 2:00 am
Dragster, 456 North 36th Street
Seattle, WA 98103 United States + Google Map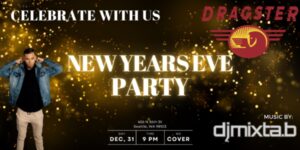 Ring in the New Year with Dragster at our NYE dance party! We'll have party favors and a champagne toast at midnight! Ft. Music by DJ Mixtab No cover • Starts at 9pm • Dec 31stFind out more »
December 31, 2022 @ 9:00 pm – 2:00 am
Mose Auto, 7120 East Marginal Way South
Seattle, 98136 United States + Google Map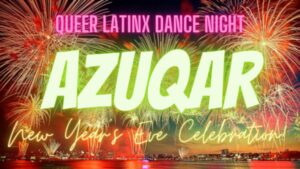 By Popular demand we will have a New Year's Eve Party. Come party like we party in Latinx América, the hottest dance hits, from today and all the X-Más Season dance favorites! You won't want to miss this! $10.00 suggested donation at the door.Find out more »
December 31 @ 9:00 pm – 11:00 pm
Admiral Pub, 2306 California Ave SW
Seattle, WA 98116 United States + Google Map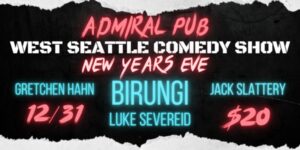 SOLD OUT! West Seattle Comedy Show featuring BIRUNGI at THE ADMIRAL PUB / December 31st / 9PM / $20 online & $25 at the door December 31st its comedy night with some of the best comedians the Pacific Northwest has to offer. This month we have National Touring Headliner BIRUNGI with with special guest GRETCHEN […]Find out more »
December 31, 2022 @ 9:00 pm – 2:00 am
The Wildrose, 1021 E Pike St
Seattle, WA 98122 United States + Google Map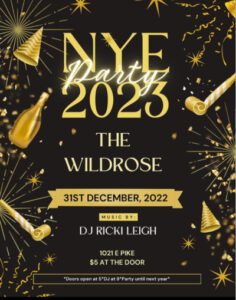 New Year's Eve Party with DJ Ricki Leigh! 21+ w/ID $5Find out more »
December 31, 2022 @ 9:00 pm – 2:00 am
Pony, 1221 E Madison St
Seattle, WA 98122 United States + Google Map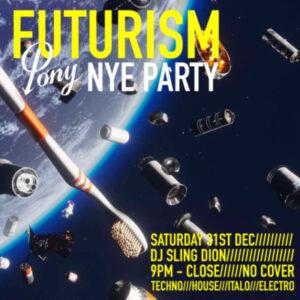 We plan on being trashy this NYE, cause we deserve it. Are you also trash that just takes up space? Then come be with your people this NYE at @ponyseattle. DJ @slingdion will be playing futuristic techno/house as we welcome in 2923 together. No Cover. Champagne toast at midnight. 9pm-close. No space needles invited.Find out more »
December 31, 2022 @ 9:00 pm – 2:00 am
The Lumber Yard Bar, 9630 16th Ave SW
Seattle, WA 98106 United States + Google Map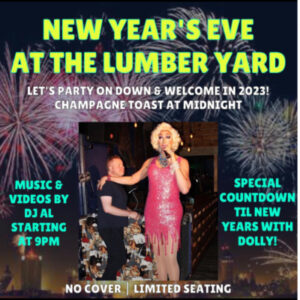 Let's party into 2023! Join us, DJ Al & Dolly for a fabulous countdown til the new year! NO Cover! 21+ w/IDFind out more »
December 31, 2022 @ 9:00 pm – 2:00 am
The Unicorn, 1118 E Pike St
Seattle, WA 98122 United States + Google Map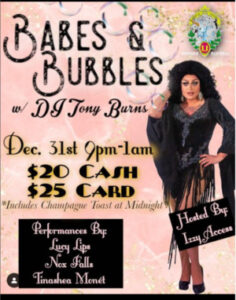 The countdown is on! Ring in the New Year with us this year at Babes and Bubbles featuring @lucylips.drag, blvckgoth, @tinasheamonet, @izzy_access69 and @djtonyburns .Find out more »
December 31, 2022 @ 9:00 pm – 2:00 am
The Woods, 1512 11th Avenue
Seattle, WA 98122 United States + Google Map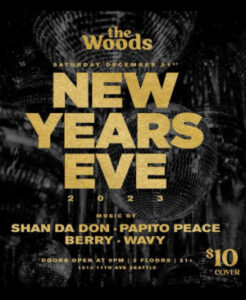 Come ring in the New Year with our all time faves ♥️ DJs @djshandadon @papitopeace @ajayankles @asaechao_ are spinning the night away into 2023  $10 Cover | Party till 2 AMFind out more »
December 31, 2022 @ 9:00 pm – 2:00 am
Union Seattle, 1009 East Union Street
Seattle, WA 98122 United States + Google Map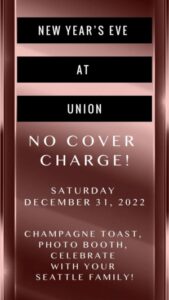 Join us at Union for NYE!!! No Cover! Space Needle Fireworks at Midnight! Champagne Toast Photo Booth 21+ w/IDFind out more »
December 31 @ 9:00 pm – 11:00 pm
Skylark Cafe, 3803 23rd Ave SW
Seattle, WA 98106 United States + Google Map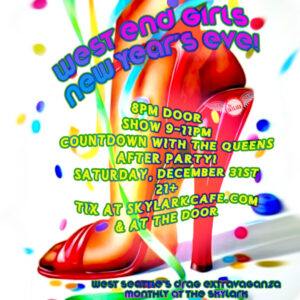 West End Girls: New Year's Eve Party! West Seattle's Drag Extravaganza Special NYE Show! 21+ Saturday, December 31st 8PM Doors Show 9-11PM After-Show Countdown Party w/ the West End Girls + Champagne Toast at Midnight! Come early to grab food & drinks! $15 tickets at https://www.simpletix.com/e/west end-girls-new-years-eve-party-tickets-121116 $20 at the door 3803 Delridge Way SWFind out more »
9:30 PM
December 31, 2022 @ 9:30 pm – 2:00 am
Clock-Out Lounge, 4864 Beacon Ave S
Seattle, 98108 United States + Google Map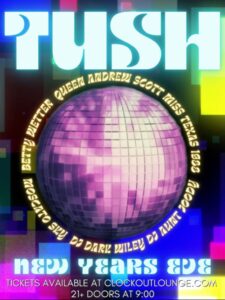 Clock-Out Lounge Presents: Tush- New Years Eve Dance Party!Dec 31st 21+ $20 coverJoin host Betty Wetter and ring in the New Year most extavangantly with special guests Moscato Sky, Queen Andrew Scott, Miss Texas 1988, Dj Dark Wilet and DJ Aunt Joody!Pop up performaces and DJ dance party- champagne toast at midnight!Find out more »
10:00 PM
December 31, 2022 @ 10:00 pm – 2:00 am
Orient Express Restaurant and Lounge, 2963 4th Ave S
Seattle, WA 98134-1914 United States + Google Map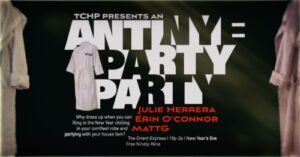 I mean…you COULD go pay 50 bux a ticket and 20 bux a drink…to hang with a bunch of novices….OR you COULD get REAL comfy in ya BATHROBE and get down with jello shots, cupcakes, and DANCE where everyone KNOWS your NAME!!!! NO COVER. ALWAYS a FAMILY VIBE. CHEAP and STIFF DRINKS…now with JELLO SHOTS!! […]Find out more »
December 31, 2022 @ 10:00 pm – 1:00 am
Julia's On Broadway, 300 Broadway E
Seattle, WA United States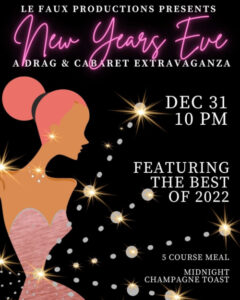 What are you doing to ring in 2023? If you are not going to be at Julia's on Broadway enjoying a 5 course and a champagne toast at midnight, you are going to be missing out!!! . Tickets will go fast, don't miss, book today! . Check out our new Show Listing Page on our […]Find out more »
December 31, 2022 @ 10:00 pm – January 1, 2023 @ 4:00 am
Neighbours Nightclub & Lounge, 1509 Broadway
Seattle, WA 98122 United States + Google Map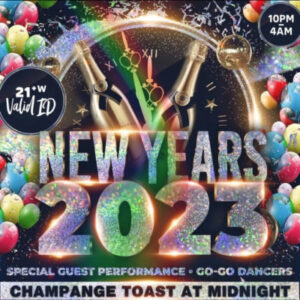 Neighbours is the place to be for new years eve!Find out more »
(Visited 27 times, 1 visits today)