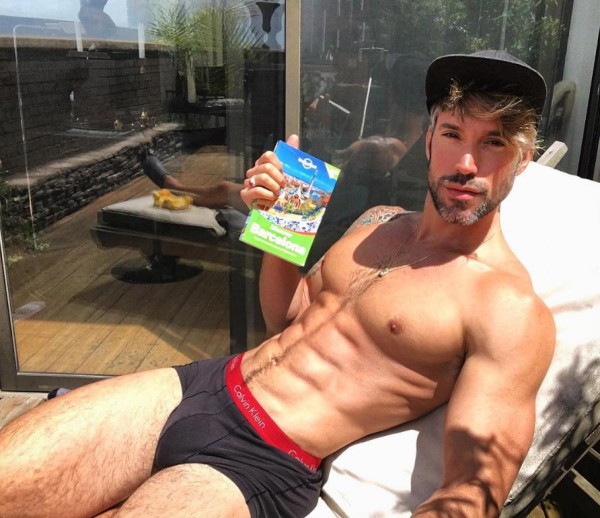 You could probably sense one of two things happening in the gay media universe a few months back when Logo TV announced they were adding a new "reality" show to their line-up this fall. Especially with this breathless description:
Hosted by Lance Bass, "Finding Prince Charming" will include 13 charming and gorgeous suitors, all housed together, who compete to win the heart of one of the nation's most eligible gay heartthrob. The sexy suitors grapple to stand out from the crowd all hoping for a moment of intimate connection, romance and, perhaps, true love. One by one, the suitors are eliminated until the heartthrob chooses one ideal man to sweep him off of his feet and commit to an exclusive relationship.
Either you rolled your eyes in mock horror at the travesty to come, or else you jumped up and down in glee about the travesty to come…
Either way, travesty WILL cum.
Finding Prince Charming is set to debut Thursday, September 8th at 9 pm, right after RuPaul's Drag Race: All-Stars 2 Electric Boogaloo…and, Logo JUST announced the name of the eligible heart throb who seeks to find his "Prince Charming". It's Atlanta based interior designer, Robert Sepulveda Jr. More poo from NewNowNext :
Born in Puerto Rico, 33-year-old Sepulveda live in Atlanta, where his design firm specializes in luxury residential and commercial spaces. He also founded the Atlanta Rainbow Crosswalks, a local LGBT campaign to advance diversity and equality through public art and community outreach.
But, escandalo travels fast in the gay mediaverse and within hours of Logo announcing that Sepulveda was their "Prince Charming" word quickly spread that Mr. Sepulveda wasn't ALWAYS a designer…ten years previously, he supported himself as a call boy in Ft. Lauderdale under the name of "Vincent Romen". His Rentboy.com profile is obviously gone but reviews from his clients are still floating around the "cloud":
—I first saw Vincent on rentboy.com. His photos are very nice and his profile sounded great. I called him up and planned on meeting. When i arrived i was so surprised to see that Vincent looked even BETTER then his photos. Ripped body, beautiful face, amazing white smile. Hes penis is HUGE and not to mention thick. The thing i liked the most is that he doesnt shave his body so there is no stubble on his skin. Very manly thick bush as well. I will be planning on seeing his again as soon as i get back to FL. He is everything his profile says and more.

—Vincent is stunningly handsome. Without doubt, he is one of the most handsome men in Florida. His body is cut, nearly flawless, and he has a humungous, uncut dick. He came to my hotel room on time, looking exactly like his photos. He has a toothy smile that radiates. We chatted a bit, stripped, and he sat on my bed waiting… This waiting made me feel awkward. Before it became any more more so, we started to kiss a bit and then suck each other. Did I mention he has a huge dick? Though he advertises as being versatile, we didn't go there. We both came and showered before saying good night.
He also has at least one negative review from a potential client who accused Vincent/Robert of being racist because he stood up that client, an African-American man. That could be a problem since there are three African-American contestants on Finding Prince Charming. (And, no Asians that we can tell….really Logo?) We HOPE this isn't actually true, though.
Hey, we don't care that Robert was a sex worker…ya gotta do what ya gotta do. But, we have a sneaky feeling he's in the closet about his past life…which isn't surprising since there is a stigma attached to doing sex work regardless of your reasons. Again, we don't judge (we know a LOT of sex workers, honey!! If you're in control of your body and the situation and it's entirely YOUR choice to do sex work and you're being responsible/careful with your health…all power to you!) But, because of societal stigma, it does seem odd that Logo would cast a former sex worker as the lead on their show…do they not do background checks? Or, maybe they HOPED this information would emerge to create controversy and incite more interest in this rather sad attempt to ape ABC's long running "The Bachelor" series?
Ya think?
We TRY to be a kinda/sorta somewhat "clean" site so we're not posting the "full monty" photos of Robert. You can go HERE (Link is VERY NSFW!!!!) to see the "monty"….and, yeah. It's a Huge Monty. Wearing a turtle neck.
Hot.
Ish.
We're not gonna watch this show, for many reasons, (we hate these kinds of shows; we don't really care that much for Lance Bass; Robert does have a huge monty, but frankly he's not our cup of tea…a little too porny for out tastes) but we'd love to hear what YOU think about it because we know many of you are gonna watch this travesty.
We also doubt Robert is 33…
#Gurl…YouLookMoreLike38
Tags: Escandalo, Finding Prince Charming, Logo TV, Rentboy.com, Robert Sepulveda Jr, The Bachelor