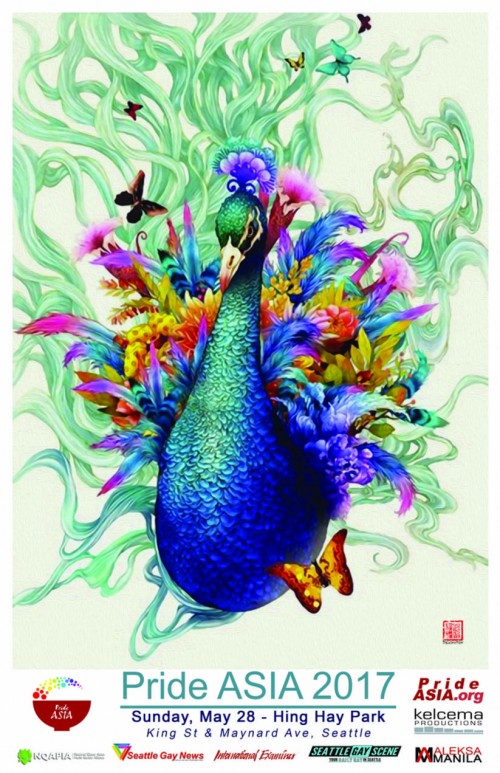 This year's Seattle Pride Asia event is happening almost a month before Seattle's citywide Pride celebrations which happen over the last weekend in June. It's the 6th annual celebration and it's once again happening in the International District's Hay Hing Park at 423 Maynard Avenue South in the heart of Seattle's traditional Chinatown neighborhood. It's happening from Noon to 4 pm on Sunday, May 28th on Memorial Day Weekend. This is a free community event and family friendly! It's a chance for Seattle's LGBTQ Asian and Pacific Islander communities to celebrate Pride with allies and family.
Seattle Gay Scene is thrilled to sponsor this year's event which is once again being organized by Aleksa Manila and other leaders of Seattle Pride Asia.
We also want to frame that GORGEOUS poster art. They really should sell copies to raise money!
Pride ASIA is an annual cultural event that celebrates the LGBTQ and API community

In honor of National Asian Pacific Islander Heritage Month, Pride ASIA recognizes the diversity of the API community by empowering LGBTQ APIs

This year's keynote speaker is Danyal Lotfi. 

Danyal is a young professional with a demonstrated history of leadership in public service, community building and program coordination in the public and non-profit sectors. Skilled in strategic planning, event coordination, cross-cultural communication, and teamwork. Strong multilingual community engagement professional with a Bachelor's Degree in Political Science from Western Washington University and an alum of the renowned young civic leaders fellowship at the Institute for a Democratic Future.

Danyal is currently the External Affairs Liaison with the City of Seattle.

Appearances by:

David Leong's NW Kung Fu Association
Mayor Ed Murray's Office
U.T.O.P.I.A Seattle
Miss API International Tanya Rachinee
Miss ABAWA Pride Vanitii Fair
Miss UTOPIA Atasha Manila
Miss UTOPIA 2016/17 Iyona Bonet Black
Ms. Cherry Markos
Miss Neighbours 2016/17 Deb Leigh Nightshade
Ms. Voodoo Doll Music by DJ Julie Herrera, DJ LeGaspi, DJ Moist Towelette

Founded in 2012, Pride ASIA's mission is to celebrate, empower and nurture the multi-cultural diversity of the LGBTQ communities through the Asian Pacific Islander lens. Pride ASIA is a proud member of the National Queer Asian Pacific Islander Alliance (NQAPIA) and Social Outreach Seattle (SOSea).
Tags: Pride Asia, Pride Asia 2017