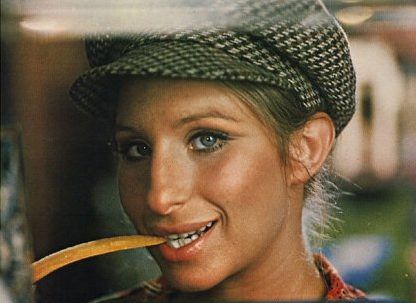 They're not the most reliable of sources, but the New York Post's Michael Riedel broke the news that Barbra Streisand is in talks to star as Mama Rose in a new film version of the classic musical, Gypsy, already filmed twice before with Rosalind Russell and Bette Midler. But, later in the day, the New York Times confirmed that there are preliminary plans to make the film and both lyricist Stephen Sondheim and original book writer, Arthur Laurents have been consulted. The Post implied that Streisand was on board to direct the film, but the Times indicated that she would not and famed film producer Joel Silver was on board to produce the film for Warner Brothers. And, Arthur Laurents told the Post:
"Barbra and I have been getting along very well now for some time. We've talked about it a lot, and she knows what she's doing. She has my approval."

The Tony-winning director also said that Streisand is aware that she will need to tap into a darker side of herself to play the overbearing stage mother. "Barbra and I have had long talks on this very subject," Laurents said. "She had a mother who she always thought was Mama Rose. I don't want to get into the details, but the point is she knows. She's got it in her. She's going to be much more than people expect."
Mama Rose has long been a sought after role for both stage and film actresses. Originally created by the iconic Ethel Merman in the original 1959 production, the role has been subsequently played by Russell in the film, Angela Lansbury in the first revival, followed by Tyne Daily, Bernadette Peters, and Patti LuPone in subsequent revivals. All five stage actresses were nominated for the Tony Award with Lansbury, Daily, and LuPone all winning. Russell and Midler both won Golden Globes for their performances.
Hmmmm….how do I feel about this? Gypsy is both my favorite musical of all time, and, in my opinon, the BEST musical of all time so I'm pretty sensitive to how it's portrayed. I'm not the biggest Streisand fan in the world, (Oh, that ego! And, the over singing of every song! And, those ridiculous finger nails in The Prince of Tides!) but she does have the right temperament for the role; God knows both Streisand and Mama are larger than life divas. And, yes, Streisand is WAAAAAY too old to play the part; she is 68 and the character starts off as the mother of YOUNG children and the real life Rose Hovick died at age 64, (Fun Fact: the Hovick's were Seattle natives). The musical ends in the mid 1930's when Mama Rose in her mid 40's. Ms Streisand looks very good for her age but it's a bit of stretch. I don't think it'll be as awful as the Lucille Ball movie version of Mame (MAAAAAAME!) but it is worrisome. Rosalind Russell looked a bit long in the tooth to play Mama in the 1962 film and she was 55. Will they use CGI tricks to youthen La Streisand? Maybe they should get James Cameron to direct…can we use an Avatar?
Tags: Barbra Streisand, Gypsy