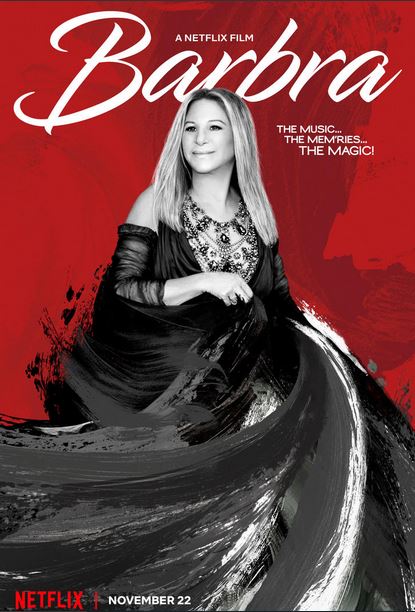 Why not?
You had somethin' bettuh to do?
Le Diva Streisand is going down 'mem'rie lane' on Thanksgiving Eve as Netflix debuts her latest film concert event BARBRA: THE MUSIC…THE MEM'RIES…THE MAGIC!
Actually, it goes live tonight at Midnight, so hyper nutty Barbra fans (which means all of them) can stay up late and watch it in the wee wee hours of early as hell Wednesday morning.
This is the special with Barbra onstage plus footage of Barbra and all her recent famous duet partners including Jamie Foxx and world famous singer Alec Baldwin.
OBVIOUSLY a must see event for hardcore Barbraphiles.
Warning: if you're spending T-Day with a Barbraphile this WILL be on in the background in constant rotation. There will be lots of shushing during the "good" parts.
Check it:
Synopsis: With a career spanning six decades, BARBRA STREISAND is a legend of both stage and screen with a loyal, loving fanbase. In the upcoming Netflix film concert event Barbra: The Music…The Mem'ries…The Magic!, which launches globally on Wednesday, November 22, at 12:01am PST, she is joined by an exciting roster of special guests, including a special duet with Jamie Foxx, as she takes audiences on a journey of her life's work, like a stroll down mem'ry lane with a good friend.

 

Directed by Jim Gable and Barbra Streisand, Barbra: The Music…The Mem'ries…The Magic!, a Netflix film, is produced by Ann Kim and Ned Doyle, with Streisand and Marty Erlichman serving as executive producers.  The film is written by Streisand, Jay Landers and Richard Jay-Alexander.
Tags: Barbra Streisand, BARBRA: THE MUSIC…THE MEM'RIES…THE MAGIC!, Netflix, Thanksgiving Eve