While watching Glee I often wonder about the fashion. Love to see the clothes, but can an "average" high school student afford designer labels?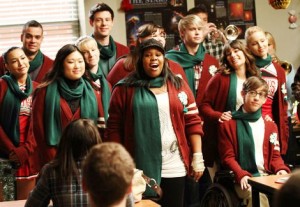 This sweater from Urban Outfitters actually makes sense at $48.00. We can almost believe that New Direction could afford to buy this sweater for a performance. Also the sweater is totally wearable after the performance.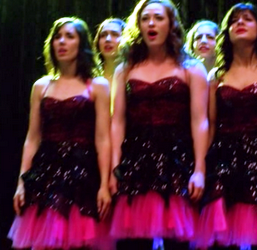 The girls are wearing a Betsey Johnson dress that retailed at $149. Betsey is a great label for the show. I could totally see Rachel in a Betsey dress for a dance or special occasion. But all of the girls buying the SAME pink and black dress for $149? Not very wearable… couldn't a $29.99 dress from Target work just as well?
Rachel's daddies must totally love to shop because her wardrobe is top-notch.  In this scene she is wearing the Brooks Brothers cashmere Intarsia dress that retailed for $295.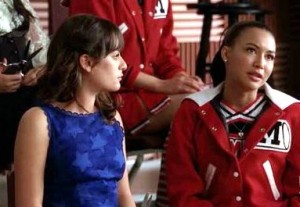 Here Rachel is wearing the Marc by Marc Jacobs star print dress that retails for $595.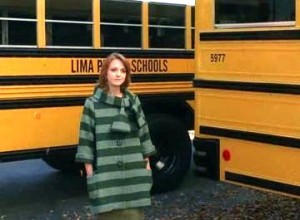 We love love this coat and the image it creates against the school buses! But can Emma afford $745 for this Kate Spade coat?
Kurt has a great fashion sense and spends some serious buck on his wardrobe. It is amazing! This harness shirt is by Alexander McQueen retail $190.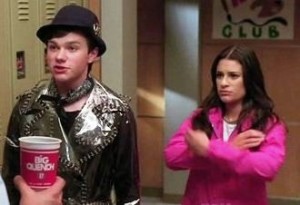 Check out this D&G raincoat that retailed for $581. Kurt wore it to protect himself from Slurpee's. We would kill anyone who threw a Slurpee at us in our $581 jacket!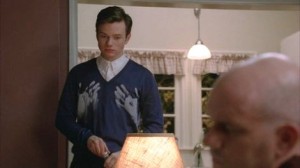 And the best piece of fashion yet on Glee, is this Alexander McQueen hand-painted sweater that retailed for $995. Are high school kids now wearing hand-painted McQueen sweaters?
What do you think? Is this cray-cray?
(Visited 2 times, 1 visits today)