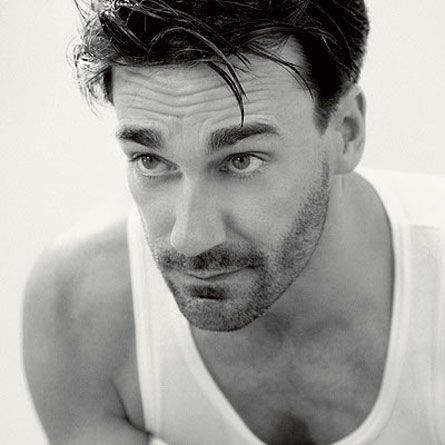 Jon Hamm, aka Mad Men's Don Draper, crosses the Great Divide today as he turns 40 years young…Apparently, Hamm, like fine wine, ages gracefully as it gets older.
Sadly, still no word on when Mad Men returns for a fifth season. AMC, the network that airs MM, and Lion's Gate the producing studio are still ironing out a contract with reports they are wrangling over, you guessed it, MONEY! In years past all the paperwork is usually taken care of by the beginning of the year with the show going into pre-production by February and filming starting by spring but that's all up in the air this year. Don't these greedy bastards realize that Mad Men fans will go, well, MAD if we don't get our "fix" by July/August?
But, fans of The Sixties have some hope as several other networks have 60's set pilots in development for next season. ABC is working on Pan Am, a "sexy soap set against the Jet Age about a group of pilots and flight attendants working at the iconic Pan Am Airlines in the 1960s…" which stars Christina Ricci. And, NBC has Playboy, focusing on, "…the famed Playboy Club in Chicago in 1963, with Tony Award winning actress Laura Benanti starring as a 30-year-old bombshell and an established star at the club who knows her days as a Bunny are numbered due to age…" Obviously there's no guarantee that either one of these high concept pilots will get picked up for a full order of episodes, but there is always hope. And, normally I wouldn't have my hopes too high on these pilots since period shows are very expensive to do, but ALL the networks have pricey historical and special effects heavy genre shows in development, including Poe featuring the 19th century author solving crimes in Boston; Grimm which takes place in a world where fairy tales are real; 17th Precinct, a sci-fi/fantasy crime drama; The Crossing is set in post Civil War Missouri; and Touch, a Kiefer Sutherland drama about a man who's autistic son might have some special "gifts".
Many of these new projects sound amazing, (but the cynic in me says few of them will go to series and the ones that do, will get cancelled quickly if they don't have big ratings right out of the gate; networks love to cancel expensive shows first…) but I still want me some Hamm for the summer holidays. We need to know WHAT the hell is going on at Sterling Cooper Draper Pryce!
(Visited 1 times, 1 visits today)