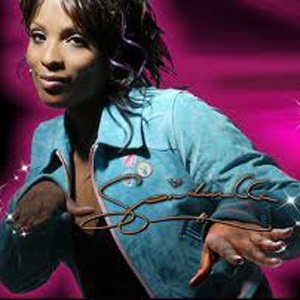 Grammy award winning DJ, producer, rapper, writer and world class mother, Spinderella is one of the original pioneers of hip hop music. She began her career as a member of the iconic rap group Salt-N-Pepa, selling over 15 million albums and singles worldwide. Over two decades after her groundbreaking entrance into hip hop, the Brooklyn native still sets the standard for "turntablist" all over the world and is still a force to be reckoned with in the music industry.
Spinderella still performs with her sisters Salt-N- Pepa, and recently rocked an electric performance on Oprah in April of 2011, which showcased "Women Who Rock". With the flick of her wrist, Spin has conquered grand scale events (Espy Awards, Academy Awards, Kentucky Derby, NBA All Star after parties), and held down her international reputation as the "Universe's #1 female DJ".
Seattle PrideFest, One Degree Events, Girl4Girl Seattle and Qulture Qreative have conspired to bring the legendary Spinderella to Seattle for not one, but two awesome appearances over Gay Pride weekend. She'll be performing at the Red Women's Party at The Baltic Room on Saturday June 25th, and headlining the Seattle PrideFest DJ Stage on Sunday June 26th. Seattle Gay Scene writer (among other things), L.A. Kendall, caught up with her for a little Q & A in advance of her upcoming appearances.
LAK: How do you approach the "Legend" title?
SPIN: When people said it of me I couldn't understand why. It took me a long time to attach that "Legendary" title to myself. After some reflection of all the groundwork I've laid over the years, complete with blood, sweat and plenty of tears, I now accept it as a blessing of God! It's amazing to still be here loving what I do.
LAK: So many female Deejay's & rapper's come and go. Why do you think you have been so successful?
SPIN: I'm a DJ because I LOVE MUSIC . Relationships, possessions, jobs and positions will come and go but Music will ALWAYS be there. My dad taught me this when I was young.
LAK: It's not just cuts, beats, and rhymes though, right?
SPIN: I've been blessed to be in the game for so many years, when many others have come and gone. This industry is all about fun and entertainment, but humility and professionalism will take you far. I've also had great mentors such as DJ Jazzy Jeff, DJ Scratch, and the late Jam Master Jay.
LAK: You owned a salon for a while too, what prompted you to go into the salon business?
SPIN: Although I don't have the salon/spa anymore, I do miss it. It was a lucrative biz that required a lot of my attention. I've been to a lot of beautiful salons over the years with SnP and experienced some great services and treatments. I wanted to introduce some of those experiences to the hardworking women who wouldn't have ever known they existed.
LAK: Your daughter Christy DJ'd at her super sweet 16, broadcast on MTV. Are you inspiring her to follow in your footsteps?
SPIN: Of Course. She loves music as well, and opens for me when she's not in school.
LAK: You'd think being Spinderella would be enough, but you want it all, don't ya?
SPIN: There isn't anything I can't do when I put my mind to it and feel it in my heart. I'm blessed. A day doesn't go by that I don't appreciate all I have or where I've come from.
Don't miss Spinderella, next weekend, at the RED Women's Party (open to all regardless of gender), and Seattle PrideFest!
For more on Spinderella, check out The Back Spin.
For more on L.A.Kendall, check out The Eyes Of Laura Kendall.
(Visited 1 times, 1 visits today)