July 27, 2011

•
by
Seattle Gay Scene
As you might recall back in May, we invited Beth Barrett from The Seattle International Film Festival to chat about SIFF, and movies and we got ourselves all wrapped up in movie geek talk, and this week we kinda do it again – this time with the impossibly adorable Jason Plourde – Programming Director for Three Dollar Bill Cinema, who produces the upcoming outdoor summer movie series at Cal Anderson Park, as well as the Seattle Lesbian and Gay Film Festival.
We talk about summer movies, queer film, Outfest & Frameline, and stuff we can look forward to at this fall's festival!
(Visited 1 times, 1 visits today)
Related Posts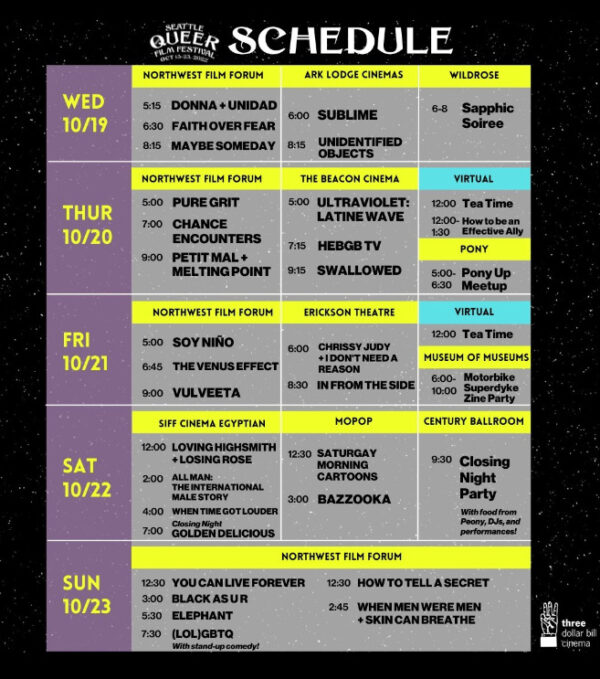 *Resist. Protest. Obstruct. Inform. • *Seattle Cinemaland • Arts • Arts & Entertainment • Arts News • Capitol Hill News • Community • Community Events • DJ Dance Party • Film • Film Events • Film Festivals • Geek • MoPOP • News • Nightlife • Pop Culture • Queer Film • Queer News • Seattle Lesbian Gay Film Festival • Seattle Lesbian Scene • Seattle News • Seattle Queer Film • Seattle Transgender Scene • Stuff to Do • Three Dollar Bill Cinema • Trans* Arts & Entertainment • Trans* Events • We Love The Nightlife • Weekend Calendar • Women's Arts • Women's Events
There are all sorts of good films, programs and events
...