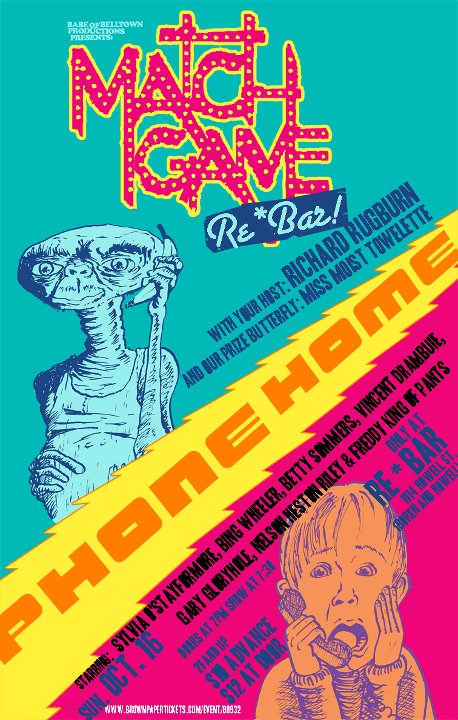 The popular bar event/game show parody "Match Game Belltown" begins its 5th season tonight but something has changed… They've called the Jewelbox Theater at the Rendezvous home for the last several years but the show has become so popular they've outgrown the adorable but tiny space and they're moving to a larger venue and changin' their name…starting tonight, the monthly event hosted by "Richard Rugburn" is moving a few blocks to Re-bar and naturally they're now known as "Match Game Re-bar". 
You don't have to be over 40 to remember the beloved trashy game show from the 70's hosted by Gene Rayburn and starring Charles Nelson Reilly, Brett Sommers, Richard Dawson and a rotating panel of semi-famous names making naughty fill in the blank jokes…it's been parodied for years and even "RuPaul's Drag Race" does their own version every year, "The Snatch Game". Seattle's version of the smutty show features our own celebrities, Gary Gloryhole, Betty Sommers, Bing Wheeler, Vincent Drambuie & Nelson Heston Riley plus special guest stars…joining the regulars tonight will be Sylvia O'Stayformore and Freddy, King of Pants, along with host Richard Rugburn and "Prize Butterfly" Miss Moist Towelette. The doors open at 7pm and the fun starts at 7:30pm with a $10 cover…you can buy advance tickets at BrownPaper or at the door, but remember, Re-bar is CASH ONLY! (Obviously, the filth and booze mean it's a 21+ event…)
We love "Match Game" so much…we'd love to _________it  until it screams, but only if they buy us a drink first!
(now if only someone would do a version of "Tattletales"!)
Here's some video from a previous installment:
(Visited 1 times, 1 visits today)