With great fear and trepidation, we ventured to a private, pre-opening tour of EMP's new exhibit "Can't Look Away: The Lure of Horror Film" hosted by curator Jacob McMurray last week. I talked with Jacob about the public's love of fear and horror in film; the history of horror films; the participation of iconic filmmakers Roger Corman, John Landis and Eli Roth as advisors to the exhibit and got to experience the "Scream Booth". Meanwhile, Alex Berry captured these fierce images (and sounds; the exhibit has an amazing soundtrack.) It was a fascinating tour for me, as a film nut, but it's something that non horror fans can enjoy as well and we whole heartedly suggest you check it out…it'll be the main exhibit in the SciFi/Horror/Fantasy section of EMP until 2013 with future exhibits focusing on SciFi films, and Fantasy films as well.
Big thanks to Jacob for his very informative tour; it was a helluva lot of fun talking with another film fan about these films and their impact. And, to the awesome Anita Woo for setting it all up. And, of course, to EMP.
Here's a gratuitous shot of me screaming in the "Scream Booth".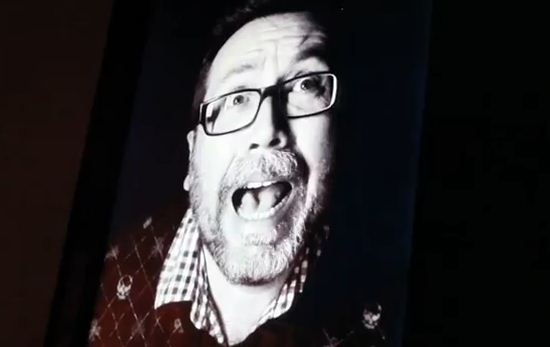 (Visited 1 times, 1 visits today)