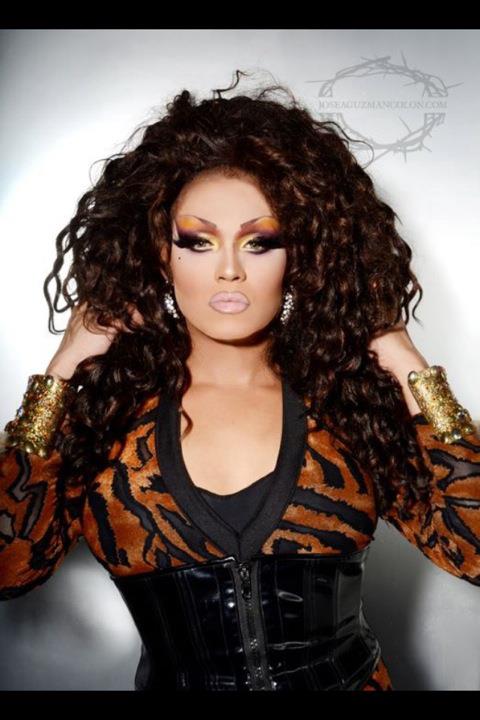 Wow! We went one whole day without typing "RuPaul" in a post!
It's a November miracle!
Well, your RuPaul vacation is over, because R Place just announced that they are bringing "RuPaul Drag Race" Season Three contestants to town for their bigass Holiday show, "RuPaul Drag Race Christmas Spectacular" happening December 9, 10, 11 and they've upped the ante by flying THREE stars from that season including the Seattle debut for one of them…
The beloved Puerto Rican Spitfires from Season Three, Alexis Mateo and Yara Sofia return to the Emerald City, much to the joy of their many fans, but joining them for the first time will be Mariah Paris Balenciaga, the sassy House queen from Atlanta Georgia who notoriously flopped on the show with her bizarre Joan Crawford imitation but delighted many fans with her arch sense of style and flair for the cutting quip.
Yara and Mariah headline the Friday, December 9th show (with assistance from the regular divas at R Place), then Alexis Mateo joins them for the Saturday and Sunday performances. The Friday night shows are $15 for General Admission/$25 for VIP; the Sat/Sun shows are $20/GA and $30/VIP and all tickets are on sale at Brown Paper Tickets NOW!
Oh, and do you want some Drag Race Diva gossip? The reason you haven't seen some of the former queens make appearances in Seattle is because they want a lot of money…sorry, Manila Luzon fans. (That, or local promoters are cheap…or, doubt that notoriously cheap Seattlites will pay more than $30/$40 for a VIP ticket…) (We also have to admit, WE wouldn't pay that much to see a drag queen lip sync three numbers and flounce off the stage either…)
And, a famous Season Two contestant wants big bucks AND airfare for her "back-up dancers". (Well, that or to pay to have some window tint removed from her janky car…)
But, poor Mimi Imfurst is always pleading local promoters to book her…sadly, no one thinks she's a guaranteed draw despite the fact she has a NYC reputation for putting on a great show. Her high strung theatrics on "Drag Race" didn't earn her many national fans. The other Season Three bitter baby, Delta Werk, doesn't seem to book much outside of SoCal either… Pity parties, tears and Kryolan make-up are a poor combination.
Tags: Alexis Mateo, Mariah Balenciaga, R Place, Yara Sofia