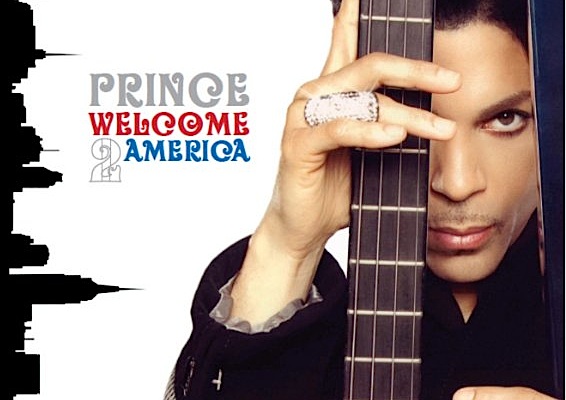 The stage was located in the middle of the arena, in the shape of Prince's symbol with spinning disco balls and streams of purple lights surrounding the perimeter. Across from the stage was a a halogram of "the symbol" spinning on a table in front of a DJ booth…
The last time I saw Prince was the "Purple Rain" tour in 1985 when he played the Tacoma Dome with The Revolution and Sheila E. I was 13 years old and it was my first concert (cool points for that!). I remember him gyrating a top a set of speakers, finding a note on a set of stairs during "Darling Nikki" and a purple bathtub he climbed into asking the audience if you wanted to take a bath with him. I nearly lost my pre-teen little mind! I thought I was in love with him before, but after that show I was head over heels and there was no going back!
This time around in the "Welcome 2 America" tour, there were much less theatrics and a scaled down show with a new band consisting of guest musicians, Janelle Monae, Cassandra Wilson, Lalah Hathway, and Shelby Johnson playing bass, guitar, keyboards and doing back-up vocals with Maceo Parker of James Brown fame on saxophone.
As I waited for him to get on stage, the image of him looking nervous in his dressing room from a scene in his film "Purple Rain" came to mind. Of course, that was not the case, but a funny thing to picture nonetheless!
Twenty minutes after the show was scheduled to begin, the lights went down, the crowd erupted into whoops and hollers, and folks began to stamp their feet. And just as soon as the excitement had started, the lights came back on and sound of the disapointment echoed throughout the dome. This happened two more times until the band finally made it's way to the stage.
More after the jump!
The show began with the sound of lighting and thunder pouring over the room. Smoke filled the room, then up came Prince, rising up on a platform from underneath the stage. I got chills of excitement seeing him all these years later. Prince walked to the front of the stage, opening his arms to welcome us to the show then tore right into "Let's Go Crazy" getting the audience on their feet and dancing. He mixed "Delirious" in with the song ending back with the last few notes of "Crazy" then launched into "1999".
Prince still looks fantastic and knows how to control a crowd. During "Little Red Corvette" he made faces as if he was overwhelmed by emotion and near tears. He may not have been the best actor in his films, but he sure can turn it on on stage. He turned the song into a 10 minute rendition, and would simply clap and point to sections of the room whom began clapping along per his instructions and in perfect rhythm.
To introduce "Take Me With You" he asked the audience "Is there an after party tonight?" Then replied "Please, please take with me you" launching into the song with Janelle Monae stepping in for Apollonia whom sang the original. Another one of his guest stars, Shelby Johnson sang a portion of Michael Jackson's "Don't Stop Til' You Get Enough" and did a beautiful rendition of "Nothing Compares To You" with Prince, which frankly I liked better than the original.
The second part of the show was more of a musical montage and had less full length songs. He came back from his first intermission alone and played teasers of several of his hits iIncluding "When Doves Cry" and "Nasty Girl" by Vanity 6 on a synthesizer that looked like a piano. He started to play "Darling Nikki" but moments into the song proclaimed "I don't want to play that one" and stopped which was a small disappointment.
We got a reminder of his moves during "Kiss" when without a guitar or mic, Prince took to the center of the stage do some solo dancing, complete with many a booty shakes! Every girl and gay boy in that audience ( I went to the show with one of each) lost their minds. And he still has a fantastic ass!
With Maceo Parker on sax, they did a breathtaking version of "Purple Rain" while cannons of purple confetti shot out into the audience. It was definetly a show stopper. The two of them could have played that song together for another hour and no one would have complained.
Waiting for Prince to come back for encores I noticed the audience still held lighters like back in the day, but also in our new age, some people held up their lit up cell phone screens. Perhaps people have been doing this for awhile, but for me this was the first time seeing it as I rarely go to a show bigger than club size. It was both strange and ok at the same time.
For their third and last encore the band played "Controversy", one of my favorites! At the end of the song, Prince threw his arms in the air and blew kisses while the platform lowered him back down to underneath the stage, just as he had entered.
Overall the show had more of a jazz and funk sound, and was a grand stand of Prince's biggest hits with him proclaiming, "You know how many hits we have? We could be here all night!" Yes we could have, and that would have been fine with me! This is where my only complaint comes in. The show ran just under two hours which seemed a bit short for the amount of money they charged for tickets. In 1985 tickets were $12.50 with a dollar or so service charge. Now "the least expensive", (notice that's in quotes) tickets are $90 with nearly $20 in service charges and taxes. Proof again how fucking' greedy Ticketmaster has gotten over the years. But that's a whole other bag that people already know so no need for me to get into! Again, I'm used to smaller shows!
Prince is still a very sexy man, and makes an awesome 'fuck face'. No one can roll on top of a piano like him! And when he smiles it's genuine, as you don't see him smile very much. He's still such a brilliant showman and gave the audience many gracious "Thank You's" through out the night. They really put on a fantastic show and I was elated to see him again after all this time! When Prince comes back around on tour again, make sure to catch a show if you haven't already, it's an experience you won't get with any other artist!
Just for fun the video for "1999". Worth the watch if you have't' seen it in awhile. With The Revolution!
(Visited 1 times, 1 visits today)