There's globs of stuff coming up this weekend, but there's even things to do on a chilly Tuesday night…Come celebrate the holidays with the Seattle LGBT Commission at Kaladi Brothers Coffee inside Gay City:
A free evening mixer to
celebrate the Commission's
accomplishments in 2011
& to plan its goals for 2012
Serving snacks & non-alcoholic beverages

Tuesday, December 13, 2011
from 5:30 – 7:00pm at
Kaladi Brothers Coffee
511 East Pike Street
on Seattle's Capitol Hill
AND, you can also pop by Lobby Bar for Big Gay Trivia Night right after…tonight's theme is "Comic Books" and its Special Co-Host is Anna Zatanna, aka Anna Rexia, aka Craig Trolli. You know it's gonna be a gay nerdists wet dream. That fun starts at 7:30pm with registration, and the trivia starts at 8pm. Teams up to 6 people are allowed, and it's $3 per person. The winning team gets MONEY!
Grab the Wonder Twins and pop on by…
Semi naughty photo after the JUMP!
Oh, and looking for artwork for this post, we stumbled upon one of those awful porno cartoon sites…you know, the ones where they take classic animated characters and make them do disgusting things. Still recovering from seeing Mr. Spacely polish George Jetson's knob and Shaggy and Scooby getting it on…shudder. Here's a cropped shot of Skeletor boning He-Man…which is ridiculous…everyone knows that it's Skeletor who's the Pass Around Party Bottom!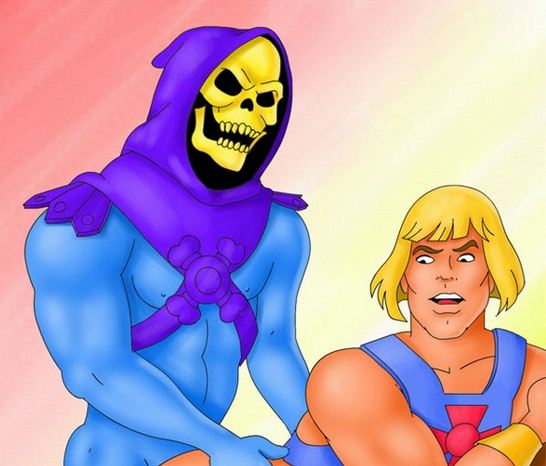 (Visited 10 times, 1 visits today)