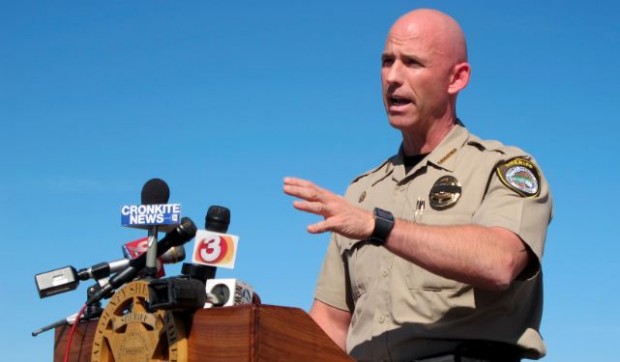 Have you been following the escandalo coming out of Arizona involving sexy bald sheriff daddy Paul Babeu getting outed as a gay man involved with an equally sexy illegal Mexican immigrant named José? It's JUICY! From Towelroad:
The AP took up the story of Paul Babeu, the anti-immigrant sheriff who came out over the weekend after it was revealed that he was having a long-term relationship with an immigrant named Jose and threatened to have Jose deported if he didn't sign an agreement to never reveal the nature of his relationship with the sheriff.

As Brandon noted yesterday, Babeu has stepped down as Mitt Romney's campaign co-chair in Arizona, and the AP notes that Babeu may have a difficult time now holding on to the evangelical conservative base he has courted as a rising political star.
Hmmmm….a hot desert setting. A sexy daddy type with power. A swarthy young lover. Corruption. Intrigue. It's like a Joe Gage (site NSFW) gay porno film come to life!
Need proof? Check out this shot from Mr. Gage's opus from Titan Men, "Copperhead Canyon" with Rick Powers as a country cop and Antonio Milan and Wolf Hudson as some escaped convicts.
We demand Mr. Gage do a porno-drama based on this case!
Tags: Copperhead Canyon, Joe Gage, Paul Babeu, Titan Men