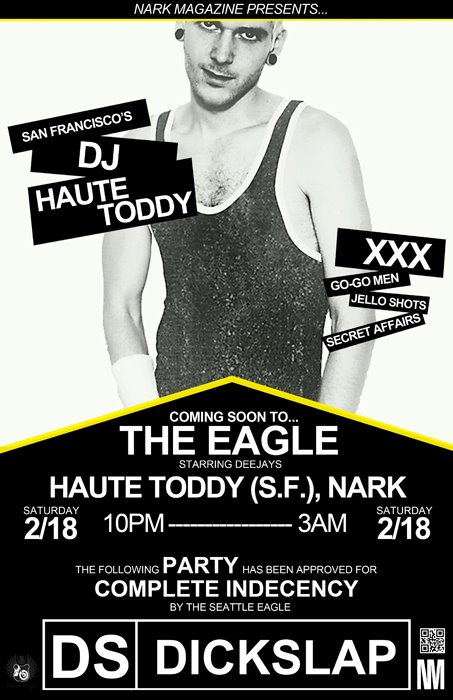 DICKSLAP- the ridiculous sweaty passion pit that drove the regulators out of The Eagle and brought back all its throbbing drunken glory courtesy of Nark Magazine.
This month— our special spicy guest DJ in from San Francisco..
DJ HAUTE TODDY

"Haute Toddy loves dance music. He came from the Pacific Northwest where he was immersed in an unparalleled culture of indie music. He began experimenting with sound by creating mashups and producing edits. He moved to Vegas and was heavily influenced by the heavy pop and electro house scene and came out to San Francisco with an arsenal of infectiously dancy mixes of everything.
Toddy started spinning at boutique clothing stores and art galleries. He grew from bars to clubs and is becoming one of San Francisco's premiere gay dance DJs."
Alongside jam spinning homosexual NARK
Featuring the nastiest pig GO-GO's, strong budget worthy jello SHOTS, afterhours, cheap dranks and new mugshots by Nark Magazine (don't worry, we'll keep the super scandalous ones to ourselves)
SATURDAY 2/18
AT THE EAGLE
10PM-3AM
$5
21+
Want to keep the weekend going?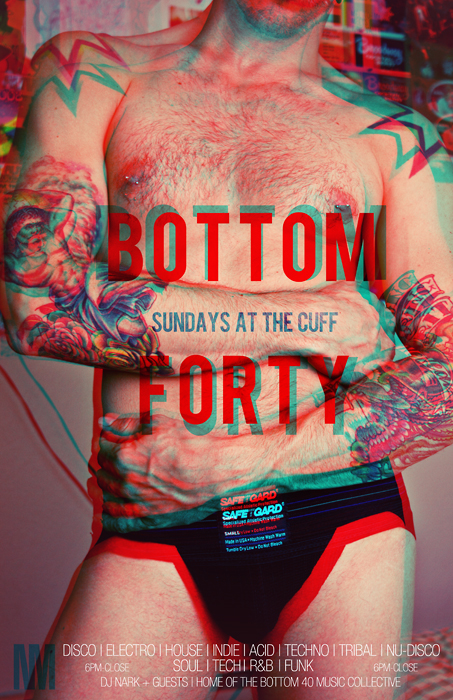 Bottom Forty, the newest talk of the town, reinventing Sundays as we know it at The Cuff, continues on tomorrow night, 6pm-close.
Want to get in free? Just grab a free ticket from the DJ booth at Dickslap tonight!
(Visited 1 times, 1 visits today)