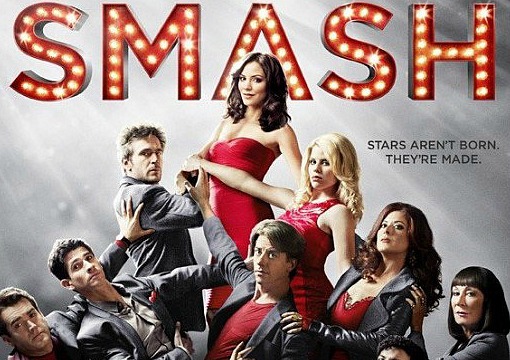 Potential. The internet defines potential as: Having or showing the capacity to develop into something in the future. And NBC's new show, "Smash," about producing a Broadway musical, based on the life of Marilyn Monroe (you know the woman Heath Ledger's sort of widow just played on the silver screen), has it in spades. Before we get to the potential let's talk about the characters:
Karen: Broadway hopeful with a great set of pipes, an all-American look and a smoking hot boyfriend that supports her and works for City Hall. Oh, and she is from Iowa, of course. She also has parents that are concerned about her choice of careers, of course. Karen is played by American Idol's Katherine McPhee. Of course.
Dev: Karen's supportive and smoking hot boyfriend. He works on budgets or something down at City Hall. He has a charming British accent, is supportive of Karen's career and knows an awful lot about Marilyn Monroe's boobs.
Ivy: Blonde bombshell that can belt out the tunes that is currently under-utilized, at least in her opinion, as a chorus girl in the hit Broadway show, Heaven on Earth. She seems to have been in the chorus for a long time and is yearning to start landing parts. She has a mother more interested in chatting about her brother's car dealership than Ivy's career, of course. Ivy is played by Seattle native (like me!) Megan Hilty.
Julia: One half of a creative duo responsible for a big hit show. She is played by Debra "Grace" Messing. Julia is driven but also a mom, a mom that has promised to put her career on hiatus for a year while she and her house husband try to adopt a baby (cliché). She is struck by the idea of doing a show about Marilyn because of the potential for a baseball number.
Frank: Julia's long suffering husband played by the Broadway star, Brian d'Arcy James (let's try to forget about Shrek: The Musical, shall we?). Frank is pissed because Julia is breaking her promise to take a year off to adopt a baby, get over it Frank.
Tom: The other half of the creative duo responsible for Heaven on Earth. Tom's a fag, SHOCKER, and I am pretty sure wants to screw his new assistant (and we also learn he likes to screw his chorus boys, another shocker). Tom is the composer and is also jazzed about doing a show about Marilyn, BASEBALL NUMBER! Tom is played by Christian Borle.
Ellis: Tom's cute new assistant that loves Broadway and has a hard to pin down sexuality (Tom think's he is gay and Julia thinks he is straight. What about Bi, folks?). Ellis smart, cute, attentive but almost gets shit-canned for leaking a video of Tom and Julia's demo for their new musical but wins them back by saying he is sorry and bringing them croissants. Ellis is played by TV newcomer, Jaime Cepero
Eileen: ANGELICA HUSTON, I shouldn't have to say more but I will. Eileen is a successful Broadway producer currently entangled in a nasty divorce with her jerk husband who is also some sort of producer. Her jerk husband forces her to tie-up her assets in escrow and thereby put's her revival of "My Fair Lady" on hold (really "My Fair Lady?"). Eileen sees the leaked video (good job Ellis!) and wants the show so she convinces Tom and Julia to let her produce and gets them to consider the brilliant but nasty director, Derek.
Derek: Dissipated, brilliant, asshole, womanizer, arrogant, yada, yada, yada. Derek is being wooed by Hollywood specifically Lionsgate (real world studio!) but is intrigued by the Marilyn Monroe musical, probably because he wishes he could have banged Marilyn while she was still Norma Jean. He puts together a brilliant audition for Tom/Julia/Eileen and tries to bang Karen, she declines. He is smarmily played by Jack Davenport.
Phew…
Basically this episode introduced us to the plot (Marilyn the musical), the characters (see above), conflicts (who will win the role of Marilyn, will the musical prevent the adoption, will Tom and Derek kill each other, will Angelica Huston realize she is on TV and quit the show (I kid), etc., etc.). Getting back to potential "Smash" has it but it isn't fully realized in this episode. The musical numbers were smashing, the cast is able, there were fun topical showbiz references, but were also a lot of clichés here that could quickly become tiresome. That being said if you love Broadway you will probably love this show at least for right now. I am looking forward to next week and seeing what pastries Ellis will use to apologize to Tom.
(Visited 1 times, 1 visits today)