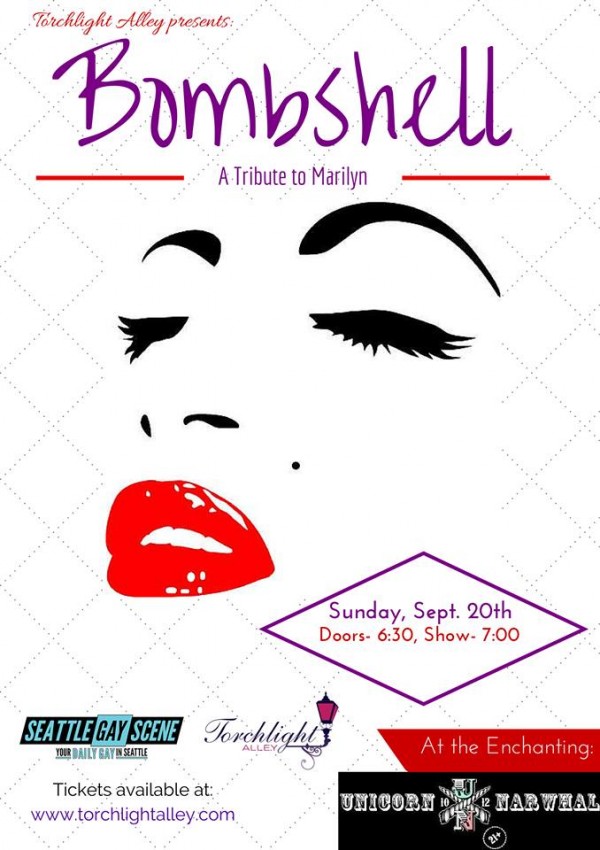 Oh, we know you're lingering out there somewhere in the shadows…you mourning fans of the much missed musical theater show "Smash" which aired for two brief seasons on NBC in 2012/2013. Created by playwright Theresa Rebeck, executive produced by Steven Spielberg with music by Marc Shaiman and Scott Wittman (and others), the show followed the exploits of a team of musical theater creators in New York City as they put together a new Broadway musical about Marilyn Monroe, called "Bombshell". The soap opera-y show was a cult hit with musical theater fans across the country who adored the hysterical plot AND the great songs created for the show within a show. (In fact, plans are afoot to actually mount "Bombshell" on Broadway eventually.)
One of the show's biggest local fans is our very own drag diva, TIPSY ROSE LEE, the "femme lead" over at the popular Sunday drag brunch "Mimosas with Mama" at The Unicorn/Narwhal. Headed by Mama Tits, Tipsy helped create "Mimosas" with Mama and Disco Vinnie a hundred thousand years ago back at the slightly lamented Grill on Broadway. Since the show was created, Tipsy has had the chance to star as a lead in most of their spoofy mini-musicals including playing chubby Tracy Turnblad in "Hairspray", Galinda in "Wicked", and Jane Fonda in "9 to 5ish". Currently, the cast is set to open their version of "Little Shop of Horrors" with Tipsy playing the adorable Audrey.
Tipsy is also very busy working on her Torchlight Alley production company and cabaret project, hoping to eventually open a new cabaret theater space in Seattle to produce drag, burlesque, and cabaret shows. They had a very successful fundraiser show earlier in the year at the Columbia City Theatre and now Tipsy is at work on her own solo show which will play for one night in Seattle on Sunday September 20th before it heads off to further performances in 2016 including a run in Puerto Vallarta Mexico in March of 2016 as part of the "Mimosas with Mama" visit to that resort area with their show.
"Bombshell" is the name of her new "one diva" show and like the title suggests, it's also based on the life of Marilyn Monroe and uses some music from the TV show. Here's Tipsy on Marilyn and her show:
You are going to witness something magical, the life of the incomparable Marilyn Monroe. Through song, dance and readings from the thousands of books, movies and songs that have been written about her but mostly her own personal memoirs, notes and poetry. Everyone knows the great American Cinderella story of the little orphan girl who then grows up to be the most beautiful princess and goes to the ball, and then the story takes a tragic turn and she dies, and she's alone. The ancient Greeks have Oedipus, we have Marilyn. She had a very mysterious ability to inhabit our fantasies. She is still better known than most movie stars, world leaders, and television personalities of all time. The surprise is that she was never taken seriously enough to understand how that came to be so. There is such mystery surrounding her life that it is impossible to know exactly what she was thinking or feeling, but I hope that by the end of this evening, you will leave feeling that you know her as a human being, not just an icon. And in her own words, "Maybe I'll never be able to do what I hope to… but at least I have hope."

– Tipsy Rose Lee
And, instead of just copying and pasting everything from her press release, we thought it might be more fun to actually ask Tipsy a few questions about the new show and what's going on in her world…so we bugged her to give us the nitty gritty:
Michael Strangeways: WHY do this show? What's the motive to do your own "one diva" show?
Tipsy Rose Lee: I have always danced to the beat of my own drum, pun intended, when it comes to drag. My style is very old-school and based heavily in the musical theatre realm. That being said, there aren't many opportunities for a queen to showcase that kind of talent. Most drag gigs are nightclub performances of top 40 hits or parodies. That is why I have decided to venture out onto my own to offer a classy alternative to the club scene.
MS: Are you a Marilyn fan? Or, are you more motivated by your love of "Bombshell" the TV show about the making of a Marilyn Monroe musical?
TRL: Well, I think you mean "Smash", and yes to both. I have long been a fan of Ms Monroe. She actually is a very large influence on the character I have created. I adore the whole demure, sexy, dumb blonde that is actually quite intelligent and running the show without anyone noticing. And as for Smash, the light bulb came on immediately for me after watching the first episode. Although the plot left much to be desired, the musical "Bombshell" that they were creating was brilliant. I was sure that after the show ended they would mount it on Broadway and win every Tony imaginable. But for whatever reason, they never did and now I want to bring it some new life with a new take on it all.
MS: Why does Marilyn still resonate with audiences 50 years after her death?
TRL: I think the mystery surrounding her life and death has confused and fascinated people since her death. There are so many unanswered questions about what really happened the night she died, and no one really had a clue what the woman behind the mask was like. One simple reason for her life story's endurance through the years is it's premature end. In her own words, "When the past dies, there is mourning. But when the future dies, our imaginations are compelled to carry it on."
MS: Your production company Torchlight Alley is part of your dream to open your own venue eventually…until that can happen, what do you hope to accomplish with Torchlight?
TRL: Yes, I would LOVE to open a cabaret venue in Capitol Hill. I think we are all familiar with the changing times for the most artistic neighborhood of Seattle. I think it is vital that we continue to nurture the arts in the neighborhood to combat everything that threatens to destroy the community that has called "The Hill" home for so many years. Until that dream become a reality, Torchlight Alley is committed to providing first class productions that bring together ALL forms of entertainment from drag, burlesque, theatre, dance and any other performance art. We want people to see that there are so many more options in terms of entertainment than the same old shows that have always been around. Something new and fresh that draws from the more classic show formulas of theatre and vaudeville.
MS: You're opening your new "Mimosas with Mama" show/parody musical "Little Shop of Horrors" where you get to play the sweetly befuddled heroine Audrey and channel the great Ellen Greene and you've gotten to play several beloved musical theater heroines with Mimosas. Who's on your wishlist for the future? Tipsy Rose Lee IS Evita!!!? Tipsy IS Eliza Doolittle!!!
TRL: I would love to get a chance to play my namesake Gypsy Rose Lee in "Gypsy" for obvious reasons. We have discussed it several times and if even almost happened once so you never you. I'm also dying to play Velma in Chicago!
MS: Is there still a boy role in a musical you're aching to play?
TRL: Funnily enough there is, and it's Seymour in "Little Shop of Horrors". I never thought in my days of working in musical theatre around the country that I would actually end of playing Audrey BEFORE I play Seymour!
MS: What do you want to eventually do with "Bombshell"?
TRL: This is only the first time "Bombshell" will hit the stage. It is slated to play in a cabaret space in Puerto Vallarta in the spring, and negotiations are underway to bring the show to other cities in the U.S. My plan is to continue developing the project to include a full cast and come back to Seattle in a larger venue and more SPARKLE!
MS: Do you have other one diva shows up your sequined sleeve?
TRL: I don't have any planned as of now. This one just sort of created itself over time, so we'll just have to see if inspiration strikes again. But I'm always looking for fan suggestions!
---
We think Tipsy and Vinnie should switch roles at least once during the run of "Little Shop of Horrors"!
We also think it behooves you to snatch tickets to see "Bombshell" starring Tipsy…it's ONE night only! Grab those tickets HERE!
You have many options to see Tipsy in "Little Shop" since it opens this Sunday and will run through the end of the year but it's selling very well. Grab them while you can over HERE!!
(Visited 1 times, 1 visits today)