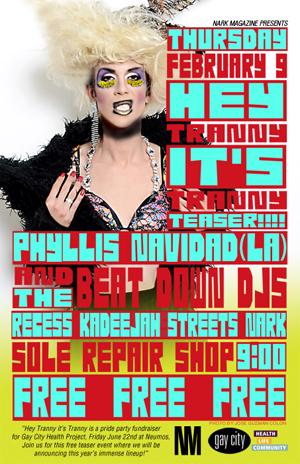 DJ Nark COMMANDED me to write up a blurb about his big show tonight at Sole Repair (behind Quinn's at 10th and Pike)…apparently he's having host jitters and wants a huge crowd. It's his sneak peek party for the next installment of his "Hey Tranny It's Tranny!" series of events AND it's a fundraiser for Gay City. But, why wouldn't you go? It's free and full of 7000 kinds of awesomeness! Here's the skinny:
Nark Magazine, Gay City and America's Medical Group present…
HEY TRANNY IT'S TRANNY TEASER PARTY!
Featuring..
All the way in from LA for your audio/visual pleasure, not afraid to wear a gown with a train in the club, the tall couture queen of last year's Hey Tranny it's Tranny..
PHYLLIS NAVIDAD! (poptART)
Backed up by The Beat Down DJ's..
RECESS (Shameless)
KADEEJAH STREETS (Innerflight)
NARK (Bottom 40)
Wtf is The Beat Down? Well it has something to do with the disco beats emanating from deep down below Neumos in that new basement space that, oh ya, hasn't opened yet, but will happen on 2nd Thursdays upon said opening.
We will be bringing in our own bass heavy sound system to turn Sole Repair into our own little thumping box, and best of all we are giving you all this for FREE!
Why a teaser party? Well this year's Hey Tranny it's Tranny (**6/22 AT NEUMOS**) lineup is SO good- not only does it need a CONCERT stage but it also needs it's own PRE-PARTY just to announce it! Also we just like to dance party.
Help us raise 10,000 bucks for charity this year for Pride, but FIRST- just come get down with us, no charitable donations required.
This free party is made possible by-
America's Medical Group
http://www.americasmedicalgroup.com/
Tell em' Nark Magazine sent you and get a special deal on acquiring that handy dandy greenery card! Check out the Both Collective for your supply, rip one, and then walk across the street from Both to Sole Repair and dance it off!
http://www.facebook.com/bothcollective
THURSDAY FEBRUARY 9TH
SOLE REPAIR SHOP
9PM, FREE