February 14, 2012

•
by
Brian Peterson
Monday marked a monumental occasion in Washington with the Marriage Equality bill getting signed into law. At Lobby Bar, an enthusiastic crowd gathered not just for the Marriage Equality celebration, but for the Official Logo RuPaul's Drag Race viewing party as well. Joining New Queer on the Block were some of the girls from the Haus of Paradisco, Alex Garcia from The Social and our very own Dan Williams. Before the show got started, I sat down with GLAMAZONIA and we talked some kiki about this season's cast of RuPaul's Drag Race. It was unanimous between us girls that our top three queens this season are Latrice Royale, Sharon Needles and Chad Michaels. Once the queen diva was finally ready to get the show started, Lily Armani opened the show with a tribute to Whitney Houston's "I Will Always Love You" which got the crowd going but there were a few peeps upstairs who clearly wanted to throw their head right into the toilet and pull the flush handle.
Who's on my shit list this week? Kenya Michaels – when choosing your team for the mainstage challenge it came down to Madame LeQueer being the final contestant to be chosen and the shade that was thrown when Madame was the last queen standing. Still, get past your high-flying ego and off your baby pedestal because you have not impressed me one bit. On the other side of the table, Phi Phi O'Hara seemed to lack in the leadership role of team captain, which obviously resulted in the lack of team energy and focus.
"I didn't pick her because I didn't want her on RuPaul's Drag Race"

-Kenya Michaels
On the runway, my two favorite looks came from Sharon Needles and Latrice Royale and that's no big surprise since my top three are Sharon, Latrice and Chad, but overall the runway for this round was two times better than last week. However, I have some reservations, and does that really surprise you? My dearest Willam Belli, thank you for bringing something a bit more original than last week with your chopped up gold look that I was totally digging because it's something that my drag ego would sport down the street to the club. Phi Phi O'Hara delivered something that reminded me of a former queen, Yara Sofia, so take that as you will. Madame could very much be a daughter of Delta Work but not in a slimming sort of way. The Princess's look gave too much homage to Phoenix from season three. Dear Latrice Royale, I LOVED IT!!!! Do you have that outfit in my size because that's how much I loved your attire. Overall, the queens are finally grasping the competition and taking things seriously and perhaps it takes a couple of elimination rounds to weigh this feast on the contestants. However, like Michele Visage put it to Madame Le Queer…
The green reminds me of fungus.

-Michele Visage
It boils down to one queen winning the main stage challenge and the winner goes to…Sharon Needles!!! The Princess and Dida Ritz fell in the bottom two, the weakest links, and had to lip sync for their life and impress the judges one last time. It was one exciting performance by both queens, especially for Dida Ritz, but as my boyfriend pointed out to me: "Of course Dida is ripping up that stage, they gave them a black woman's song!" so there you have it. The Princess exited stage left with sass and as usual did not agree with the decision made by RuPaul and her band-wagon of catty judges. Catty judges, except for Michelle Visage – who has been becoming a big advocate for the contestants since day one.
(Visited 1 times, 1 visits today)
Related Posts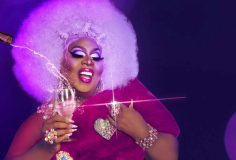 *Dragolicious • *Seattle Theaterland • Arts & Entertainment • Arts News • Drag • Drag O'Tainment • Legends • News • Nightlife • Queer Theater • RPDR • Stuff to Do • Weekend Calendar
A few tickets are still available (general seating so get
...