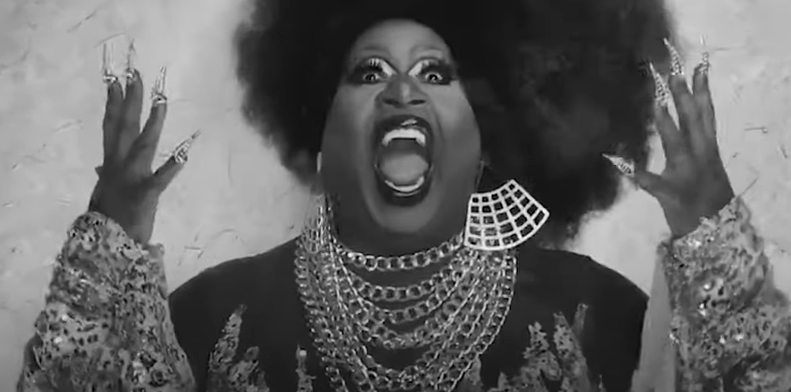 We love, love, LOVE this video.
Drag superstar LATRICE ROYALE just released a fantastic new video where she performs the immortal Nina Simone song, "Four Women", off of the singer/songwriter/activist's 1966 album, Wild is the Wind. In it, Simone relates the story of four different archetypes of African-American women: "Aunt Sarah" a maternal figure; "Saffronia", a mixed race woman torn between two worlds; "Sweet Thing", a sex worker and "Peaches", Simone herself, a tough but embittered woman still fighting the fight but weary of having to fight it.
Seattle area theater lovers are likely to be very familiar with the song. It was the basis for the play, Nina Simone: Four Women by Christina Ham which was staged very successfully at Seattle Repertory Theatre last year.
Latrice comments about why she decided to make this video:
"Four Women", originally written and released by Nina Simone, depicts the struggle of the African American Woman! This is a performance tribute, to the powerful women, who has changed history through their fight for "Racial and Social" justice. This piece is intended to celebrate those who were in the fight long before us, and to educate the masses on WHO THESE WOMEN WERE. I hope you enjoy and receive this message in the spirit in which it is intended. – Latrice Royale
The Lyrics:
My skin is black
My arms are long
My hair is woolly
My back is strong
Strong enough to take the pain
inflicted again and again
What do they call me
My name is AUNT SARAH
My name is Aunt Sarah

My skin is yellow
My hair is long
Between two worlds
I do belong
My father was rich and white
He forced my mother late one night
What do they call me
My name is SAFFRONIA
My name is Saffronia

My skin is tan
My hair is fine
My hips invite you
my mouth like wine
Whose little girl am I?
Anyone who has money to buy
What do they call me
My name is SWEET THING
My name is Sweet Thing

My skin is brown
my manner is tough
I'll kill the first mother I see
my life has been too rough
I'm awfully bitter these days
because my parents were slaves
What do they call me
My name is PEACHES

Songwriters: Nina Simone

Four Women lyrics © Sony/ATV Music Publishing LLC
(Visited 15 times, 1 visits today)