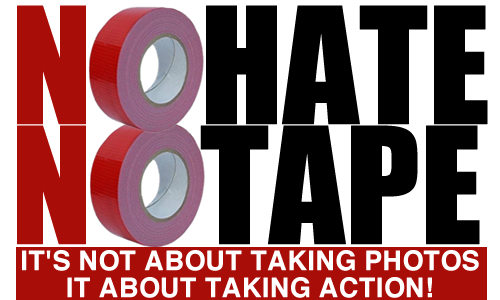 The NOH8 Campaign has announced they are returning to Seattle on May 5, 2012 for a photo shoot at the Seattle Renaissance Hotel. In case you've been living in a cave, NOH8 is the iconic photo publicity campaign featuring supporters of marriage equality posing for overlit, photoshopped photos wearing all white clothing, duct tape over their mouth and the NOH8 logo stenciled on their face. The campaign was started by photographer Adam Bouska and his partner Jeff Parshley to protest the passage of Proposition 8 which took away marriage rights for same sex couples in California in 2008. Celebrities quickly jumped on board, the media took notice and soon the NOH8 Campaign began traveling all over the United States to stage photo shoots to raise awareness of marriage equality. Thousands of individuals and groups have paid $40 for a solo photo/$25 per person for a group shot for the pretty photo to post on their Facebook page, with many people believing the funds raised by NOH8 were used to raise funds to achieve marriage equality in states all over the country.
It's a nice thought, but it's also not true. All funds paid or donated to the NOH8 Campaign are used to FUND the NOH8 Campaign. Direct contributions are NOT made to any group actually trying to achieve the passage of marriage equality bills in any state. In other words, your NOH8 donation goes to fund more NOH8 photos…nothing more. From the NOH8 website:
Funds raised by the NOH8 Campaign will be used to continue promoting and raising awareness for marriage equality and anti-discrimination through NOH8's interactive media campaign. This includes bringing the campaign to other cities around the country, as well as compiling the images for a large-scale media campaign. Under consideration is the expansion of our campaign to other media, including television and radio broadcast, billboards, and magazines. Contributions are also used to cover the daily operations and maintenance necessary to run this rapidly growing campaign.The NOH8 Campaign is an approved 501(c)(3), donations will be tax-deductible up to the amount allowable by law.
It should also be pointed out that NOH8 began in the wake of Proposition 8, in 2008 but the organization didn't became a 501(c)(3) non-profit organization until November of 2010 two years after the campaign started.
Pretty photos are nice, but what do they accomplish? And, the NOH8 Campaign has been using the EXACT same iconography for FOUR years! The duct tape mouths made a point in 2008; they just seem sad and flaccid now. It's time to take OFF the duct tape and speak out for equality. We're achieving it in Washington State (and elsewhere) but it takes money to fund the campaigns to ACHIEVE marriage equality. That $40 you'd spend on a cute photo could help pay for the necessary ad campaigns to fight for our rights when we go to the polls in November. NOM and other groups will pour millions of dollars into advertising campaigns to prevent marriage equality from becoming a reality in Washington. We need to ALSO spend millions of dollars to hold onto the rights we just won.
On May 5th, resist the urge for a pricey photo op and donate that $40 (or more) to Washington United For Marriage an organization that's actually WORKING at accomplishing equality in our state.
And, during this month, attend one of the 11 town halls around the state to help plan, organize and fund our fight to win in November. Seattle, you have your chance on Saturday, May 10 at 10am at UFCW Local 21, Joe Crump Hall at 5030 1st Avenue South. For other locations, check out the website HERE.