We have a hard time keeping up with multi-hyphenate Kevin Kauer. As DJ NARK he plays gigs all over the city and up and down the West Coast. If he's not DJing at those events, he's taking some hot photographs. As a promoter and producer he creates more weekly/monthly/special events that anyone else around including such hot events as Fringe, Dickslap, the new Bottom 40 at The Cuff and his killer Pride party, "Hey Tranny It's Tranny!". Oh, and he finds time to publish, edit, design and write for his own online magazine, NARK Magazine which is about to kick it up a notch. (Someone asked me if I worry about the "competition"…my reply is that I don't compete with artists I admire; we complement each other…)
Yes, Kevin/Nark contributes to SGS so this is obviously a bit of a mutual suck/suck interview, but I legitimately wanted to know the answers to these questions. Mr. Kauer is such a whirlwind of activity, it's hard to keep up with what is going in the NARK-A-VERSE. I asked him about stuff I really wanted to know more about…and, there's an assload of information to be had…
Michael Strangeways: You're a busy, busy man with about 326 projects all going on at the same time. What the hell's up with that? For someone who watches a lot of "Golden Girls" you manage to get a helluva lot of stuff accomplished…
DJ NARK/Kevin Kauer:  I'm an Aries, we like to multi-task, but if I didn't allow myself some down time I'd have a stroke…though my "Golden Girls" intake has reduced to nearly zero since I started working on Pride (forgive me Bea Arthur for I have sinned).
MS: Let's start with your new night at The Cuff, "Bottom 40". On paper, it seems like an odd mix…the middle of the road/old school manly gay bar charms of The Cuff meets up with the glitterbomb scruff of DJ Nark. How did Nark and Cuff hook up? Who approached who? And, what's the theme of "Bottom 40"? What should people expect and what do you want to accomplish?
NARK: The Cuff and I did a little bit of tango dancing for a while, and when they decided to change up their Sundays and hire a different DJ they came to me. I was very appreciative of the offer, but DJ'ing a weekly eight hour shift by myself seemed like a quick burnout, and so I asked them if I could take full reign over the evening, and really create something special out of it, as opposed to being a jukebox. That's when Bottom Forty made it's appearance, a special occasion I had been holding under my belt for quite a while, waiting for the right opportunity.
I know a lot of people are confused, in the initial unveiling, but really it's something that is so meant to be. For me, Bottom Forty is a homage and inspiration of Horse Meat Disco in London (The Eagle), Honey Soundsystem in San Francisco (Holy Cow), private elite parties like Nox Illusio in LA, and house parties that don't stop at sunrise. Places where fags, hags, hipsters, spinsters, who's who and who's that? come together religiously because of that unique sound you just can't get anywhere else, especially if you want to be simultaneously surrounded by a high ratio of sweaty scruffy dancing gentlemen. Very few people who have lived mostly in Seattle have ever gotten to really experience that, which is why they are at first confused, but warming up oh so quickly I see. As it says in our invite, "every week, Bottom Forty is a mirror ball in New York, a basement in Chicago, a cruise in L.A. and a night in the desert…" I don't think it's impossible to take yourself to these places while gracing the dance floor, what's difficult is having all the top notch DJ's to keep you there, and that's our goal.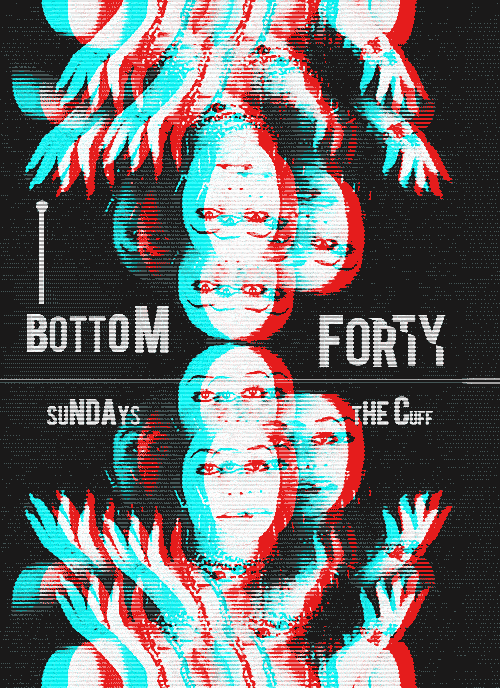 MS: Who's involved with "Bottom 40" besides yourself?
NARK: I went into starting the collective with one of my favorite lady queers, DJ Riff-Raff. As of current we've inducted two others into the Bottom Forty Collective: Derek Pavone (DJ Pavone) and  Spaceotter. Along the lines of other gay / queer collectives, the quality and integrity of our selectors is top shelf, however the way we differ is we are not all based around one overlying genre. Instead, we incorporate different styles of DJ's to pick from to best support your feel, but knowing that you won't land up with anything generic. Derek and I are majorly into the disco scene, but I can just as easily keep up with Riff-Raff on a banging electro set, or alongside Spaceotter through a smooth and mind altering house music affair. Our roster and more specific information will be available at Bottomforty.com around the same time as Nark launches.
MS: Will "Bottom 40" have special guests? Will you bring in any drag performers or is it gonna be a night for the manly mens only?
NARK: Every first Sunday is resident night at Bottom Forty, featuring our collective residents at the wheel. Every remaining week features one special top shelf guest DJ from near and far (alongside myself and Riff-Raff), gay, straight, male, female, or otherwise. With The Cuff's help I'm working on bringing some very very special names in town this year.
You know I love my manly mens parties, but Bottom Forty is definitely open to all, it's all about being down with the music and expanding your horizons. As per usual with my events- dickheads and douchebags will be removed with no gender bias.
That being said, there will not be any performances of the drag variety, but instead stick to the simplicity of uninterrupted dancing, socialising and general mind expansion. We will feature music producers and the like at some points that have more of a 'performance' setup, but will never break your concentration, I want to make sure people are always in their personal zone.
MS:  But, you're still doing your events at The Eagle like "Fringe" and "Dickslap" right?
NARK: Oh absolutely, I love gettin' down at the "Dirty Bird". My Eagle events still boast all their sexy, fog-machined sparkle-laden, performance driven debauchery we all know and love, and that special and sometimes sticky sentiment is reserved solely for the Eagle. For example, on Friday the 16th for the next Fringe, the Burning Man camp 'Conception' is taking over and you won't believe the amount of decoration and time they are putting into it, and how many lazers and lights are involved, and even bringing in additional sound and subs, it's going to be a wild one.
MS: PLUS, you're bringing the biggest new drag star in the country, Sharon Needles, to Seattle for "Hey Tranny It's Tranny" for Gay Pride. How'd you pull that off? I know more than one event booker in town is green with envy you snagged her first…
NARK: Hey Tranny is a very important event to me that I work on year-round (yes, I'm already even doing a little bit of work on 2013). Not only do I want to throw the party that I myself want to attend and makes me feel proud to be a gay, but it's also become extremely important for me to be able to raise as much money for non-profit / charity as possible and really give back to the community that I love (this year we continue to raise funds for Gay City). The whole year leads up to this event, you can bet your ass I'm going to make it worth it!
As for Sharon, I've had my eye on that queen for quite some time now, I love what she is doing and all that she represents, but as you and I know there a lot of great art queens that really push the envelope like her and so it is great to see her get recognition for that on a national level. Our mutual Pittsburghian (Pittsburghanite?) friend DJ Edgar Um has been the man behind the tracks at Sharon's performances for years now, and will be joining us as well for Hey Tranny and his Seattle debut.
I know Seattle is very excited to meet Sharon, and so we will have a personal meet and greet for our VIP guests so make sure to snag one of those tickets if you are looking to profess your love to Miss Needles!
While Sharon is a very exciting addition to Hey Tranny, I am also ecstatic about the rest of our killer lineup which includes Hi Fashion and Phyllis Navidad (LA), JD Samson (NYC), Alaska Thvnderfvck (Sharon Needles' partner in crime) and Edgar Um (PA), with one more possible special guest to be announced, as well as our amazing hostess Ben Delacreme and other local queens, queers and genderfucks.
MS: That's a KILLER line-up! And, "Tranny" is moving to Neumos this year, right?
NARK: Correct, and it is on Friday this time (6/22). I love doing parties at Havana so much, the mixed crowds are awesome and the place is beautiful. Unfortunately this year for Hey Tranny with the incorporation of bands and performances we needed a stage and a little more capacity in order to raise our goal of $10,000 for Gay City. I'm hoping maybe I can bring some queer party realness to Havana the following night!
MS: What's happening with your website "Nark Magazine"? It's just had a redesign and it looks like you're adding a lot of new material…is it going to become a REAL print magazine, or are you just expanding your digital format?
NARK: Lots of exciting things!! I've put every last dime and minute of time into Nark and all it's facets over the last three years, but it completely pales in comparison to the new Nark Magazine! The current 'redesign' was merely a freshening up, a powder puff in the ladies room; the new site is designed ground up by yours truly, and being programmed and coded together right now by the amazing Derek Pavone and we should be launched by the end of next week. It features a simple, clean and inclusive layout. Once visitors become familiar with the site, they will be able to customize it to their liking, that way they don't have to sift through articles they don't care for. I've lost track of the number of contributors involved as it keeps growing, and they are writing from Seattle, San Francisco and New York as of current, taking the Nark opinions on a more national level, and expanding our information output over a wide range of nightlife, fashion, music, arts & culture, featured individuals, celebrity interviews and so much more, while still keeping the underground and queer focused path we started out on.
We are not going into print for a couple of reasons, one- let's face it, as much as we all love it, it is a dying medium, and two- with what money? All that hustling and all those DJ gigs up and down the coast, they pay for everything I do, but honey they don't pay that much. Instead, we will incorporate the print feel in different ways, for example we will have a 'cover' each month, but it will be digital. Instead of saying what is inside, it will tell you what is in store and what our special articles are that will be coming out that month. Also, I plan on putting whatever funding I can to street art and other campaigns, to provide that satisfaction of physical media, but on a large scale one time basis.
MS: AND, you're apparently bringing John Cameron Mitchell's "Mattachine" party to town in the summer…is it too soon to talk about that?
NARK: It's not too soon, I am very excited about this. It is too soon to tell you the exact venue, because it is not fully confirmed yet, but they will definitely be here on August 25th. I have been trying to route John up here for a while now; last time they were near by we threw an afterparty together down in Portland which was a ton of fun. That crew is a bunch of sweet hearts and they really bring something extra special along with them. Plus Seattle never gets stuff like this! So you're welcome, now you don't have to be in LA or NYC to party with all your favorite celebs and gay idols. Plus, uhh, height of Seattle summer mega-party? Yes please.
MS: You do gigs all over the West Coast; Portland, SFO and LAX. What can Seattle learn from those cities to improve our nightlife scene?
NARK:  I don't think Seattle necessarily needs to learn from other cities. Each place I've lived at or played gigs in is unique and it should stay true to that. Seattle is an amazing place in so many ways and I love the way people get down. What I would change however, and as you know I am already an active activist on, is the extremely outdated liquor board laws. It's really what keeps this place from really hitting it's maturity- but it is starting to get better!
Beyond that there is a great following and desire for good, high quality music, events and bars around here and I would like to see that particular community continue to grow, as well as the more mainstream community to give it a shot as well, because that's the only memorable things that come out of any city.
In the mean time I keep working to shorten the gaps between these cities and bring all that realness straight to Seattle for those who can't make the time to visit other cities. In one way that makes us the best, since you don't even have to leave Capitol Hill to get a slice of SF, LA and more! You do however still have to leave the Hill to get a decent burrito, sorry.
MS:  And vice versa…is there anything SFO and LAX could learn from Seattle?
NARK: Nah, they rock the queer scene pretty hard. You know who could learn a LOT from us? San Diego. Oh lordess does their gay scene need a shot of reality…hopefully we can do that soon. Bottom Forty the party and the collective are a multi-destination affair, and our sites are first set on Portland and Honolulu, maybe San Diego next.
MS: DAYUM! No wonder you gave up your GG addiction! Anything else you wanna plug, pitch, praise or condemn?
NARK: Plug: Keep an eye on Neumos new underground space, Barboza- Recess (Shameless), Kadeejah Streets, Miss Dank and I start up a new monthly night there, 2nd Thursdays, starting on June 14th called "The Beat Down". It's a night focused on the deep, seductive, classier spectrum of music, we're really set out to create an amazing atmosphere for you and are planning to work directly with Capitol Hill Art Walk and showcase some talent from around town, along with bringing in fantastic musicians.
Pitch: I would love to see Nark Magazine cross the 2,000 likes on Facebook line before launch, come on, go like it!
Praise: Speaking out against the NOH8 campaign, stop raising money for nobody!
Condemn: Those weird toe shoes, why do they exist?
Tags: Bottom 40, DJ Nark, Hey Tranny It's Tranny!, Mattachine, NARK Magazine, Sharon Needles