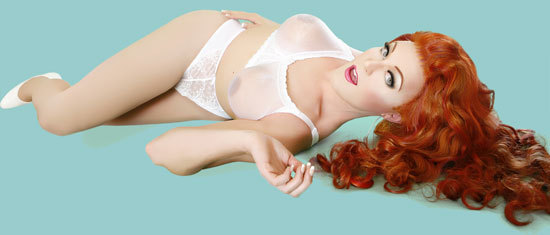 I need cheered up after that last post about the Destruction of Pine Street…let's get Draggy wid it.
Just a friendly reminder that Sylvia O'Stayformore's Bacon Strip is happening Saturday, April 7 at Re-bar and this month's theme is "Way Off Off Off Broadway" and there's a huge line-up of excellent performers including Mama Tits, Maxine DeLaCunt, The Darling Boys, Peggy Platt, Disgrace Jones, and so many more. The doors open at 10pm and come hungry; there'll be BACON!
AND, SGS readers can buy tickets early at BrownPaper tickets and get a discount of $7.50 with costume and $9.00 without costume. Use "SGS" as the Discount Code (do NOT use the quote marks in the code box; it's just SGS).
And, for costumes, just wear something kooky…try and look "dramatic"….
Meanwhile, over at Julia's on Broadway, the home of LeFaux, they are preparing for the arrival of Miss Varla Jean Merman who's jetting into the Emerald City to present her new one woman show, "The Book of Merman". The divine one from New Orleans is a legend at Provincetown every summer as well as the star of the cult film, "Girls Will Be Girls"…and, the sequel to that film is in the can and should start screening soon.
In the mean time, go buy your tickets for Varla's Seattle show which happens this coming Thursday, April 12, 2012 at Julia's on Broadway for ONE NIGHT ONLY! (Note: this is NOT a LeFaux show…) Get tickets HERE! And, check out our interview with Miss Merman from last fall when we chatted about her film, "Varla Jean and The Mushroom Heads". It's a hoot!
Finally, fans of LeFaux at Julia's should be aware that their current superstar hostess, Jinkx Monsoon, will be taking a break from her hostessing duties for the Friday/Saturday night drag revue, while her alter ego Jerick Hoffer stars in Balagan's "Spring Awakening" for three weeks. Rumor has it, a local performing legend will be stepping into Ms Monsoon's shoes for that time…could it be the ridiculously lovely and talented Miss BenDeLaCreme?
Only time will tell…
(Visited 1 times, 1 visits today)