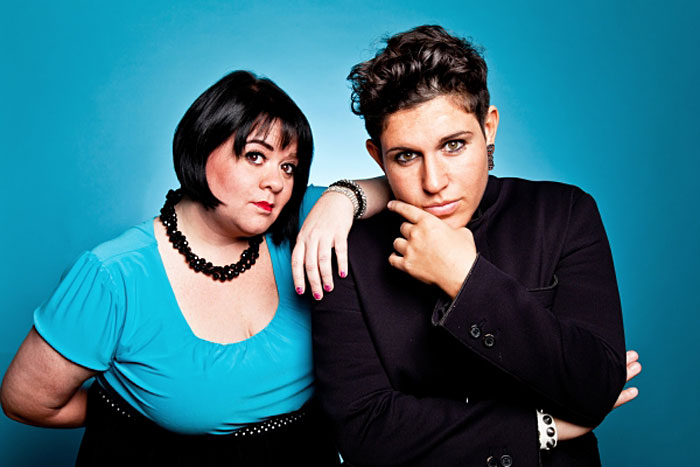 It's old school, it's new school, it's hip-hop, it's…kinda brilliant. It's musical innovation that's rarely seen. Have you found God-Des and She yet? 
This duo has released three albums and are currently at work on their fourth. Their songs range in subject matter from love to politics to dance party! And they know how to do it in a great way, with simple straight forward messages while bringing back the rap/hip hop style that was popular in the 80's/90's when Salt-n-Pepa and MC Hammer ruled the charts.
Both women were born here in Washington, God-Des in Seattle and She in Tacoma but would meet several years later in Wisconsin. A 2006 appearance on the Showtime series "The L Word" helped to boost their popularity and made it possible for them to be full-time, professional musicians without having the worry of day jobs.
I conducted my first artist interview for SGS with the lovely ladies "God-Des and She", a lesbian hip hop/rap duo that bring back the old school days of the original sound.
The ladies very kindly called me from sunny L.A. where they're currently playing on their West Coast tour.  They graciously dealt with my landline speaker phone, my flu soaked brain, and my cat vomiting in the background (Don't think they heard that, but if they did, they were very gracious about it!)
They were friendly, delightful and fun to chat with!
So how did you two meet ?

God-Des: We both met in Madison, WI. She grew up there and I went to school there. She was fronting a rock band named "Doll" and I was performing as God-des. I used to work with a male opera singer actually, but he could sing the heck out of R&B. So we were both doing our thing separately and we were doing a benefit for NOW, the National Organization For Women and I saw her sing. My singer was moving away to go to Boston for Grad School. You know, I really still wanted to have a singer because I really loved the melodic element and I come from a classical music background. When I heard her sing, I said she has such a cool, soulful grind to her voice that I thought would sound really great with what I was doing you know. I just asked her if she would be down for singing some hooks for me, and then she said sure, and tried it out… and it was weird because we just kind of instantly totally hit it off. We had a really really cool music chemistry, we really kind of hear music similarly and we just got along really well as people. So, within six months or something we got asked to do a show in San Francisco and they flew us out – it was really exciting. We videotaped the whole thing and it just kind of started to take off. We knew that we couldn't reach our full potential or success staying in Wisconsin, so we just decided hey, we're gonna pack up the U-haul and pursue our dream and picked up and moved to New York and just made it happen.
So you're based out of New York now?

God-Des: No. We lived there for six years. After we got on MTV Logo a lot and got on "The L Word" and stuff, we were able to be full time working musicians so we lived in New York for six years but we moved to Austin, TX a couple of years ago.
When did you discover rap and why did you decide you wanted to do rap?

God-Des: I'm a product of 80's Hip Hop so when I was really young I was listening to Run D.M.C and The Beastie Boys. I'm actually a percussionist, so I started playing drums at ten, and continued to play through college and stuff. I just really really loved the rhythm and I loved drums and hip hop, I was really attracted to it, and I really loved that it was a voice, and it was like poetry to music and I was just really drawn to it as a kid. And as I got older and I really felt like there were just so many issues that were not being addressed in the world – in the gay community and women rights, there were so many things that I felt like I wanted to talk about but I was unable to do that playing the drums, so I just started writing poetry. And then you know Salt-n-Pepa was out and I felt like man, they're such positive and powerful females, so I felt like maybe I could do this. And so many people would hear me kind of rap to them and rap to other people and be like you really should try rapping. I was in a punk band at the time actually and nobody liked our punk band at all and everybody just thought we sucked but we would do this one thing. My singer and I would do this thing where he would beatbox and I would rap. So we would do our punk shows and I would come from behind the drums and he would beatbox and I would do this rap and he would sing the hook and it was so funny because we didn't get, like, any response for part of the show – but when I would do that, the crowd, like all these emo kids would go crazy you know, so I was like "Man, I'm really onto something." And when I first started out I only did it because I just wanted to have a voice. I just felt like I came from an invincible community that needed a voice that's just really how it started. And I think She felt like she just really  wanted to be part of this movement and saw how much we were able to affect people and inspire people and that's kind of what's kept us going.
Do you have any other bands that inspired you outside of rap?

God-Des: We really are music nerds. Just now in the car we were listening all 70's classic rock stuff.
We listen to everything and anything. I like music that just evokes emotion. I don't care if it's country music, if it's hair band music, if it's classic rock, if it's R&B, you know whatever it is. I just like to feel when I listen to music, were both really like that. We've been inspired by so many different people. Prince is a huge idol of mine, I just love his uniqueness. I feel his songs you know. As far as hip hop, Tupac was definitely my biggest inspiration outside of Salt-n-Pepa because he could take this world problem, he was really educated, he was brilliant but he could word it in a way everybody could understand, you know. So I kind of took that idea and that approach and applied it to our music. But SHE has always listened to big voiced girls, Aretha Franklin, Bonnie Raitt. We really like anything and everything.
My first thought when I heard you guys was they sound like Salt N' Pepa, but I don't want to do the full comparison. Because you're not ripping that off by any means, you're doing your own thing, but you can hear the inspiration there.

God-Des: Yeah, thank you. You know I really take that as an honor. Sonically we're different and we're doing a different style of rapping and singing but still having two strong lead females ping ponging in that kind of strong delivery where you really understand what's being said. You know the really cool thing is actually, were opening for Salt N' Pepa on May 12th in Austin at The Belmont Hotel. We've already played with them two other times, but we were on the stage maybe two or three acts before them. Now were actually hired to open for them which is really awesome. And Spinderella has actually been our DJ before. She dj'ed with us before and it's just crazy how life takes you. And on our last record we worked with the bandleader of Public Enemy and we got to mix it at Chuck D's house. So we got to meet Chuck D and have him put his stamp of approval on us. And he literally said, I totally respect what you guys are doing because even though it's a different kind of movement, it's a movement and I get it and I feel it. And it was just awesome. And DMC from Run DMC came in the studio and he was vibing out, so it's been just crazy how it's come full circle for us – loving all these legendary hip hop cats and then its us, our lives interweaving, it's been amazing.
Do you both come from a musical background?

God-Des: My parents were both in the Seattle Symphony for a few years. We moved because dad got a teaching position at the University of Michigan. He's a trombone professor and they loved the concert world, but my mom, she really wanted to be able to be home more and not have those sorts of hours and they just wanted something a little more stable. Because they would do symphony work then they would come to LA to do studio stuff. My dad is an original trombonist for The Flintstones and Scooby Doo movies and my mom worked for Motown in Detroit and played with Carole King and Michael Jackson. But I think they really wanted something super super stable so they chose to move to Michigan.
She: Actually, not at all. I come from a very blue collar family. My dad worked at a factory for 35 years and my mom passed, but she was a realtor. Yeah, no one in my family is musical at all. I'm kind of like  this anomaly. There all like, your so weird you want to do this, but oh well, it's what I want to do.
So how did you figure out you could sing?

She: Oh I could sing ever since I was making sounds. My dad when I was little, he would always like say Tina go sing "Far Far Away" (I wrote a song when I was six called "Far Far Away"). I was always the singer, I guess, since I was really, really little. I was in choir, musical theatre, pretty much anything singing-oriented, I was involved in when I was in school. I decided I wanted to go to college for awhile and then I was like, you know what, everybody wants me to get a fallback plan, but I don't really want one. So, I stopped going to college and I got my guitar and I started writing music and just really dove into being a musician. I used to play in the street in Madison all the time and didn't really have jobs, doing music is my job so i've been making money at it for a really long time.
Do you play guitar now?

She: Not in God-des but we're starting to get a lot more experimental so you never know what's going to happen! Like the last show we did God-Des got on the drums and I did some vocals and it was really fun.
How does the collaboration work between you two? Does one write more lyrics and the other beats or it pretty even?

She: In the past we've worked with different producers, but mainly DJ Pain One out of Madison, WI. But now God-Des is making our beats, our new record is probably gonna be mostly beats that she made. So she's doing a lot of the production work now and it's kind of nice to have it all in-house. I give melody ideas and we bounce off each other all the time, with certain things. But it's good we're writing a lot of music together these days, in the same space. We write our lyrics for our own parts and then we kind of keep each other in line, like if I think she's taking an easy way out or vice versa, like I'm taking an easy way out with a melody we'll be like "Hey, I know you can do that better, go back, try it again." A lot of times we'll talk about concepts  and ideas, and then we'll get a beat, and then we'll kind of discuss the structure, like who's gonna do what. Ok, I'll do the verses this time and you do the bridge and were gonna do the chorus together… and then from there we kind of just formulate the song. We had to start to communicate about what each other were gonna do and what was gonna happen. So it makes things a lot less stressful when you do that. It's taken us a long time for us to learn each other all the way. I can't divorce her so you gotta make it work!
Where do the ideas for your songs come from? Are they based on personal experiences?
She: Yeah, they're definitely based on where we're at in our lives, what's going on, how we feel. We're very genuine songwriters. We try to really tell the truth and people seem to be really affected when we do that because they feel that it's real and we feel it.
What I really like about your music is that your songs range in subject matter. You go from love, to standing up for your beliefs to just having a good time…
She: We're influenced by lots of different music and that's totally reflected in our songwriting – we just don't want to be boxed in. So we just really write what we want. We're not trying to be a formula, we're just ourselves and I think that comes through, and so far so good. We have a lot of amazing fans that see us time and time again and we always put on the best show for five people or five million people. It's just kind of our philosophy to always meet with our fans after and take pictures and thank them and sign their merch and give them their moment. That means a lot to us because they're the ones that keep us working and without them we wouldn't be able to work. And that's super lucky that we get to work as musicians and inspire for our jobs, so we know that we're in it together with them. There's some artists that are "I'm so cool and I can't talk to you" and this and that, and I'm like "You're not that cool, you're just not." And I think that we just know the deal and know that if we're not good to our fans, who'd want to see somebody, I don't know… It just seems logical to me that we're appreciating them and genuinely so, because they're awesome and they always show us so much love. And without them we wouldn't be able to do what we do. We've been able to sustain literally, like getting on "The L Word," with one song. We built a business out of it, a career out of it and because of the hard work we put in we have a great foundation and now we really wanna go to the next level and the next step and I think we're well on our way.

Have you had any issues/backlash due to your sexuality? Or has it been an overall positive response, has there been any negativity with it?
She: I really feel that for the most part, because we are genuine humans, we don't run into a lot of that. People respect you if you're real. I mean there have been a couple of shows where people were kind of mean or rude or whatever, but it's very, very few and far between. For the most part we're in a different medium so there's no backlash at all. It's funny because you think middle aged straight white people would be freaked out but they always giggle at it, they think it's funny. They think it's cute honestly. Because it's kind tongue in cheek, it's not super overtly sexual. It's very tongue and cheek and silly and fun, and brash.
Who have you toured with that you were blown away by and who would be your dream band to tour with?
God-Des: My dream band to tour with would be Pink. I think she's awesome and I think it's so great she started in the business doing R&B stuff and now she's kind of developed her own thing, and I just like her voice and her sound. And I also just feel like we have similar fans, it would just kind of be the best combination. And who I haven't played with and who I think is amazing and the best MC that I've ever seen perform live is KRS One. He did this thing that I was like so… first of all I saw him in San Francisco and he made them turn off the air conditioning, so it was like really hot in there and he had like 200 tennis balls that he had signed and he just threw them out to everybody. And I thought to take the time to do that was so cool. I was just so moved that he did that. He's like just on the top of my list for awesomeness.
You've played Pride Festivals all over, where have you played?
God-Des: Oh man, we've played Sweden pride, Euro pride, Toronto Pride, San Francisco pride. Portland pride. We played Seattle pride about five years ago, I think. Atlanta pride, New York pride I mean, then all the little pride's we've played, Lacrosse, WI pride. We really played most of the major gay prides in this country and we hope to go overseas a lot more and do some of those as well.
Do you have a crazy tour story, recording story?
God-Des: We have so many! You know when you're asked that question, you're like, how do I reel in the crazy amounts things that we've seen and done. I'll tell you this really, really funny story that was awesome to us. So a few years we were playing a show, not in San Diego, it was outside of San Diego and it was at this place called The Jumping Turtle, and it was a metal bar. And we didn't know it was a metal bar. They were doing a women rock night or something like that. So we get to the show and it's like dead. I mean there's like maybe 15 people there and they're not our fans. I mean there's like maybe 4 of our fans and then there's just all these dudes with huge beards, like really hardcore metal dudes, so everyone's just like staring at us . Everybody had been listening to really loud metal before us, all the girl bands you know, and all the sudden we just start playing and these metal guys are bopping their heads, like I couldn't even believe it. I had The biggest smile on my face. All the sudden one dude that looks exactly like  jesus starts breakdancing, and well mind you, in the middle of our show and it was just so cool. It was totally unexpected. everybody came up to us after and said I hate hip hop and this and that, but you guys were just so awesome. And just to be able to flip people's perspective upside is awesome to us.
So what's next for you guys? Are you touring or just playing some shows here and there and gearing up for your record?
We're always on tour. We always tour all year round because we're professional musicians and we gotta take care of ourselves and our families. Right now we're on a West Coast tour for 3 and ½ weeks and we come up as far as you guys then come back down. We're gonna try and finish all the writing for our fourth record in May, and then June starts really crazy with Pride season and all that.
So, the next big thing we want to do is release this single we just finished called "Never Give Up". We want to partner with a lot of the really big gay organizations or political organizations that have power and care about bullying. It's become such an epidemic. We were in Canada right after Jamie Hubley killed himself and we saw his friend speak on it. We played this Rainbow Youth forum and we just heard story after story after story. People have talked about it but it's getting worse and worse. More and more kids are killing themselves. We want to take this song and give them something to listen to that will not only give them strength, but we want to partner with all these organizations and try to systematically create a federal law that's gonna somehow keep kids safe in schools – where we hold the principals, the superintendents, and the teachers responsible because if they just stepped in and punished the kids that were doing (the bullying) immediately, that could prevent so much of this from happening. We were in a city where a kid had gotten beat up so bad there and they filmed and put it on YouTube and the principal literally said that wouldn't have happened to him if he didn't dress so feminine. You know this is just crazy and it's unacceptable that kids can't even be safe in schools, even when sometimes they don't have a home safe environment. How they ever gonna feel safe?  We just want to create laws, so we want to use our song to bring folks together and figure out a way to do it. So that's our next really big goal. We don't know how it's gonna happen but we know its' gonna happen.
See God-Des and She live on April 15th at The Skylark Cafe in West Seattle. The Show starts at 4pm and is all ages.
Check out God-Des and She's website for tour information and music downloads. http://www.god-desandshe.com/

Happy Listening!
Tags: God-Des & She, lesbian, lesbian rapper, LOGO, newnownext, rapper