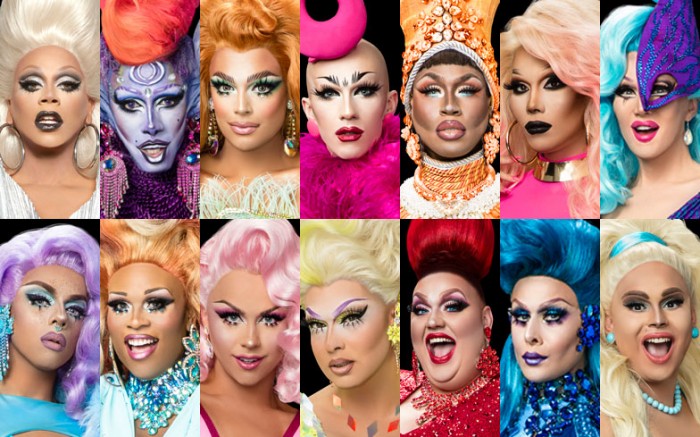 From the Department of Dumb Decisions.
Logo and VH1 (both are owned by Viacom) had some big announcements today. Season 9 of the very popular drag queen competition series RUPAUL'S DRAG RACE co-produced, created and hosted by legendary drag performer RuPaul Charles who won an Emmy last year for hosting the series, finally has a premiere date: Friday, March 24, 2017.
Yes. Friday. The series which has traditionally aired on Monday nights resulting in grateful gay bars/nightclubs across the country hosting very profitable RPDR viewing parties, is now moving to a Friday night slot…a night that is already highly profitable for most bars. And, obviously Friday nights are a night when many people make plans for outside the home: going out to dinner/attending films, theater, concerts and the like. Friday and Saturday nights are the lowest audiences for television viewing with mainly the very young and the very old at home watching the boob tube.
And, more proof that Viacom is turning a blind eye to the queer audience that originally made the show a huge hit…each new Friday episode will debut on their VH1 network instead of Logo, the LGBTQ programmed network where the show has aired for the last 8 seasons. Repeats of the new episodes will subsequently air on Logo. Viacom is claiming this will help the show reach even larger audiences; VH1 is available on more cable systems than Logo.
The decision to air on VH1 first…fine. Whatever. It's not like VH1 is popular; it was originally created as a sister channel to MTV to focus on airing videos but over the years has struggled to find much of an identity. Much like Logo in fact…both network have floundered for years due to Viacom's legendary cheapness and laziness in programming. If this decision makes it easier for people to watch the show on their tvs rather than having to attempt to watch via Logo's crappy website streaming, then bravo.
But, moving the airing of new new episodes to Friday is just stupid and a slap in the face to LGBTQ fans who made the show a hit. It's a QUEER show for QUEER people and if the "straights" like it, that's awesome but why the hell would you turn your back on its original fans in order to reach out to the 14 year olds and their elderly grannies who are the only ones at home on a Friday night to watch a tv show?
DUMB.
(But, not surprising from a corporation that has dropped the ball consistently for the last 25 years…)
Here's the press release:
LOGO'S "RUPAUL'S DRAG RACE"
GETS A FRIDAY NIGHT MAKEOVER ON VH1

A Gag-Worthy New Season Featuring Lady Gaga Premieres On
Friday, March 24 At 8:00 PM ET/PT

Link to All-New Promo Featuring Lady Gaga: http://www.logotv.com/video-clips/m09iez

NEW YORK, NY – March 1, 2017 – Fridays just got fiercer! For the first time in franchise history, Logo's Emmy® Award-winning "RuPaul's Drag Race" will air on VH1 on Friday nights, giving the mega-hit competition series an even broader audience. The season nine premiere featuring Lady Gaga is set for Friday, March 24th at 8:00 PM ET/PT with every tongue-popping lip sync showdown and runway challenge. New episodes of "Drag Race" will have encores on Logo.

"Coming off RuPaul's Emmy win and a ratings record-breaking season of 'All Stars,' the fandom around 'RuPaul's Drag Race' has only continued to swell as we head into season nine," said Pamela Post, SVP of Original Programming & Development at Logo. "Broadcasting the show on VH1 will allow more fans to experience the energy, heart and talent these fierce Queens bring to the stage every week."

To celebrate the gag-worthy new season, Logo will exclusively air a 'Race to the Nines' marathon of non-stop episodes beginning on Sunday, March 19th at 8:00 PM ET/PT leading up to VH1's season nine premiere on Friday, March 24th at 8:00 PM ET/PT. Throughout the five day marathon, viewers will be treated to all-new bonus content including never before seen footage from the cutting room floor and interviews with previous contestants, judges and super fans including Michelle Visage, Bob the Drag Queen, Ginger Minj, Jujubee, Todrick Hall, and Lance Bass who will spill all of the "T" on the new queens.

The 'Race to the Nines' series marathon leads into the season nine premiere extravaganza that will feature Mother Monster herself, Lady Gaga, and a shocking opening that will go down as one of the most jaw-dropping moments in "Drag Race" herstory. Additionally, it will unveil a court of cut-throat Queens each competing to snatch the crown and strut away with a $100,000 cash prize and the coveted title of "America's Next Drag Superstar." Along the way, they'll face an unpredictable competition and deliver watercooler moments as these talented ladies of drag join the fabulous 100 Queens who fought for the crown before them.

The 13 previously announced Queens include: Aja (Brooklyn, NY), Alexis Michelle (New York, NY), Charlie Hides (London, UK), Eureka (Johnson City, TN) Farrah Moan (Las Vegas, NV), Jaymes Mansfield (Madison, WI), Kimora Blac (Las Vegas, NV), Nina Bo'nina Brown (Atlanta, GA), Peppermint (New York, NY), Sasha Velour (Brooklyn, NY), Shea Couleé (Chicago, IL), Trinity Taylor (Orlando, FL), and Valentina (Los Angeles, CA).
(Visited 1 times, 1 visits today)