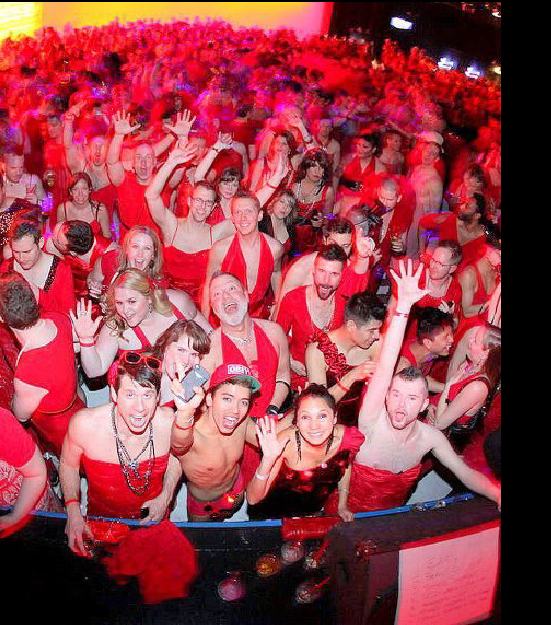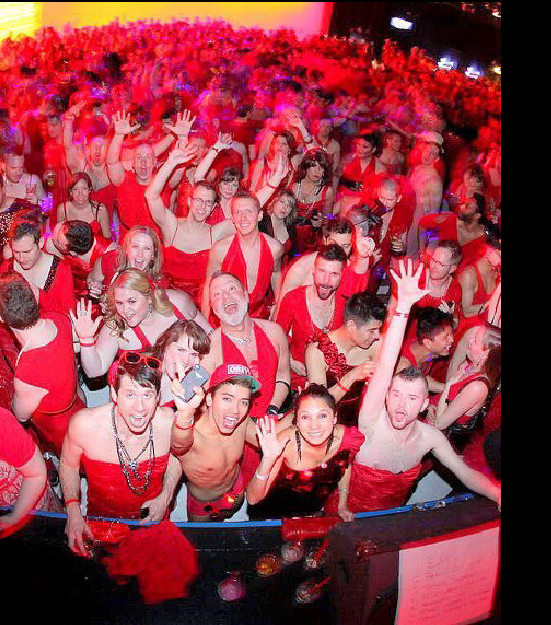 It was just about a year ago when we at PrideFest took over the Seattle Red Dress Party.  The previous producers were ready to move on and the party looked to be gone forever.  Not if we had anything to do with it.  The party itself has quite a history, and the whole point behind it, the fundraising for local HIV/AIDS charities is just as important as it's ever been. Until there's a cure, we as a community must double-down on our work to educate, treat, prevent, and advocate for people with HIV/AIDS. Add to that mounting concerns with the new administration over pulling public health funding and the myriad other areas affected by this president and it makes this year's event even more important!
Last year when we were graciously handed the mantle from the previous producers, we set out to create the event in the spirit and image that it had always been done.  It was a fantastic party full of the signature sea of red, boasting amazing performances from Ultra Nate and Derrick Barry and banging DJ sets from Dana Dub, Bret Law and Tina T.  It was a smashing success on every level, and much money stuffed into the coffers of some of our community's most-beloved organizations.
When the calendar turned, and it became time for us to start planning for Red Dress 2017, we had a lot of questions.  Who should we book this year?  Should it remain at the same venue?  What date should we have it on?  One could say we spent a decent amount of time going down the rabbit hole, deconstructing the event from every angle before starting to put it back together again.  As Executive Director, Egan Orion put it: "Each year, with each event, we have to strive to tap into what is culturally relevant and top-of-mind to the LGBTQ community in order to remain true to the community we serve, and of course to produce a banner event to raise as much money as possible for our local non-profits."  So, that's what we set about doing!
This year's Red Dress event will be held at Century Ballroom, in the heart of Capitol Hill.  Housed on the 2nd floor of a 1908 Odd Fellows temple, Century Ballroom is made up of up two elegant venues ranging from 1500-2500sf all with sprung wood floors.  The team at PrideFest has worked very hard to curate an extraordinarily diverse line up to fill every inch of this gloriously historical space.  Expect great performances from headliners:  Courtney Act (RPDR), AB Soto and #1 Billboard Artist: Debby Holiday.  Super HOT DJ sets will be served up by: DJ's Bret Law, Julie Herrera, Riz Rollins (KEXP), Tony Burns and Toya B.  Steamy Burlesque/Boylesque performances will be featured by: Boom Boom L'Roux, Jesus La Pinga, Karmen Sutra and Eddie Van Glam.  Live jams will be on tap from Meanie Jaguar, and we have 3, count 'em, THREE amazing hosts in:  Gaysha Starr, Aleksa Manila and Miss Kitty Baby.  WHAT A LINE UP!  We can't wait to share it all with you!
While it's a much smaller space than our past home, the intimacy and stunning visual of this historic space will provide a spectacular set for the popular Red Dress Party.  The classic intimacy of the Oddfellows space will blend well with the theme and intention behind the event. The décor will be unique, and on point.  However, this is also where YOU come in!  A huge part of the scenery at Red Dress is the outfits of the individuals who attend.  So make sure you get that red outfit ON POINT.  Yes, you read that right.  Red. Outfit. Red Dress or Dress Red!  While we prefer everyone wear a fantastic red dress (as is the historic precedent), you will not be turned away from the party for any version of a red outfit that you create!  Just make it red, and remember – EVERYONE WILL BE WATCHING – so make it work!
Seattle Red Dress Party
March 31, 2017 8PM -1:30PM – Century Ballroom, 500 E Pike St, Seattle
Facebook Invite: https://www.facebook.com/events/1611079515585766/
Purchase Tickets: https://seattlereddress.maxgiving.com/
Editor's Note: This change from Red Dress to allowing Red Outfits should make dress hating women and uptight dudes happy. But, that also means a couple things. It HAS to be RED! The predominant color of the outfit should be RED and really, the only accent colors should be black or white…maybe gold. IMO.
Also:
Maroon isn't red.
Pink isn't red.
REEEEEEEEEED!!!!!
(Visited 18 times, 1 visits today)