Actually, Gay City Health Project ALWAYS wants your junk…you can make an appointment to go their Wellness Center at any time for their free HIV and STI screenings to make sure your "junk" is healthy and well. They also want your MEDIA junk for a fundraising drive…
Clean that closet out, strip those shelves! Bring your books, CD's, DVDs, games, toys, software, housewares and other items to Gay City for online sales that will benefit our mission, programs, and services.

Those gifts that you haven't re-gifted? Donate them to Gay City! Any new or lightly used items are welcome. Drop sites include the Gay City administrative offices during the day and our Wellness Center during the evening.  We can even do housecalls and pick up your items!

Contact mediadrive@gaycity.org / 206-579-8110
Here's your chance to offload all those video games and DVD's you never use anymore…AND, for all you single FanBoys out there, bring in all your old junk for this promotion, THEN think about signing up for the next MEET MARKET…we're looking for a few good nerds/geeks and all around fans of genre entertainment for a chance to find love, or at least some new buddies, while Speed Dating at Lobby Bar on Wednesday, April 25th! Here's the info on THAT!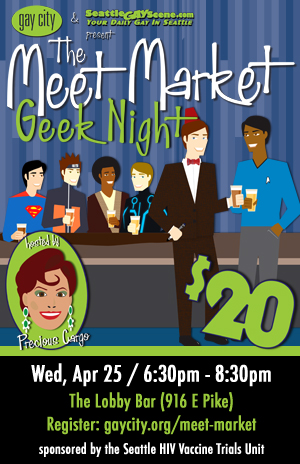 COME SEE WHAT'S SIZZLING…
Are you single or looking? The spring thaw is just around the corner, and Gay City Health Project and Seattle Gay Scene are going to heat things up again with the return of The Meet Market on April 25 for Geek Night. Thirty geeky men and their admirers will descend on The Lobby Bar in their best geeky attire for a chance to meet new guys, make new friends, or even walk away with the man of their dreams, all for just $20! Hosted by the ever delightful Precious Cargo. Sponsored by the Seattle HIV Vaccine Trials Unit.
WHY SPEED DATING?
The Meet Market is an easy, casual, and affordable way to meet some great guys, whether for dating or friendship. Why waste time with endless chatting & exchanging photos online, only to find that there's no chemistry when you meet in person? At The Meet Market you'll know right away if you'd like to get to know someone better.
With dozens of "dates" in one evening, you're sure to meet someone interesting. Plus, since the dates are only 3-minutes each, you're left with some intrigue to make that potential second date even more exciting. And if it's not a match? No big deal….it's only a 3-minute date!
HOW DOES IT WORK?
You register online in advance. Your $20 gets you admission to The Meet Market and a chance to meet dozens of Seattle's most eligible bachelors. We do the planning – you just show up and have fun.
You attend the event at The Lobby Bar on Oct 6. We'll start off with some mingle time, and then Gay City's facilitators will coordinate your dates. We even have a few ideas to help you break the ice.
During The Meet Market, you keep track of who you would like to get to know better. After the event we tabulate everyone's results, and if there's a match, we put you and the other guy in touch with each other. You can meet for a second date, and take it from there!
(Visited 1 times, 1 visits today)