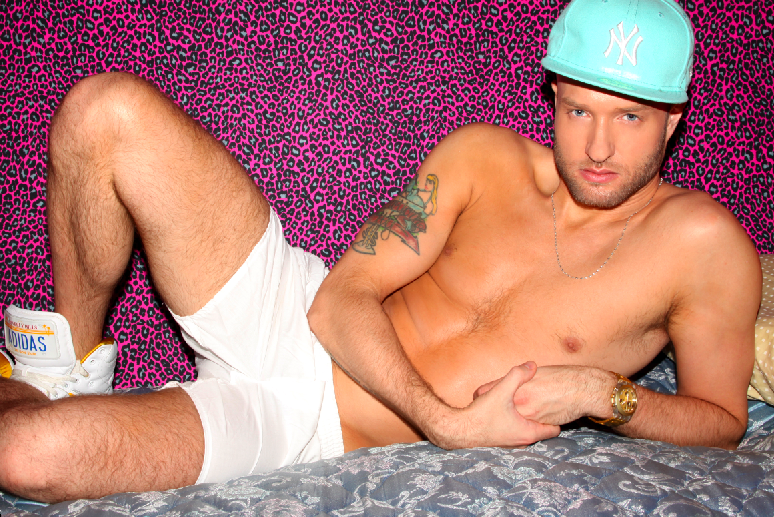 This Sunday Cazwell will be bringing the spirit of downtown NYC to his headlining appearance on the Main Stage for Seattle PrideFest. Festival goers can expect an electrified performance. Cazwell is nothing if not charismatic! His music is infused with old school hip hop and new school electronic music, and, quite frankly, is THE JAM. His performances are completely captivating….and it doesn't hurt that he's HOT. Well, yeah, there's that. I grabbed a few precious moments of his time for a little Q & A in advance of this Sunday's appearance.
L.A. Kendall: When did you start performing and how did you get into it?
CAZWELL: I started performing when I was 20. I was in a rap group called Morplay and we got our start in Massachusetts. We used to rap on mix cd's that we would give to people for their birthday. After a year, enough of them got around and we started getting popular and doing local radio shows.
LAK: Your debut single, "All Over Your Face", samples a Loose Joints jam. How did that come about?
CAZ: The first label I was signed to was West End Records, a legendary disco label. I got to have access to their disco tracks for samples and that's how it came about.
LAK: "All Over Your Face" was banned from LOGO due to explicit lyrics and sexual imagery portrayed in the video. Was that shocking to you?
CAZ: A little bit. It was more about the content of the song than the video. No matter how much I edit the track ya can't escape that the song is about busting on somebody's face! LOL.
LAK: You frequently collaborate with Amanda Lepore. How did you guys meet and become such great friends?
CAZ: We are both in the same gay club scene in New York. I used to talk to her when she worked at Patricia Fields at the makeup counter.
LAK: You've worked with so many incredible people. If you could choose anyone in the world for your next collaboration, who would you choose and why?
CAZ: I would love to work with Nicki Minaj. She's such a great talent.
LAK: Aside from being an accomplished recording artist, you are also a leading figure in NYC nightlife. What's hot in NYC right now?
CAZ: I have two favorite party's right now. WestGay at WestWay on Tuesday nights is a hot new party thrown by Frankie Sharp, and Greenhouse on Sunday with Kenny Kenny and Suzanne Bartsch is a great party too.
LAK: You've been to Seattle a bunch over the last 7 years for Qulture Qreative shows. How do you feel about headlining PrideFest this year?
CAZ: I cant wait!! I miss Seattle and it's one of my favorite cities to play. I started my career playing there and the kids in Seattle have always been very supportive.
Something tells me he'll see a whole new level of just how "supportive" Seattle can be this Sunday! Catch Cazwell at 3:40PM for a Live Performance on the Main Stage, and again at 6PM for a set on the DJ Stage as part of the Hard Times takeover!
(Visited 1 times, 1 visits today)