It's been a crazy first year for QUEER/BAR as it weathered a controversial start taking over the old Purr Cocktail Lounge space then having to cope with so many draggy dramas: (Sharon NeedlesGate followed by ThorgyThorGate followed by RobbieTurnerKilledHerCareerGate followed by…WhoCaresGate?)
Hopefully, all that dreary soap operatic nonsense is behind us, and we can focus on Queer/Bar getting to celebrate their first birthday on Friday and Saturday, October 5th and 6th with two nights of star studded events featuring the uber talented local MX. crew of La Saveona Hunt, Visage La Rue, and Stacey Starstruck plus the deliciously controversial RuPaul's Drag Race Season 9 star, VALENTINA on hand to kick off the party on Friday the 5th.
Then, on Saturday the 6th, super out of town guests AMANDA LEPORE and DJ CAZWELL take over Queer/Bar along with special go go guest MATTHEW CAMP and from WeHo, drag diva RHEA LITRE and go go star,  JOJO GUADANGO…AND, the cast of MX. as well.
All the info, below!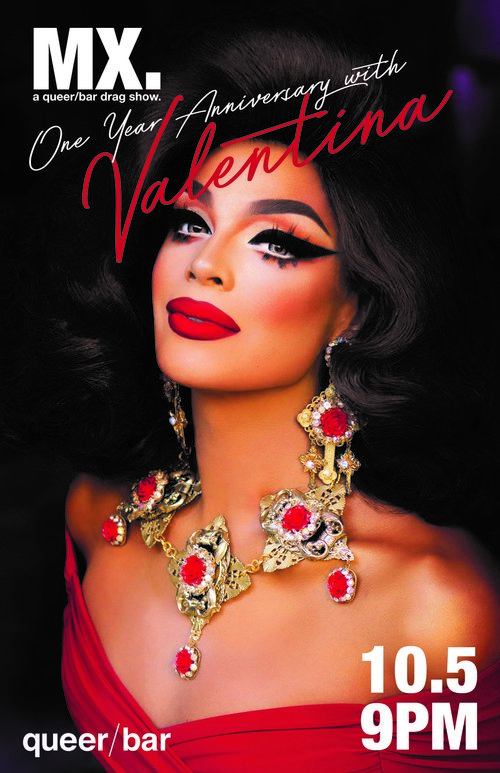 Queer/Bar of Capitol Hill is celebrating its 1 Year Anniversary the first weekend in October! The chic LGBTQIA+ bar and nightclub opened in October of 2017, and has been a space for drag, dancing, queer meet ups, and private events ever since. Their anniversary weekend promises great talent, steamy go-gos, late night dance parties, and a 2-day celebration the neighborhood won't forget. In addition to the below events, Queer/Bar's second year will be marked with an expanded Mx. cast for their weekly drag show, updated cocktail and dinner menus, and an events calendar that will blow their first year's already star-studded line-up out of the water. The new nightclub's 3-day Pride Festival earlier this June put Queer/Bar on the map for the place to be, and this next year is promised to bring even more of the Seattle queer community's favorite icons to their hometown.

Friday, October 5th, 2018 – 8pm

Weekly drag show Mx. celebrates 1 year on the Queer/Bar stage! Special guest Valentina from Ru Paul's Drag Race Season 9 joins Mx. cast La Saveona Hunt, Visage La Rue, and Stacey Starstruck. The show's title "Mx." honors the gender fluidity of the queer art form drag.  Tickets  are on sale now at thequeerbar.com! General Admission ($20), Meet & Greet ($35), and VIP Tables ($300) available, and limited Early Bird tickets available.

Saturday, October 6th, 2018 – 8pm

Queer/Bar is throwing its biggest party yet to celebrate its first birthday! Amanda Lepore, the New York City queen + club kid celeb-utante who boasts "the most expensive body in the world," headlines with drag super star Rhea Litre! After their ultra-glam 8pm show, LA artist DJ Cazwell will be spinning a wild party with West Hollywood's "Prince of Twerk," Jojo Guadango on the go-go boxes. Dreamy Instagram playboy and "Hurricane Bianca" star Matthew Camp will be performing a birthday strip tease, with pop-up performances by the Mx. cast and go-gos all night long! There will be FREE champagne and a photo booth with free photos to commemorate Queer/Bar's first anniversary! Tickets and more information about the party can be found at thequeerbar.com. General Admission ($25), Meet & Greet ($40), and VIP Tables ($300) are available along with cheaper Early Bird pricing.
(Visited 2 times, 1 visits today)