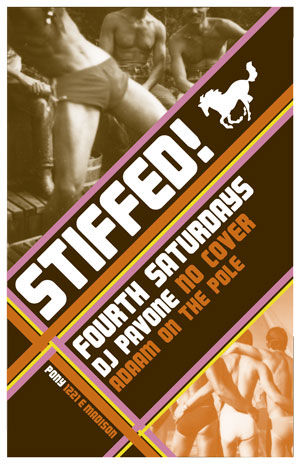 Don't know about y'all, but Friday night was OFF DA HOOK with amazing events all over town including the HUGE ass Trannyshack Seattle show at Chop Suey. Yeah, we were sponsors but Mr. Strangeways would still rave about the party even if we weren't sponsors. Heklina and her troupe of gals from SFO/LAX always deliver an amazing show and we were blown away by the spectacular performances from U-Phoria, Fade-Dra, Lil' Miss Hot Mess and Aurora Switchblade. We know several Seattle performers who were truly inspired by their performances. AND, the Seattle gals who performed: BenDeLaCreme, Ade, Sylvia O'Stayformore, Jackie Hell, Ursula Android, Honey Bucket, and Jinkx Monsoon all brought their A-games. We have photos and a full rundown of the night's events coming soon. (And, a big thanks to Hard Times/Qulture Qreative, Chop Suey, Pony and Heklina for letting us be a part of it.)
If you survived Friday night (which included a bigass opening party at The Social and the newly rebranded Theory Vodka Lounge) and you need stuff to do for Saturday night, there are several fun options. DJ Pavone is offering up his delightful dance party, "Stiffed" at Pony with Adaam on the pole and general decadence every where else…
We're thrilled to have Sexy Adaam back on the pole after his two month drag sabbatical. Make sure to bring plenty of cash to stuff into his hungry panties!

You might want to wear flame resistant clothing too, because the last STIFFED! of the summer will be on FIRE!

Sat August 25
10pm – 2am
21+
And as always, never a cover!
Meanwhile, Nark and Friends have relocated their former down and dirty dance party, Bottom  Forty from the top of Pine Street (The Cuff) down to the nittier grittier confines of The Eagle on lower Pike Street. Tonight, the djs of Bottom 40, (Nark and Riff-Raff) will face off against the visiting DJ's from PDX, the "Bent" team of Mr. Charming and Roy G. Biv for a musiclicious showdown. Expect the usual hordes of hot men, go-go boys, gelatin shots and excessive amounts of naughty behavior. The cover is only $5 and the filthy fun lasts until 3am.
(Visited 1 times, 1 visits today)