BIG Fun Options for Thursday, June 25 of Seattle's Pride Week. Since the Supreme Court didn't announce any Marriage Equality decisions, we just have to wait another day to find out if hundreds of thousands of gay and lesbian marriage couples are safe or not. In the meanwhile, there's a lot to do tonight to celebrate being LGBTQ or an ally. Here's some fun options for Thursday but find MORE to choose from on our awesome SGS Pride Calendar!

For "Sissy" Boys and the men/women/whomever love them there's Lavender Underground's adorable SISSY party happening at Re-bar in the heart of The Meat District™ starting at 9 pm. It's for: "Fem boys, femme girls, femme bois, trans goddesses, high glam queens… and all of their friends and admirers…."
Somewhat of a departure from Lavender Underground's previous events, SISSY: A FEMPOWERMENT MOVEMENT is a high glam, extravagant celebration of effeminate gay boys and men, and femininity in general as expressed by the GLBT community at large. Sissy comes from the same mission of empowerment as AREA 2181 – it is intended to take an often marginalized and shamed subset of our brotherhood, fem guys, and lift them up as powerful, confident, and desirable beings. Come join us as we take the first steps towards a worldwide "fempowerment" movement.
It also features DJs Kobalt Severa and SpaceOtter! It's only $10 cover and it's 21+ w/ID.
ALSO in The Meat District™, Kremwerk's Pride editon of STIFFED has a special guest lined up: famed guitarist JUAN MACLEAN will be the DJ along with regular Stiffed spinner's Derek Pavone and Riz Rollins. The lovely chanteuse Adé will perform with GoGo stints by Keegan & Timmy. Doors at 9pm/21+ with ID! Kremwerk's at 1809 Minor!!!
More on Juan Maclean:
Juan Maclean was guitarist for the '90s Sub Pop punk band Six Finger Satellite, based in Providence, Rhode Island. The band was struck by several tragedies, and Maclean eventually moved into production duties, utilizing his home studio in Providence (nicknamed "The Parlor"). Eventually James Murphy joined the band as sound engineer (where he became known for a punishing tour PA setup, which he nicknamed "Death From Above"). Eventually the band broke up, and Maclean spent several years out of the music business, getting a degree at the University of Rhode Island and teaching English in New Hampshire. He continued a friendship with Murphy, who moved to New York City and founded influential dance-punk label DFA Records and started LCD Soundsystem. Murphy urged Maclean to get back into music, and got Maclean experimenting with modern electronic mixing equipment; DFA would include several Maclean compositions on compilation records. The dance world way too often privileges the new, and not many dance artists write albums as good as In A Dream, the third full-length album by The Juan MacLean, this far into their career. The Juan MacLean have weathered electroclash, disco-punk, electro-disco, techno, house, deep house, and whatever we can call the sound of today.
Meanwhile, back up the Hill, there's the much anticipated visit by BIANCA DEL RIO and her "Rolodex of Hate" comedy show at the Egyptian. It's sold out but fans of the Clown Queen of Mean can see her at the After Party  known as LATER HATER at The Baltic Room with her very special guest, GINGER MINJ! No advance tickets for this party; you'd better show up EARLY if you wanna get in!!! It will FILL UP!!! Doors at 9pm; get there MUCH earlier to stand in line, is our advice!!
Over at Neighbours, DJ Trent Von is bringing back the formerly VERY popular 80s dance party night ROCK LOBSTER for a special Pride edition and they have a VERY special guest (though to be fair, I had to look them up even though Mr. Strangeways was very much present in that Decade of Me and Reaganism….) But, BOOK OF LOVE was a big deal for many folks with hits like "Boy" and "I Touch Roses". MORE about them:
Because in the `80s even Goth girls liked to smile now and then at the discotheque, there existed a band called Book of Love. Hearing a Book of Love song like "I Touch Roses" or "Boy" after the blood curdling "Stigmata" or the macabre "Bela Lugosi's Dead" was like being smacked in the head with a sun beam. Music so fearlessly melodic and optimistic rarely parted the clouds of gloom, but somehow a synth band from Philadelphia did it often.Book of Love were formed in the early `80s by arts students Ted and Susan Ottaviano. They are neither related or married. Susan was the lead singer and her sweet but generally expressionless vocals became the band's signature. Ted handled songwriting and guitars, contributing a vocal here and there. Joining them on keyboards and vocals were fellow students Lauren Roselli and Jade Lee.

The angelic sound of bells ringing out over a skip-along beat heralds the classic "Boy". This track began drawing the attention of DJs and deal makers in New York in 1984. Sire Records signed the band and by 1986 Book of Love released their first album. Book of Love , their debut, remains an essential New Wave album with the glistening "Boy" joined by the equally bubbling dance hits " I Touch Roses", "Modigliani (Lost in Your Eyes)" and "You Make Me Feel So Good". Book of Love would release four albums in their lifespan, dating from 1986 to 1993.

Featuring DJ *TRENT VON* Spinning aal of the Classics that you LOVE –
With Hostess *ROXY DOLL* Joined by *the MEN of NEIGHBOURS!!
Grab tickets HERE or at the door! Doors at 9pm and 21+ with ID!!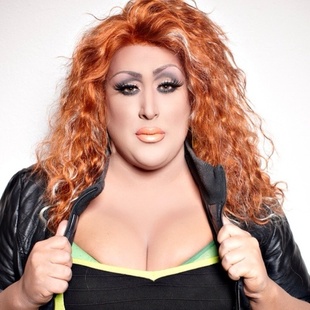 If you're on a budget, the lovely folks at PURR are being very generous this Pride. Yesterday's party with Raven didn't have a cover and tonight, they have that naughty L.A. based diva VICKY VOX jetting up and once again: NO COVER!!! (Note: Purr will have a $5 cover for Friday night and a $25 cover for their Saturday Purr Pride Block Party)!
SCHWEEEEEEEET!!
For those of you who live under a drag free rock, VICKY VOX was the full figured member of DWV, the drag queen performance group consisting of Detox, Willam and Miss Vicki. The group has disbanded but were best known for their parody comedy songs like "Chow Down (at Chick-Fil-A)" and "This Boy Is A Bottom".
Check her out SOLO tonight at Purr!
Again, find ALL the event options for tonight and all of Pride over at our SGS Pride Calendar page!!!
(Visited 1 times, 1 visits today)