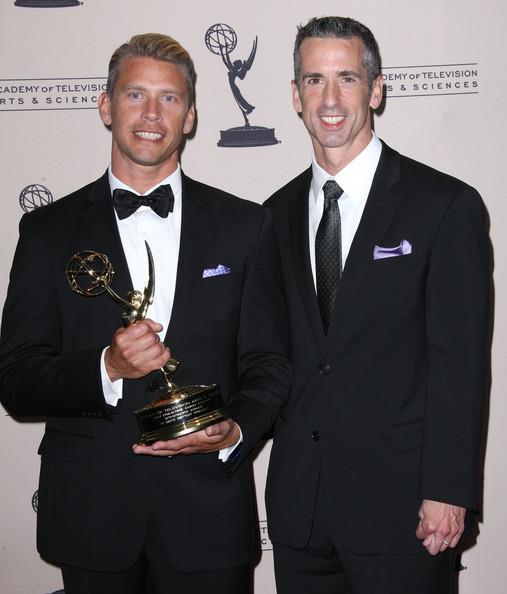 The It Gets Better Project was honored by the Academy of Television Arts and Science's Board of Governors over the weekend with The Governors Award which was presented to It Gets Better creators Dan Savage and Terry Miller at Saturday's Creative Arts Emmy Awards in Los Angeles.  The "It Gets Better" Project was started nearly two years by the couple in an effort to aid lgbtq and questioning kids who face bullying and was prompted by Mr. Miller's experiences growing up in Spokane and the huge success of the online video project subsequently led to a book and a televised special on MTV and LOGO. At Saturday's ceremony, the Seattle couple received a standing ovation as actor Neil Patrick Harris presented the award and Mr. Savage had this to say afterward about the experience:
"The award is not for us. It's for the project," Savage said. "I think it's a moment in our culture when it's broken through to the world that LGBT children were suffering and dying. The award means that the culture is reconciling itself to the needs of LGBT kids, who grow up in straight families and are often bullied by their own families. "To get a standing ovation from that crowd was flabbergasting … I actually teared up and then I couldn't see to read the teleprompter and I had to wing it."
The Creative Arts Emmys will air Saturday, Sept. 22 at 8 p.m. on Reelz Channel, the day before The Primetime Emmys. (Note: The Creative Arts Emmys primarily honor the behind the scenes crew/designers/artists. In other words, you don't see many "stars" getting awards; that's for the Primetime show on Sunday, the 23rd…)
MTV and LOGO have also announced that a sequel to the original It Gets Better special is in the works and will air on the two cable networks on Tuesday, October 9, 2012 at 11pm again featuring Mr. Savage as host, and segments detailing further stories about lgbtq youth facing and surviving bullying in public and in the home. 
Congratulations to Dan and Terry and The It Gets Better Project!
This also raises a question. So far this year, members of The Stranger staff have won the Pulitzer Prize and now an Emmy…are they going for the very rare quadruple crown of a "PEGOT"?
Pulitzer
Emmy
Grammy
Oscar
Tony
I can totally see Charles Mudede winning an Oscar; he is a screenwriter, and Adrian Ryan is obviously destined for Broadway greatness in his one man show: "Adrian Ryan's Homosexual Agenda" but I'm not sure if anyone at The Stranger has the chops to win a Grammy…
Tags: Dan Savage, Emmy Awards, LOGO, Terry Miller, The It Gets Better Project