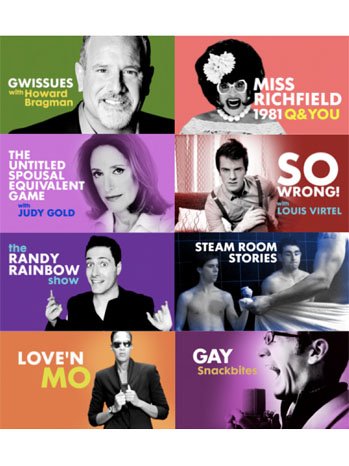 Fortunately, it doesn't involve talking fruit.
The Hollywood Reporter has the poo. One of the founders of Logo, Matt Farber, is creating a new LGBT themed entertainment channel for YouTube with original programming. Today, they announced that the new channel will begin airing on January 14, 2013 with ten shows featuring a variety of programming and starring established personalities like Judy Gold, Louis Virtel and Randy Rainbow.
That's swell except for a couple of things…WHO the hell are Judy Gold, Louis Virtel and Randy Rainbow? And, even worse, the new channel is called:
Gwist.
Seriously…it's called "Gwist", as in "Gay with a Twist!"
Ab-so-fucking-lutely, GWECIOUS!
(That's my new word for "Gay" and "Precious"…)
OK, I'm done snarkin' because I really do like the idea of a queer YouTube channel with original programming and since Logo has kind of petered out with that, other than "Drag Race", it's the logical way to go to get demographic specific material out to an audience. I just really, really, really fucking hate that awful name.
Here's the projected line-up of shows for "Gwist" via The Hollywood Reporter:
• Gwissues with Howard Bragman: A panel discussion about a topic the LGBT community is talking about hosted by the publicist and television pundit.

• The Randy Rainbow Show: A sketch and celebrity spoof series featuring tongue-in-cheek commentary from YouTube personality Randy Rainbow.

• The untitled spousal equivalent game with Judy Gold: A relationship game show where gay and straight couples face-off to prove their marriages can be equally miserable, hosted by lesbian comic Gold.

• Miss Richfield 1981 "Q and You": A comedic advice show form theatrical character Miss Richfield 1981.

• So Wrong! with Louis Virtel: A contrarian analysis on why certain pop culture darlings really aren't all that, from Logo personality Virtel.

• Love'N Mo: A gay girls' guide to sex and relationships for straight men starring former WNBA star Margot Clark. From Amy Goldstein/Steve Chivers.

• Steam Room Stories: A scripted series about a towel-clad group of men — gay and straight — discussing a topic at the gym. From Cinema 175 Productions.

• Gay Snackbites: A collection of stand-up comedy segments featuring up-and-coming LGBT comics.

• Cuentin's Caddy Commentary: An animated talk show from veteran animatorMatthewI. Jenkins (Adult Swim's Aqua Teen Hunger Force).

• An untitled Tina Cesa Ward project: A scripted drama from noted lesbian filmmaker and creator of Anyone But Me.
Some of these shows sound like they might have potential and some of them sound…awful. "Steam Room Stories" sounds putrid and who's gonna watch a show about guys in a steam room if they can't show peen? And, again with the awful naming with that "Gwissues" show. Whoever is naming things over there, really needs fired in a particularly humiliating way.
And, frankly, we could program 10 superior shows with Seattle based talent with our eyes closed. Who wouldn't want to tune in to "The Jackie Hell Show" or "Ben DeLaCreme's Midnight Drag Concert" or the animated "Dina Martina Meets The Jetsons!"
They're all GayRiffic Ideas!
(Visited 1 times, 1 visits today)