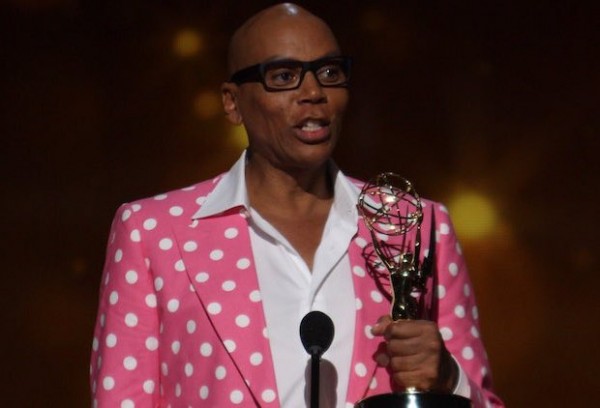 Tonight was the 2nd night (of three!) to present this year's Emmy Awards honoring excellence in television. The so called "big" awards for Best Actor/Actress/Comedy/Drama etc all happen next Sunday, but a few juicy ones were given out tonight in Los Angeles and…our own beloved drag icon, RUPAUL CHARLES snagged a surprise win in the "Outstanding Reality Show Host" category for hosting the very popular RuPaul's Drag Race on cable channel, LOGO which broadcast its 8th season earlier this year. It was RuPaul's first win after his first Emmy nomination.
It's also a first for a drag queen to win a major entertainment award.
And, it was considered an upset win as RuPaul beat out Dancing with the Stars' Tom Bergeron, Project Runway's Heidi Klum and Tim Gunn, Hollywood Game Night's Jane Lynch, American Idol's Ryan Seacrest and Little Big Shots' Steve Harvey.
A big hearty congratulations to Ru for their historic win!
Though, to be honest, it would have been cool to see Ru have to "lipsync for her life" against Tom, Heidi, Tim, Jane, Ryan and Steve.
We're thinking Tim, Jane and Ryan could have given Ru a run for the money…
ADDED: Ru talks to Yahoo about his historic win and remarks back stage:
"I haven't landed yet," RuPaul gasped backstage. "I can't believe it. This is really so crazy. I really did not expect this… I'm still not sure if I won! I don't know if I'm dreaming or not, because I've never felt like this before — maybe in a drug flashback or something."
(Visited 4 times, 1 visits today)