We're thrilled to announce the closing night gala film for TWIST: Seattle Queer Film Festival, the rebranded name for Three Dollar Bill's Seattle Lesbian & Gay Film Festival. Twist is gonna wrap up their 2016 festival on Sunday, October 23, 2016 at Seattle's Cinerama with the West Coast premiere of The Pass, the new British film starring out gay heart throb Russell Tovey and screen newcomer Arinze Kene. It's a passionate and complex story about an interracial gay couple…who both happen to be star athletes.
More on the film:
THE PASS – Oct. 23 at 6:30pm at Cinerama
Ben A. Williams; 2016; UK; 88 min.
West Coast Premiere!

In the role he originated on stage, Russell Tovey (Looking, Quantico) delivers a knockout performance as an eager yet deeply conflicted soccer pro having to grapple with his sexuality in the spotlight. The story opens with young Jason (Tovey) and his teammate Ade (Arinze Kene) on a tense evening before a match that will make or break their careers. Blowing off steam, their amped-up horseplay leads to homoerotic friction for which neither is prepared.

With five years passing between each of the film's three chapters—all set in hotel rooms—Jason's ultimate rise in fame is mirrored by his ever more luxurious surroundings. This claustrophobic character piece thoughtfully portrays his increasingly desperate attempts to escape, raising the emotional stakes to a boiling point.

The price Jason pays for choosing superstardom over honesty and intimacy is skillfully charted in Tovey's unflinching performance: his cockiness and swagger expanding as his efforts to hide his true feelings increase, until he finally confronts the friend he betrayed.

Adapted by John Donnelly from his own critically acclaimed play, this directorial debut from Ben A. Williams (with veteran British producer Duncan Kenworthy, FOUR WEDDINGS AND A FUNERAL, NOTTING HILL) provides an honest and ultimately tender look inside the closets many prominent queer public figures still find themselves locked in, as an evolving world and a shot at true love pass them by.

Contains sexual and violent situations.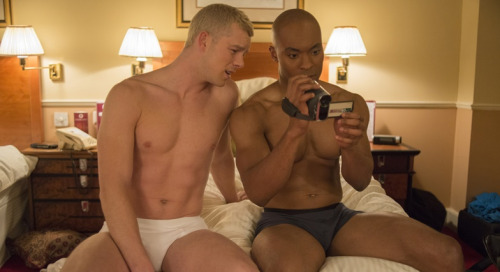 With this announcement, the list of Twist 2016 galas is now complete:
Opening Gala: TORREY PINES on October 13 at the Egyptian
Centerpiece 1: PUSHING DEAD on October 15 at the Egyptian
Centerpiece 2: OUT RUN on October 19 at the Egyptian
Centerpiece 3: WOMEN WHO KILL on October 21 at the Egyptian
Closing Gala: THE PASS on October 23 at the Cinerama
To buy early bird festival passes and party passes (get you into all five of these films/parties at a big discount) go HERE.
The full line-up announcement (including special events) as well as single ticket sales will all happen on Thursday, September 15, 2016!!
(Visited 1 times, 1 visits today)