Tonight's the big night for TWIST: Seattle Queer Film Festival…it's the gala opening for the LGBTQ film festival formerly known as the "The Seattle Lesbian & Gay Film Festival" produced by Three Dollar Bill Cinema. The opening night gala is the World Premiere of local filmmaker Clyde Petersen and his delightful locally made animated film TORREY PINES, a mostly autobiographical tale of Petersen's life pre-transition coping with the perils of being a pre-teen and wrestling with issues of gender and sexuality, plus dealing with a mom who has psychological issues. Torrey Pines will also feature a live performance soundtrack (for special screenings such as this) featuring Petersen and local musicians and artists providing the music and sound effects.
This opening gala of Torrey Pines is already sold out (there will be a Stand By line to sell tickets if there are any no shows) but there will be another screening (without the live accompaniment) on Saturday, October 22, 2016 at Pac Place Cinemas at 12:30 pm.
If you missed out on tickets for the gala, you can still enjoy the opening of TWIST plus check out and buy some amazing art at TWIST – Queer Makers Pop-Up Mart #1 a cool pop up art expo happening from 5 pm to 10 pm at V2 Gallery at 1525 11th Avenue on Capitol Hill (Note: this is the old Value Village space between Pike and Pine). It's also part of the Capitol Hill monthly art walk.
Join us on Opening Night of Twist: Seattle Queer Film Festival. The opening film is a stunning animated feature by local artist Clyde Petersen. To celebrate the maker spirit we have invited some of Seattle's best of local artisans to display and sell their own work in our Queer Makers Pop-Up Mart.

The first of two Marts during the festival, this one will be open during Capitol Hill Art Walk and then throughout the opening night party.

Start your holiday shopping early or just pick up something cool for yourself. A variety of local artisans, crafters, and other makers will be displaying and selling their items: everything from hats, to jackets, games, t-shirts, intimate wear and trading cards. There is sure to be something for everyone!
Then, TWIST kicks off in full blast on Friday, October 14 with a full day of screenings that will continue through closing night on Sunday, October 23, 2016.
You can check out the full Friday schedule here, but our "SGS/TWIST Pick of the Day" is the documentary, Bob Gurr: Turning Dreams Into Reality about Bob Gurr, an Imagineer at the Walt Disney Company (who is also scheduled to attend this screening). More on this film which screens Friday, October 14 at 7 pm at Northwest Film Forum:
In this very special event, Bob Gurr, one of Walt Disney's earliest Imagineering legends, brings to TWIST highlights from a new documentary on his life and work, along with candid, more personal stories of creating theme park magic. The program will begin with excerpts from a new film about Gurr's spectacular journey through the Disney ranks and his own 45-year career as a creative powerhouse; designing iconic Disneyland rides, massive animated King Kong and Godzilla figures, Olympic spectaculars, and pirate ship battles. Gurr will then be joined by David Cobb of Thinkwell, Inc. for a revealing, in-depth discussion of being an "out" Imagineer in the 1950s, untold stories about Seattle's own monorail, and an audience Q&A in a setting that's uniquely intimate for this world-famous personality.

BOB GURR: TURNING DREAMS INTO REALITY Carlene Thie; 2016; USA; 65 min.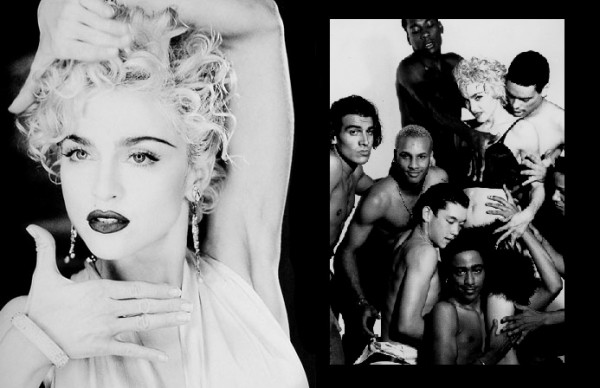 There's a ton of screenings/events for Saturday, October 15 (Full Schedule here) including screenings and a "bootcamp" class about TWIST360º, Three Dollar Bill's exciting new mini-festival within the main festival focusing on immersive/Virtual Reality film, plus several great shorts programs but our "SGS/TWIST Pick of the Day" is STRIKE A POSE, the documentary about the dancers from Madonna's 1990 Blond Ambition Tour who were also featured in the documentary about that tour, TRUTH OR DARE. It screens Saturday at 9:15 pm at SIFF Cinema Egyptian, 801 East Pine Street with dancer Kevin Stea scheduled to attend. More on the film:
Dare to express yourself anew in this heartwarming update on Madonna's 1990 Blond Ambition Tour backup dancers, showcased in the iconic documentary TRUTH OR DARE. Those seven young men have lived to tell, 25 years later, their wonderfully funny and sometimes bitterly emotional memories and insights, touching on issues such as AIDS, coming out, addiction, and the price of fame. With surprising literal and figurative twists and turns[srw1] , the dancers (six gay, one straight) open their hearts once more. Fueled by a nostalgic look at the tour and the original film's "controversies" (the infamous gay kissing scene), and updated with poetic dance vignettes and a poignant score, STRIKE A POSE is a real ray of light.

Guests in attendance

Copresented by SASG
Run time: 83 min. | 2016
Directed By: Ester Gould and Reijer Zwaan
For all the details about TWIST, check back with SGS!
(Visited 1 times, 1 visits today)