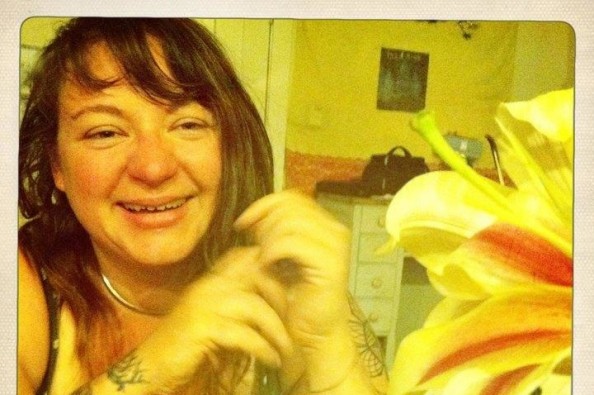 For those of you unaware, the glitter fabulous artiste Rusty Nails, aka Siobhan, was seriously injured in a hit and run accident in Olympia last week which resulted in the loss of her leg. (More on the accident at KOMO). The culprit was eventually apprehended but Siobhan faces months of recovery…and medical bills. The queer community of Puget Sound is rallying around Siobhan…the proceeds from Friday night's TUCK at Chop Suey were donated to help her out, and a GoFundMe campaign was created to raise $10,000 to aid in her recovery. As of this writing, $6961 has been raised…if you have some extra scratch in your pockets, please give generously.
There's another event happening Tuesday, April 2nd as well, at Queer Youth Space, 911 East Pike Street #202. The "Heels on Wheels Glitter Roadshow" is a touring group of performance artists that was scheduled to perform this weekend, and co-produced by Siobhan/Rusty Nails but that performance was pushed back to this coming Tuesday. The show will go on, and they will be collecting donations to help out their comrade in need.
More on the event:
**Friends, due to the injury to our friend and co-organizer Siobhan, we are not able to present this show tonight. We will present this instead on Tuesday April 2 at Queer Youth Space Seattle, 911 E. Pike Street.**

Because the work we individually do and collectively create is about healing, resilience, and communities, we want to continue to share this art as we strive for healing among our group and support for Siobhan.

At this show we will be collecting donation$ for Siobhan. We are also open to accepting healing items for ourselves, including: healing herbs/teas in sealed packages, *closed bottles* of essential oils, crystals, jewelry, snacks, and/or talismans/gifts from whatever your practice may be.**

The fantastic, freewheeling Femmes of Heels on Wheels are coming our way for their fourth annual Glitter Roadshow.

www.heelsonwheelsroadshow.com or www.facebook.com/heelsonwheelsroadshow

Heels on Wheels Glitter Roadshow is a queer performance art cabaret of radical extravagance and thought-provoking glamour. Our fearless performers rampage across the femme-inine spectrum serving up poetic theatre, hilarious performance art, and rocknroll you can sink your heels into!

FEATURING: Shomi Noise [NYC], The Lady Ms. Vagina Jenkins [SF], Heather Acs [NYC], and Damien Luxe [NYC] + Tara Hardy, Siyence McGhee & other special local acts!Just added!!! Luci Marie Powers! and the dance stylings of Mickiki (Micailia And Sara)

Show: 7pm [doors] 8pm [show]

Cost: $5-$15 for the show
all-ages // Queer Youth Space www.queeryouthspace.org has graciously offered their new space on Capitol Hill for this event!!

$UPPORT HOW!
http://www.indiegogo.com/projects/heels-on-wheels-keep-the-glitter-sparkling?c=home

*ACCESSIBILITY INFO*
Please see more in-depth information about QYS's accessibility on their website
http://queeryouthspace.org/the-space/photo-tour/

Scent/Fragrance: QYS is currently a reduced fragrance/scent space. We request that folks attending are scent-aware and use a little scent as possible in the interest of supporting folks with chemical sensitivities. For more about why, what that means, and why it's important, check out: http://vanessahuang.com/fragrance-free/

General Space Accessibility: Queer Youth Space is wheelchair accessible.

Bathroom Accessibility: There is an all-gender, single-stall bathroom in the space, as well as multi-stall male and female restrooms down the hall.
(Visited 2 times, 1 visits today)