With great excitement, after years of wishing, I've gotten access to some fly-on-the-wall time at the creation of a major new musical. Secondhand Lions is the musical which just started three weeks of preview at The 5th Avenue Theatre, and whose music and lyrics are by the same team that just opened First Date on Broadway, Michael Weiner and Alan Zachary.
Based on the New Line Cinema Film written by Tim McCanlies

Book by Rupert Holmes

Music and Lyrics By Alan Zachary and Michael Weiner

Directed by Scott Schwartz

Secondhand Lions tells the story of Walter, a young boy who is sent to spend a lonely summer on his great uncles' Texas ranch. Thanks to their tall tales of beguiling princesses, heroic rescues, and hidden treasure, Walter has the adventure of a lifetime and learns more than a little about love and family.
Many new musicals might desire to open on Broadway, but given the deep pockets of New Line Cinema/Warner Brothers, the film studio behind the original film, which is also backing the development of the musical, this production is a virtual shoe-in. However, it still needs to find its legs, work out the kinks and shake off the birth-sack. That job will be done, mostly, here in Seattle, with the growing experience of David Armstrong and the team at The 5th. As we know, The 5th has been sending about one musical per year to Broadway, and sometimes two, most recently: First Date and Aladdin (opening possibly in February 2014)!
We start the series talking to the team writing the music and lyrics. Michael Weiner and Alan Zachary report that they both work on music and they both work on lyrics, which makes them very versatile, indeed. On Spotlight Night, recently, where The 5th gave a sneak preview of this musical, they said they researched musical styles they thought should be included. So, what musical styles did they include, and to what purpose?
Alan says, "Part of the story takes place in the 1950s in Texas and we were researching country music of the time and Americana and western styles for the mom and boy and older uncles. Flashbacks are drawing on the North African early 20th century sweeping film score music, since the stories are filtered through Walter's imagination. (We figure) he's seen a lot of (desert) movies and draws from that memory."
Michael says, "We think about who the character we're writing for is and what kind of musical style or feel works best for that character. What works musically for the character to accomplish and what the character wants dramatically. The Princess wants to be a free woman, free to make her own choices, not to marry someone she's forced to marry. She's the first feminist in that area of the world. Musically, we didn't want to give her something soft and sweet to sing, we wanted an action movie cut. The female version of Indiana Jones."
They explain that, because they write all the music, a unifying aspect is that everything is filtered through their "musical vocabulary. We weave various character themes throughout songs, so certain musical phrases will end up in another song in a different way. We create the score that way to connect moments and characters together. The audience may not recognize it in the telling of the story, you might feel it more than notice it, (but we hope) certain themes will resonate in a certain way and connect story beats together."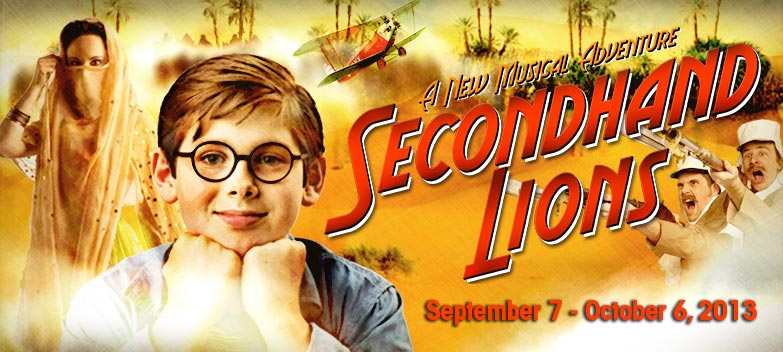 We'll continue to have more sneak-peak information for you in the next few weeks, not only a continuation of this terrific interview with these smart and talented writers, but also sharing other nuggets of information from backstage as Secondhand Lions develops towards Opening Night! Opening Night is Thursday, September 26, and the musical has a rather shortened run, due to allowing for three full weeks of preview development. Tickets are at https://www.5thavenue.org/boxoffice for this family-friendly musical.
Watch for Part 2!
(Visited 1 times, 1 visits today)