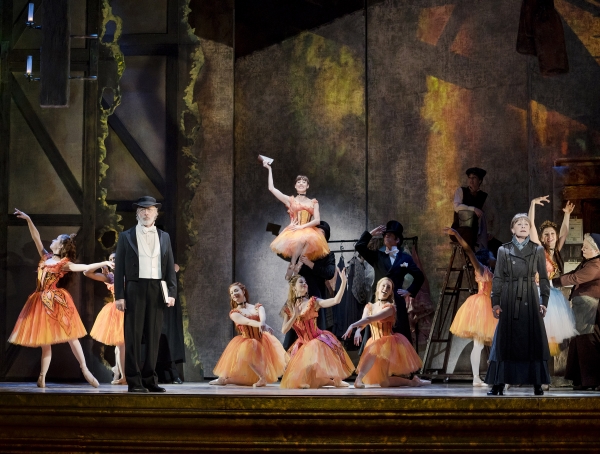 Review: Marie, Dancing Still. Book & Lyrics by Lynn Ahrens. Music by Stephen Flaherty. Directed and choreographed by Susan Stroman. Orchestrations by Doug Besterman & Larry Hochman. Music Direction by Shawn Hough. Scenic Design by Beowulf Boritt. Costume Design by William Ivey Long. Lighting Design by Ken Billington. Sound Design by Kai Harada. Projection Design by 59 Productions. Wig & Hair Design by Paul Huntley. With Caitlin Abraham, Polly Baird, Jessica Bishop, Lauren Blackman, Anaïs Blake, Jim Borstelmann, Abbey Del Borral, David Elder, Sara Esty, Richard Gatta, Justin Genna, Christopher Gurr, Tyler Hardwick, Kyle Harris, Noelle Hogan, Dee Hoty, Jolina Javier, Terence Mann, Barbara Marineau, Tiler Peck, Louise Pitre, Jenny Powers, David Prottas, Amy Ruggiero, Jasmine Ward, Lyrica Woodruff, Karen Ziemba. Onstage at the 5th Avenue Theatre from March 22 to April 14, 2019.
---
We're blessed/cursed to have TWO regional theaters dedicated to helping create new musical theater pieces, Seattle's 5th Avenue Theatre and Issaquah's Village Theatre.  And, I say blessed, because it's terrific when Seattle has a hand in bringing to life a "Hairspray" or "Next to Normal" or "Come From Away"…shows with merit and artistry.
But, it also means we have to endure a lot of not so great/awful shows desperately aiming for that brass ring of Tony Awards and long long profitable lives earning millions for the rich folks who invested in them. Who could forget having to sit through the atrocious Kathie Lee Gifford vanity production of "Saving Aimee/Scandalous" (it switched names en route to its Broadway run) or "Secondhand Lions" based on a movie no one cared about (both of these at the 5th Avenue) or that toe tapping show about hiking in the Appalachian Mountains, "Trails" at Village.
Some of these works are actually developed, over long periods of time, in Seattle with local people attached but others just plunk down, with casts and creative teams from elsewhere, to tinker with a show in progress. Broadway hopefuls used to go to New Haven and Boston and Philadelphia in the olden days to do that but Seattle has become very popular as an "out of town" try out spot. We have eager and appreciative pools of talent (and backing) plus it's a long ways from the Broadway Gossip Mills…less chance of bad word of mouth killing a show in its infancy.
We have just such a show parked at the 5th Avenue Theatre right now…it's MARIE, DANCING STILL which has undergone several name changes since its first staging in 2014 at the Kennedy Center when it was called "Little Dancer". It's the story of Marie van Goethem, the teenage ballerina who posed for celebrated French artist Edgar Degas over a period of years from 1878 to 1881 for work that resulted in numerous paintings and most importantly, for the the famed statue, Little Dancer of Fourteen Years (La Petite Danseuse de Quatorze Ans). Marie van Goethem disappeared from history not long after the statue was originally displayed in 1881; a year later she was dismissed from the Paris Opera Ballet for chronic tardiness and nothing is known about her after that.
"Marie" (which is how we're going to shorthand the terrible name of this musical) is a mostly fictionalized account of Marie van Goethem and her relationship with Degas and the creation of the "Little Dancer" statue all framed within the well worn construct of a flashback…"Marie the Musical" has solved the mystery of Marie the Character's fate by bringing in "Old Marie" circa 1917 to tell her tale of what happened (mostly) circa 1881. Naturally, we're treated to scenes of "Old Marie" interacting with "Young Marie" along the way to reinforce that structure.
Like, that's never been done before…
And, we quickly get to the heart of what ails "Marie the Musical"…it has a terrible book that's poorly constructed with rather flat characters and leaden dialogue. For what is supposed to be a show about French people, it really feels very American, in a dull and dour  "hey, why not vote for a moronic, fake millionaire/reality show host villain to be president?"sort of way. Marie the Character has been reduced to a cutey-pie Pollyanna who gets into all sorts of quirky scrapes and bits of delightful mischief but at heart, she's a sweet gal with a chipper attitude and the cliché-iest heart of gold you've encountered since Annie saved the country from the Great Depression by belting out "Tomorrow" for Franklin Delano Roosevelt!
But, "Annie the Musical" had a strong book and brilliant songs to tell her scrappy story and Marie the Musical doesn't have either of those things. None of the songs are memorable….I'm writing this about 20 hours after seeing the show and I can vaguely remember a song about laundry (Marie's mother is a laundress slash drunk). This show's creators are the Tony winning duo of Lynn Ahrens (book & lyrics) and Stephen Flaherty (music) who've written better shows (Ragtime and Once Upon This Island) but their talents aren't up to making Marie the Musical or Marie the Character very interesting or very compelling.
What saving graces this show does have are:
Beautiful design work on all fronts…lights, sets, projections and especially William Ivey Long's ravishing costumes.
Some lovely performances from the cast especially from Broadway veterans Louise Pitre as the "Older Marie" and Karen Ziemba as the laundress slash drunk Mama. Neither character is well integrated into the plot but both actresses are wonderful
The terrific final half hour or so of the show which has momentum, passion, power and some brilliant staging and choreography from Tony Award winning director Susan Stroman including a beautiful dream ballet sequence that encapsulates the entire plot of the show in 10 minutes but in a way that was interesting and worth watching unlike the first 2 hours of the show
Which leads me to suggest they re-do this production and use the ending, which is the only good thing from a dramatic standpoint, as the starting point to create a lean, mean 90 minute one act version that cuts out all the cutesy poo nonsense and characters/plots that go nowhere.  Like:
Dump the boyfriend, Christian. He's just a lazy and unnecessary device because you're supposed to have a love interest in every show. The character is fake and he adds nothing to the proceedings except stupid bits of business like him suggesting to Marie she run away with him (a penniless musician) on the eve of her big break at the Opera because….LOVE!
Bye, Christian!
And, either dump characters you never bother to develop, OR, actually integrate them into the show. Marie has a wisecracking fellow dancer pal named Nicoline…actually give her something to do! Make her a confidante!
Marie also has two sisters, one older who is a kept woman and one younger, herself supposedly a young wannabe dancer and…neither of them gets much to do. Older sis at least gets a number (that's not well integrated into the show) but is never really developed and the little sister gets nothin' to do except some weeping and looking like a Cosette reject. Yet, both of these characters are actually real people and the little sister went on to have a long career as a dancer…yet, the character never gets her own moment in this production.
And, to be very frank, there's way too much Degas in the story; the show is named MARIE, DANCING STILL not "The Marie and Degas Show!" Degas was a brooding, moody, anti-Semitic bastard in real life but the musical is determined to make him a lovable, avuncular curmudgeon…as noted, Marie has been "Annie-d" up to be wuvvable while he's been Daddy Warbucks-ed  to the point we really don't care for either of them. Broadway veteran Terrence Mann is fine in the role but Degas really needs to be a supporting character and not the male lead.
As for Tiler Peck, our lead "young" Marie, she's appropriately plucky and she can obviously dance (Peck is a principal dancer with the New York City Ballet) but I'd like to see her stretch her acting muscles more with a grittier version of the character. This show already has a strong cast of women in it; the creators of "Marie the Musical" need to focus on a tougher, darker version of Marie trying to get by in man's world, with the aid of other strong women. That would be an interesting take on the material. Dump the fake boyfriend and toughen up (and condense) the Degas relationship…after all, the world already has a great musical about a 19th century French artist struggling to make art; it's called Sunday in the Park with George. Art is obviously a major theme in this show but it needs to focus on the women in the creation process….and, less on the men. We've seen their stories plenty of times.
Marie, Dancing Still is not in the same league as other hit shows that got their start in Seattle. It's no Hairspray. 
But, it's also not a Scandalous either. It has elements that work and elements that don't. But, it needs so much overhauling (like good songs and a new book), that I don't really see that happening. It's worth seeing for the costumes, some charming performances and a powerful final half hour but I find it hard to recommend for much of anything else.
Marie needs to keep on dancing through more revisions. 
(Visited 2 times, 1 visits today)