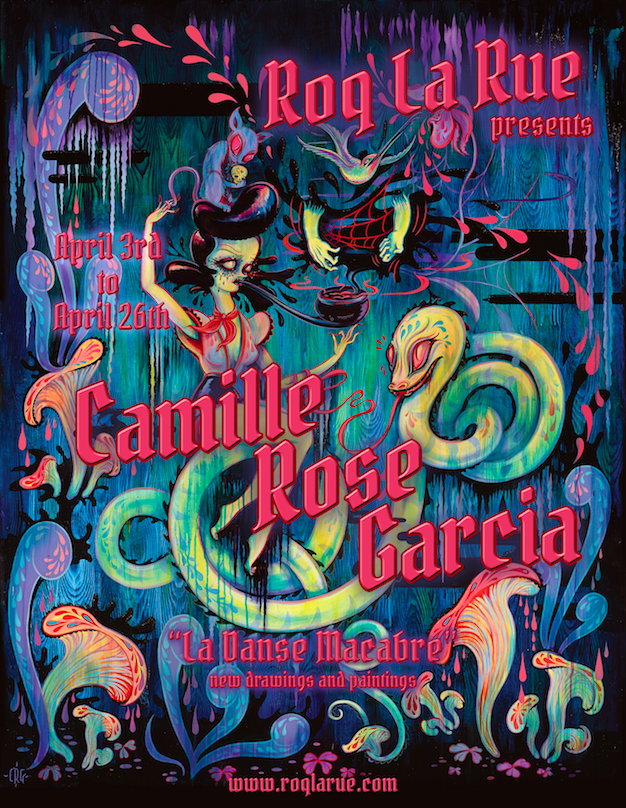 Tips On How You Get A Free Ad/Mention/Story In The Media:
Have a Killer/Kickass Poster just begging to be posted. For Free.
Roq LaRue has an unfair advantage. After all, they're an Art Gallery and they (hopefully) have a new exhibit/show every month that's just full of delicious art/imagery that's begging to be featured in a story and splashed all over a tawdry website such as this.
In April, Roq has a duo show featuring two delicious artists, one very much known to us and one that's not as known but equally exciting. Pop Surrealist superstar CAMILLE ROSE GARCIA will unveil her newest works in LA DANSE MACABRE which opens Thursday, April 3, 2014 at Roq La Rue's new HQ in the Pioneer Square 'hood, 532 1st Ave S (near King St S). The opening night reception is happening that night from 6pm to 9pm. Smart artistas will be in attendance….hint, hint. Ms Garcia's dreamy work frequently is delightfully and playfully nightmarish. We've been fans for a LONG time!
Rising new artist PETER FERGUSON will also be debuting his new work in his new show, FIRE IN THE MAP ROOM. He's definitely one to watch; we really adore his work which combines iconography from a hundred years ago with surreal ritualistic and cabalistic imagery. It's dreamy.
More info on these glorious artistes:
Camille Rose Garcia was born in 1970 in Los Angeles, California, The child of a Mexican activist filmmaker father and a muralist/painter mother, she apprenticed at age 14 working on murals with her mother while growing up in the generic suburbs of Orange County, visiting Disneyland and going to punk shows with the other disenchanted youth of that era. Garcia's layered, broken narrative paintings of wasteland fairy tales are influenced by William Burroughs' cut-up writings and surrealist film, as well as vintage Disney and Fleischer cartoons, acting as critical commentaries on the failures of capitalist utopias, blending nostalgic pop culture references with a satirical slant on modern society.

Canadian painter Peter Ferguson's meticulously painted, darkly humorous narratives evoke early 20th century small town Americana (or Canadiana as the case may be). Combining the fantasy of the great ages of exploration with a distinctly paranormal bent, Ferguson's work hovers along the lines of fantasy without ever fully teetering into full scale camp, and his work retains an air of both wonder and occasional melancholy.
We are putting this on our calendar as a must do event…plus it's getting springy so it's relatively safe to leave our hovels and venture out into the world of arts and letters.
(Visited 1 times, 1 visits today)