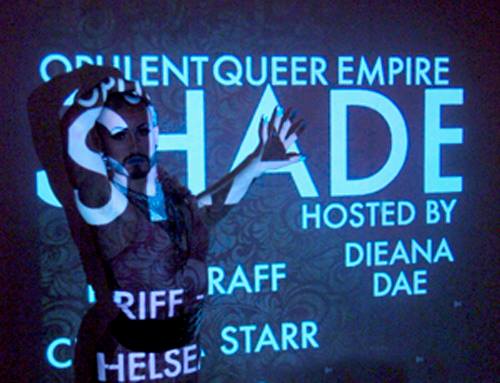 You know the procedure. Work. Go home. Eat. Disco Nap. Go out and do stuff.
Here's the options for the night.
Shade, at The Seattle Eagle. A Nark Magazine Joint. From the invite:
OPULENT//QUEER//EMPIRE

This is a club night for queers, and their peoples.
A safe space on the Hill.
A dark, dirty, divey situation.
A body-positive exhibition.
Dress-up, dress-down; you do you.
Find your spot in the Shade.

Hosted by one of the fiercest creatures ever… DieAna Dae!

Joining us on the decks is none other than creative wonder woman, Chelsea Starr!!!
21+. 10pm to the wee wee hours. Shady fun.
Up at Chop Suey, there's a benefit for the upcoming 'Mo Wave Queer Arts Festival which happens NEXT month, April 10-14. They need to raise some Benjamins to put on all that awesome sauce which includes Christeene and Justin Vivian Bond:
'Mo-Wave needs your help!
Join us for an evening of shenanigans with local favorites Ononos, Crypts, L'Orth hosted by Amo A Nia.
Terse. We like it.
$10 Suggested Donation. 21+.  And, to grab your tickets TO the actual 'Mo Wave Festival, go here!
Over at Neighbours, you can check out boys/men/penis owners wearing zexy underpants. It's raising money for SoSea and it's an earlier event, so no disco nap time!
Neighbours Nightclub (1509 Broadway) is proud to host The Second Annual Underwear Model Contest BATTLE of the BULGE, to benefit Social Outreach Seattle (SOSea), March 14, 7:30 p.m. Doors, 8 – 10 p.m. Show.

Our judges panel is made up of some of the contestants from last year's contest and local entertainers and business owners who have their work cut out for them as they choose the winner.

There will be special performances throughout the night, contests involving audience participation, a chance for you and your friends to get your photo taken with the models, and more.

Don't miss this show! Buy your tickets today at Brown Paper Tickets: http://www.brownpapertickets.com/event/599382
Nothing says Social Justice like a big dick in a pair of tiny underpants! Schwing!!!
Finally, up at Your Place, March Madness continues with this week's very special guests including RPDR stars Alyssa Edwards and Shangela who's nicely recovering from a fucked up broken leg.
Join us Friday March 14 and/or Saturday March 15 with RuPaul's Drag Race Stars Shangela and Alyssa Edwards Headlines with the Cast of Lashes. VIP seating is $30 and includes Cocktail Service and first to have your picture taken with Shangela and Alyssa after the show. GA tickets are $15. There are very limited seats in GA and it's a 1st come 1st serve basis, all other GA is Standing room only. Doors are at 8:30pm, Showtime is at 9:30pm. All Shows are 21 & Up ONLY!

Also scheduled to perform in both shows is the R Place Lashes Cast. Starting out with Seattle Drag Icons Lady Chablis and Robbie Turner. These 2 have been entertaining Seattle Audiences for over a decade. With Impersonations such as Liza Minelli, Whitney Houston, Lady Gaga, Tina Turner, and many more. Fellow Lashes Cast members La Saveona Hunt and Amora Dior Black will also be hitting the stage. These 2 dancing queens have been rocking the stage at R Place for over 2 years and both are former pageant winners. La Saveona is a former Nubian Queen and Amora Dior Black is your Reigning La Femme Magnifique International.
Note: I'm not responsible for the tragic misspellings in any copy/paste material…Liza MiNNelli is having a bad month.
Tickets for Friday and Saturday shows at Their Place available over at Brown Paper Tickets.
That is all. I am spent. Find something to do and then go do IT.
Tags: 'Mo Wave, Alyssa Edwards, Bulges, Chop Suey, March Madness, Neighbours, R Place, sgsapp, Shade, Shangela, Underpants Models