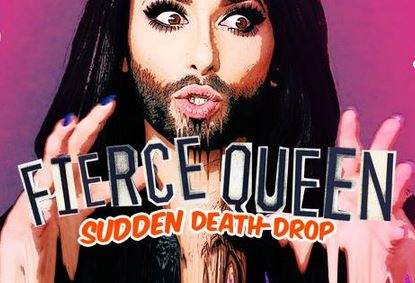 In the same vein of RuPaul creating the All-Stars edition to crown Chad Michaels, it is my firm belief that the normally scheduled 5th Friday happenings of Nark Magazine's Fierce Queen has returned this Friday, May 23rd, to finally crown Cucci Binaca. She certainly has been the Susan Lucci of losing the competition. This time, her competition is yours truly and Neuroses.
Miss Neuroses, if you remember, was last seen barreling down The Eagle's staircase, screaming "this is all just so much!" when she was the only queen booted out of the cage mid-performance at the January "Fierce Queen". That's not to say I think Cucci is a shoo-in, or that Kevin Kauer brought it back just for her: she is truly a fierce queen, after all. And, Neuroses has something to prove…it should be a "fiercely" competitive night of DRAMA!!! (Cue dramatic chord of music.)
And, Miss Cucci is so fierce that I will be interviewing her this Friday for SGS's Summer Spotlight Series. (Editor's Note: Heather seems to be unaware that summer is a month away….)Anyway, it's an interesting mix of us three queens, to say the least. The competition  was held last month at Neighbours Nightclub opposite Nark Magazine's smash hit party, Ferocious Memories, resulting in a win for newcomer Lady Poison.
But now, it has made its way back to the place of its birth: The Seattle Eagle. Which is good, because I really don't like moving around that much. Lady Poison will front the show and also pull double duty as a guest judge, joining the staple judges Amoania and Urethra Franklin. FIERCE QUEEN returns this Friday, May 23rd at 9pm, 21+.
Tags: Cucci Binaca, Fierce Queen, Neuroses, sgsapp, The Seattle Eagle