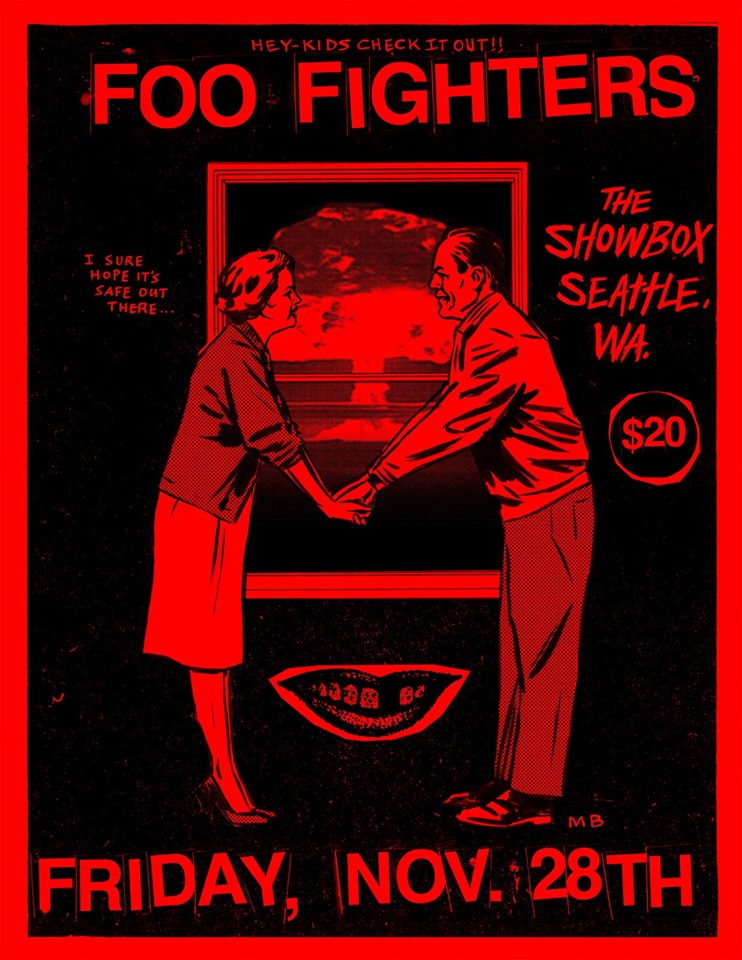 …3 pm today, Wednesday, November 26 at THREE locations only. No online sales.
It behooves Foo Fighter Fans to get their butts in those lines ASAP if you want to go to their just announced Friday, Nov. 28th gig at The Showbox!
The skinny:

Foos at the Showbox Presents – FRIDAY NIGHT!
Tickets on sale at 3pm TODAY, Nov 26 at the following locations.
No tickets will be sold online.

The 3 locations to purchase tickets are…
Downtown: THE SHOWBOX – 1426 1st Ave.
West Seattle: EASY STREET – 4559 California Ave. SW
Ballard: SONIC BOOM – 2209 NW Market Street

Ticketless entry ONLY. Please read the following information about ticketless entry:

* Ticket sales for this event will be IN PERSON ONLY – VIA CREDIT CARD ONLY. No cash.
* Ticketless entry is NON TRANSFERABLE. ORIGINAL PURCHASER MUST ATTEND THE EVENT.
* At entry to the concert, you must provide the PHYSICAL CREDIT CARD USED FOR PURCHASE AND VALID PHOTO ID. Name on credit card must match photo ID.
* Entire party MUST enter the venue at the same time.
* Gift cards and single use credit cards may not be used for ticketless entry.
* Ticket limit of 2 per household
* Event is ALL AGES
* Doors: 7:30pm / Show: 9pm
* Multiple orders by the same purchaser will be cancelled.
What better way to spend Black Friday Night?  De-stress from the gluttony of over consumption of material goods with the Foos!
(Visited 1 times, 1 visits today)