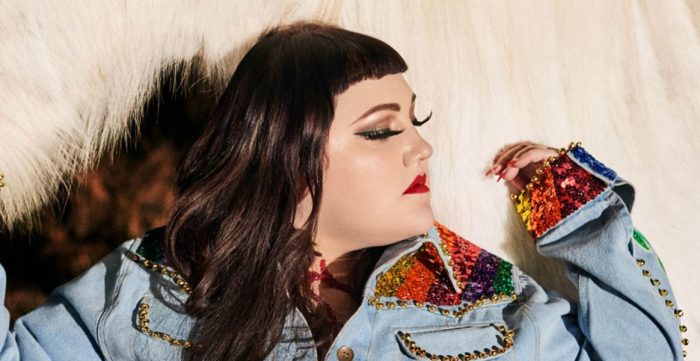 So, we're delighted that local superstar gal singer BETH DITTO is headed to Seattle's Showbox later this month, March 29th, for a long awaited show with opening act SSION plus local opening act Connie & the Precious Moments. There's a long publicity essay/blurb on the ticketing page which I've included down below; apparently this is part of a tour in support of Beth's solo album, FAKE SUGAR, her first without longtime band GOSSIP, even though the album was released way back in June.
The blurb also talks about all the changes in Ditto's life (mostly breaking up with Gossip) and does mention some strife in her marriage to Kristin Ogata but was apparently written quite awhile ago since Ditto is very much currently parading her new BOYfriend, Ted Kwo all over her Instagram. Kwo is the bassist backing up Ditto's new tour. He's also transgender so Beth's status as a queer icon is pretty safe since she hasn't succumbed to the traditional binary of the patriarchy! Yay!
Surprisingly, tix still remain for this show. Grab them. She's a Pacific Northwest Legend.
By way of the Ozarks.
Showbox Presents

with SSION + Connie & the Precious Moments

1426 1st Avenue

Seattle, WA 98101

(206) 628-3151

Thu, Mar 29, 2018 – 8:00PM

Ages: All Ages to Enter, 21 & Over to Drink

Doors Open: 7:00 PM

Door Price: Starting from: $25.00

Onsale: Fri, Dec 15, 2017 – 10:00AM PDT
It's tempting to set up a grand introduction for Beth Ditto on the occasion of her solo debut after disbanding the Gossip, but this native Arkansan can say so much in a few swaggerful lines over a pounding kick drum and bone-rattling bass guitar: "Two sisters, four brothers/Hard worker, like my mother/Not bitter, so sweet/Strawberry ca-ca-canned peach!" Those lyrics (from the Jacknife Lee cowrite "Oo La La") contain the fundamentals of Ditto's album Fake Sugar: family strength, punky grit, unabashed Southernness and the rural-rags-to-rock-royalty story of our hostess, who here turns strive and strife into music that is honeyed and familiar. Over an overhauled mashup of driving blues, malt-shop pop, swooning rock and countrified soul produced by Jennifer Decilveo (Andra Day, Ryn Weaver), Ditto approaches love, loss, looking back and moving forward with all the sexiness, poignancy, power and beauty you'd hope to hear from such an iconoclastic artist.
To say Fake Sugar was born of change is understatement. "It's my divorce, isn't it?" asks Ditto. "I was going through a breakup with the loves of my life. Gossip was the longest relationship I'd ever had." At the same time, she got married, literally, to her best friend since she was 18. And while Ditto and her new wife did settle somewhat into domesticity at home in Portland — their two cats, Tofu and Butters, and Ditto's crochet habit are well documented on Instagram — the singer was busy doing much more than singing. Sure, she recorded with Blondie, disco legend Cerrone, and drumstep DJ Netsky, and even moonlit as a wedding singer with Cat Power, but Ditto also made strides into fashion. She launched her eponymous plus-sized luxury line with a Jean Paul Gaultier collaboration, posed in an Alexander Wang portrait series, modeled for Marc Jacobs on the runway and in print, and appeared in Tom Ford's Oscar-nominated Nocturnal Animals. "I don't think about that stuff like, 'This is good for my career.'" says Ditto. "It's like, 'This'll be hilarious fun.'"
But all that paved the way for the fierce voice and strutting presence that opens this album. On "Fire," Ditto intones "get up-up-up if you want my love," before belting the song's title across a grinding mass of guitar, drums and keys cut with psych-pop and dubby effects recalling the deft touch of Danger Mouse. Fake Sugar's obvious passion is what'd been missing from Gossip's attempts at a sixth LP. After 17 years of kicking out increasingly dancy garage-punk, "nobody's heart was in it," says Ditto. Cofounder Nathan Howdeshell moved back to Arkansas, and she found herself in L.A., alone, meeting with songwriters about the band's next move. For better and for worse, she knew she'd become the focal point of the group. "I felt like if we fail, it's my fault and if we succeed, it's my fault," she says of her predicament — it was time. "The decision was basically made for me."
She calls what came next "speed-dating," meeting with producers and writers to see what/who stuck. Some did, like Jacknife, but Decilveo became Ditto's main partner, someone to interpret her sonic vision and balance out her punk bias with pop flare and perspective. As Ditto puts it, "She was the rollerblades to my roller skates. We'd argue all day long and I loved it." They hired session players to sound out her ideas too. "I'm used to sitting there forever in a band trying to get it right," says Ditto. "With them, it was like performing miracles." She wound up with 80-odd songs, which explains Fake Sugar's lack of filler, and its range. There's "In and Out," a hip-shaker that sounds like a '50s girl group channeling Karen O on "Maps." And "Savoir Faire" with its disco stomp pushing Ditto's crackling rock vocal. Or "Go Baby Go," a tribute to Suicide's Alan Vega decked in black leather, racing down an interstellar aural highway. On "Oh My God," Ditto's rawness, quaver and cool splits the difference between Tina Turner and Bobbie Gentry.
"I wanted this album to sound more Southern than it does," she says, "but when I try for an idea and don't succeed, it usually ends up better." If her roots don't always show in the music, they're there in spirit more than ever. Ditto was raised rural and poor in a town of 2,000 called Judsonia. Her mom was superhuman: a nurse, single, raising seven children. "People ask me where I get my confidence," says Ditto. "Talk to my mother. She'll tell ya she hasn't s*** alone since she had her first child at 15.'" Her dad was a different sort of hero: a honky-tonk sound man who, when it was his weekend, would take her to work, hop her up on Black Jack gum and Cherry Coke, and teach her to two-step with her feet on his boots. And then there was Granny Ditto, who chopped wood for her stove, canned the food she grew and never once had indoor plumbing. Ditto was surrounded by badasses, but it wasn't so simple back then. She had countless reasons to light out of town at the first chance and she did, at 18, with her future bandmates to the musical hub of Olympia, Washington, where they joined a community of punks, queers and noisy weirdos.
"I was running away from the bad parts of Southern culture," says Ditto. "I'm old enough now and so grateful for my family that I can finally embrace the good in where I grew up." The lyrics of Fake Sugar are full of such allusions, from rhymes cribbed from schoolyard handclap games, to slang like "Yankee dime" (a kiss) and folkisms like, "I get so sick and tired of feeling sick and tired" — in other words, "s*** my aunt Linda Gail would say," says Ditto. A pivotal moment in the LP's creation came went she went to Graceland with her sister. Amid marital strife, she became obsessed of the Paul Simon album — you can hear its echoes in the breezy folk-pop of the title track which, incidentally, could sit comfortably on a trop-house playlist — and wanted to make a pilgrimage. It was at that local shrine to Southern flamboyance and music history, of all places, that Ditto reconnected with her past and found some of the peace and strength she needed.
Which brings us to the family Ditto is building out West. "The first year of marriage sucks and no one tells you that," she says. "We were best friends, so we had to re-meet each other as wives." It wasn't rosy. Touring took a toll, disconnection crept, trust broke down. Ditto's insecurities pour out on the sober, expansive "Lover," but the couple found their footing, and Fake Sugar paints a broader picture of love that's as indulgently romantic ("We Could Run" is a U2-level epic call for getting swept away) as it is tenderly realistic: "Love in Real Life," with its lush bed of eerie Gary Jules-style piano-pop, finds Ditto cooing, "What more could we ask for, some kind of fantasy? / When there's no one I want more, more than anything." She considered calling the album Music for Moms in joking reference to the Gossip's 2009 LP Music for Men and her own settling down. "This is adulthood baby," Ditto quips. "You fought for marriage equality, now you gotta live in it."
Of course, as our heroine herself points out, punk takes many forms: "To some people it's liberty spikes, to others it's Hot Topic. Some think Green Day, others think K Records. All are correct." To that, we'd add a few more definitions: marrying someone you legally couldn't just three years ago; bridging an old school upbringing to a progressive future; going it alone after spending your entire career in only one band; and delivering your own grown version of loud and proud badass weirdo rock 'n' roll to, potentially, the largest set of open ears you've ever faced. Basically, being Beth Ditto. "I've never been in the band that I'd love to listen to," she says. But, with due respect to her back catalog, perhaps the issue was that Ditto was confined to a band in the first place.
(Visited 14 times, 1 visits today)