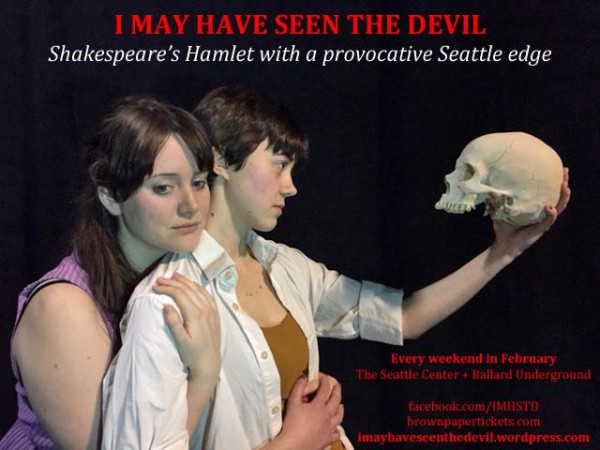 We j'adore young theater companies and artists who push those proverbial buttons…especially when they attempt to perform Shakespeare in a way to make us care again.
Hey! Shakespeare IS awesome, but as a theater critic, you do get VERY tired of seeing the Bard over and over again, and the muddled attempts by Americans to do the plays justice. Also: Bill was overly fond of the "twins separated by circumstance" schtick and "young lovers dressing up as the opposite sex to trap their desired mate" bit. It's all so "Three's Company" but without the Ropers.
A new theater troupe in town has concocted their own special take of Shakespeare's immortal "Hamlet", that oh so dark prince of Denmark. I May Have Seen The Devil is their adaptation of the work and it veers dramatically from the original text. From their press release:
Crafted to be an exciting and expectation-breaking experience for aficionados and newcomers alike, I May Have Seen the Devil is Shakespeare's Hamlet with that provocative twist that Seattle does so well. Refocused to cast the lead role as a woman, with a lesbian love story, a chorus of insane patients, an asylum setting, a gun, a brutal boxing match, original score and sound design by a local heavy metal musician, and a cast of nine playing seventeen parts, it's a play about the rights and respect women still don't have. It's about the abuses the LGBT community still suffers. It's about the ignorance and fear and darkness that rule the hearts and minds of powerful men and threaten to warp those people that brave enough to challenge the world.

This is Hamlet. This is theatre. This is Shakespeare.

This is a story. Ours. And yours. And the world's.

This is a story that must be heard.

And we will not keep silent.
That's a lot of hyperbole! But, they're young…they can pull it off!
They also get lots of bonus points for that dreamy poster…we like!
We're giving this show a plug, despite not having seen it or anything from this company, because we like their chutzpah and the queer content. If you're an adventurous theater goer, give it a shot!
I May Have Seen The Devil is a traveling show…it opened earlier this month at Theatre 4, the performance/rehearsal space on the 4th floor of The Armory at Seattle Center, then moved to the Ballard Underground theater over in Ballard for last weekend's shows and this weekend's shows, then moves BACK to Theatre 4 for the final weekend, Feb 27/28. I've included all that info below. Please note BOTH these venues can be tricky to find if you've never been to them before; allow yourself extra time to park and find these spaces.
Theatre 4

Fourth Floor of The Armory at the Seattle Center, the same building as the Seattle Shakespeare Company, Theatre Puget Sound, and the food court.  There will be signs.

Friday, February 6th: 8:00pm
Saturday, February 7th: 2:00pm
Saturday, February 7th: 8:00pm (talkback/Q&A after the show)

Friday, February 27th: 8:00pm (benefit performance for Gay City, a community resource located in Capitol Hill)
Saturday, February 28th: 2:00pm
Saturday, February 28th: 8:00pm  (live score composition and performance + talkback/Q&A after the show)

Map complete with street names  and I5 and 99: HERE
Map of the Seattle Center: HERE

Tickets are $12 online, $15 cash at the door general admission, $10 cash at the door for students and seniors

BUY THEM: HERE

Ballard Underground
The Ballard-based home of Ghost Light Theatricals.

2220 NW Market St Lower LEVEL,

Friday, February 13th: 8:00pm
Saturday, February 14th: 2:00pm
Saturday, February 14th: 8:00pm

Friday, February 20th: 8:00pm  (benefit performance for Gay City, a community resource located in Capitol Hill)
No matinee this weekend
Saturday, February 21st: 8:00pm (talkback/Q&A after the show)

Web page: HERE
Google Maps address: HERE

Tickets are $12 online, $15 cash at the door general admission, $10 cash at the door for students and seniors
BUY THEM: HERE
Tags: Hamlet, I May Have Seen The Devil, Queer Theater, Shakespeare