It is a sad day for Trekkies everywhere. Leonard Nimoy (Spock) has passed away at the age of 83.
George Takei, his friend and our Gay Nerd Leader, reported on the 23rd that Nimoy had been suffering chest pains. According to Second Nexus, Nimoy's wife, Susan Bay Nimoy, cause of death was "end-stage chronic obstructive pulmonary disease" (COPD). He had been battling his lungs since he quit smoking about thirty years ago. By now, you've seen the news plastered all over Facebook and Tumblr, effectively taking top trend over that stupid dress thing. I won't reiterate how deeply poignant his last tweet was.
Known forever as the infallible, ultra-logical, half-human/half-Vulcan Mr. Spock on Star Trek (TV), Nimoy spent his life among the arts, from acting to writing to directing to photographing to music. Aside from films, he had a long history with TV and some stage productions too to his credit, such as Fiddler on the Roof, Sherlock Holmes, and A Streetcar Named Desire. Like Takei, he lent his voice to narration and animation, including video games. And like his compatriot, Bill Shatner, he even did The Twilight Zone. Nimoy wrote two autobiographical books, entitled I Am Not Spock and I Am Spock, respectively. Oh! And I completely forgot he directed the fabulous comedy, Three Men and a Baby! He most recently appeared in the latest two Star Trek films, Star Trek and Star Trek: Into Darkness. The ever-dreamy and somber Zachary Quinto played Spock's younger self.
I mean, who DIDN'T squee at that?? And in this scene, not only did Nimoy sum up his entire career as Spock, but he reminded the new generation of Trekkies not to repeat the mistakes of the past, and to move ever forward in moderation of logic and emotion.
Of course, this scene would not have been possible without Star Trek II: The Wrath of Khan. Long before the recent trend of self-sacrificing becoming The Thing Heroes Do, there was Spock, saying "The needs of the many outweigh… [the needs of the few]…or the one." This scene would lead to his more humanist approach to directing, in an age (of the '80s) that was constantly pushing the special effects envelope. He reminded us that nothing can make a good story like the characters for which it's written.
https://www.youtube.com/watch?v=dhcR-w-56tA&feature=youtu.be
For once, Shatner didn't steal the scene.
Comicbook.com released the President's statement (though they said 1967, which is wrong—it's 1966):
"Long before being nerdy was cool, there was Leonard Nimoy. Leonard was a lifelong lover of the arts and humanities, a supporter of the sciences, generous with his talent and his time. And of course, Leonard was Spock. Cool, logical, big-eared and level-headed, the center of Star Trek's optimistic, inclusive vision of humanity's future.
I loved Spock.
In 2007, I had the chance to meet Leonard in person. It was only logical to greet him with the Vulcan salute, the universal sign for "Live long and prosper." And after 83 years on this planet – and on his visits to many others – it's clear Leonard Nimoy did just that. Michelle and I join his family, friends, and countless fans who miss him so dearly today."
My first experience with Spock was sadly not with TOS. In my younger brain, I more so felt the weight of words before I could critically analyze their meanings. Yet nothing escaped the gravity of this moment, from ST:TNG's episode "Unification II":
Ambassador Spock: He intrigues me, this Picard.
Lt. Commander Data: In what manner, sir?
Ambassador Spock: Remarkably analytical and dispassionate—for a Human. I understand why my father chose to mind-meld with him. There's an almost Vulcan quality to the man.
Lt. Commander Data: Interesting. I had not considered that. And Captain Picard has been a role model in my quest to be more human.
Ambassador Spock: [looks at him] *More* human?
Lt. Commander Data: Yes, Ambassador.
Ambassador Spock: Fascinating. You have an efficient intellect, superior physical skills, no emotional impediments. There are Vulcans who aspire all their lives to achieve what you've been given by design.
Lt. Commander Data: Hm. – You are half Human?
Ambassador Spock: Yes.
Lt. Commander Data: Yet you have chosen a Vulcan way of life?
Ambassador Spock: I have.
Lt. Commander Data: In effect, you have abandoned what I have sought all my life.
And that's how we will always remember him. Forever a guide, forever a foil, and forever…human.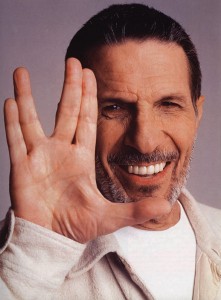 (Visited 1 times, 1 visits today)