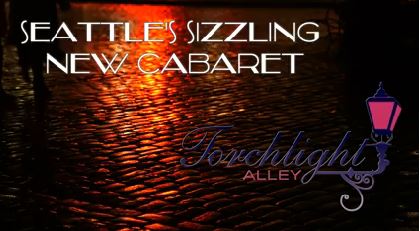 We've known about it for awhile, but, believe it or not, we CAN keep our mouths shut about things. (Our head is full of secrets…..)
There's a plan afoot to bring a DESPERATELY needed new cabaret space to Capitol Hill. There really isn't A dedicated space for mid-sized cabaret/variety shows on the Hill, or in Seattle for that matter. The Julia's/LeFaux space is not very comfortable and it's only used for their in-house produced shows. The Narwhal stage is lovely, but not really readily available. The Triple Door is a gorgeous theater space, but too big and expensive to book for smaller artists. Seattle and Capitol Hill really do need a nice piano bar/lounge with a professionally designed stage and comfortable seating for 100 or so guests. It would be an ideal venue for smaller touring performers/acts that don't need a space as large as The Triple Door.
TORCHLIGHT ALLEY is the proposed new venue and we know that the team behind the idea are hard at work on acquiring an appropriate location. They've just created a Facebook page and released a couple teaser trailers. No opening date has been announced yet.
This is terrific news for Seattle and Capitol Hill nightlife….a great alternative to the usual bars and clubs featuring pop/rock music and hordes of noisy patrons. A lovely cabaret space would be a huge asset for the community. We can't wait until more information can be made available.
STAY TUNED!!!
(Visited 1 times, 1 visits today)